"It has to do with favoritism, of promotion, and transfers. If you are not a supporter of the chief, you're an outcast. If you are a supporter of the chief, you're in."

– Tenari Ma'afala, Honolulu Police Officer, President of Hawaiian Police Union
Buenos Aires – I don't get it. Every quote out there I could find casts favoritism in a bad light. It's like the word prejudice, which has a related meaning – in and of themselves, these are not negative words, but they seem to have become tainted by common usage. Favoritism simply is defined as a display of partiality towards someone(s) or something(s), or to be held in "special favor". It doesn't include what seems to be the usual assumption – that everyone or everything else is therefore not worth anything. Let's face it, everyone has their favorites, regardless of the topic of conversation. Me too – and particularly in regard to food. It's favoritism to generally order chocolate desserts in a restaurant versus other types of desserts. That doesn't mean the others are bad desserts. You know?
So, the request was for a dinner of 'whatever, as long as it's not offal' (that's prejudice, just so we're clear), 'pick some things you like and surprise us' (which opened the door for favoritism on my part). Oh the deep, dark, downward spiraling paths that we take….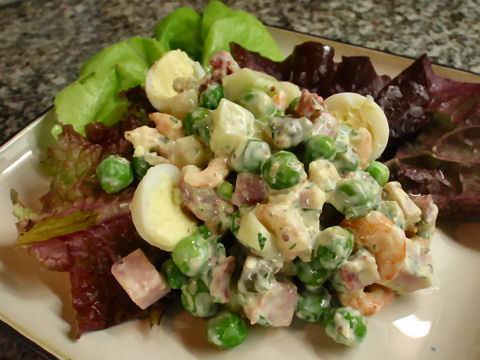 I've become quite fond of salade olivier, the antecedent to the bland and uninteresting ensalada rusa that graces so many tables here. I've had fun playing around with it at previous dinners – I just wanted to dress up the presentation a little this time. A light, crisp sparkling wine seemed called for, and the Gascón Extra Brut, a blend of Chardonnay and Pinot Gris worked quite well.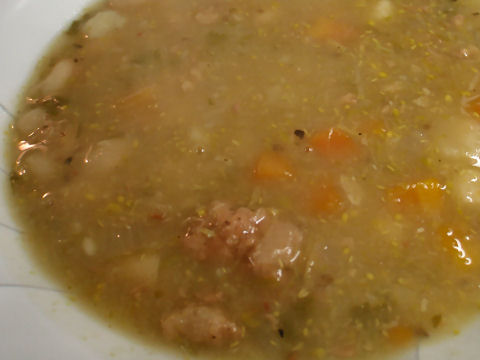 Not that long ago we hosted a little private party for one of my online blogger friends who was visiting Buenos Aires with his entourage. Why do I not have an entourage? Can we do something about that? I didn't end up writing up the dinner here, but in his posting (linked above) about his various dinners out in BA he requested the soup recipe, which I gave him, and reproduce here, as I reproduced it for this dinner, served along with a nice, rich, minerally Callia Magna Viogner 2007: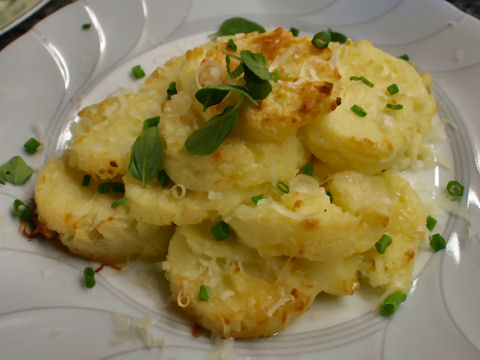 I don't make a lot of the well-known potato gnocchi, mostly because I find them a bit fickle and difficult to have turn out right, especially when I'm making large quantities. I don't know why I never think about semolina gnocchi, a classic of Roman cooking – but they came up in one of the later episodes of Masterchef Australia as part of a dish that didn't particularly work out because of what they were combined with, but brought them to mind. There's a classic presentation of them done as a sort of round pyramid, and we tried them out that way in our recent Lazio cooking class. They were so good, like light, airy little pillows, that I just had to make them for this dinner – and rather than serving a big, family style dish, made little ones on a baking sheet in the oven. The gnocchi themselves are fairly easy – bring 5 cups of milk to a boil, very gradually whisk in 1½ cups of fine semolina, then over low heat continue cooking for anywhere from 15-30 minutes, stirring slowly and continuously – it really depends on how finely ground the semolina flour is how quickly it will cook through. It should start to pull away from the sides and form a sort of elastic, doughy mass. At that point, off the heat, stir in 3 tablespoons of butter, ¼ cup of grated parmesan and/or pecorino cheese (I like using half and half of these), and 2 egg yolks. Spread out on a cold, smooth surface (if you have a marble countertop or slab, as we do, that's perfect), or in shallow sheet pans. Use a spatula and keep dipping it in water so it doesn't stick to the dough – spread the semolina out to about ¼" thickness. Let it cool and firm up. Using a small round cookie cutter (traditionally it's cut with the top of a liqueur glass, but I find that smooshes the edges and wastes too much). Pile them up in a round pyramid, each layer smaller than the previous one. Sprinkle more grated cheese over each layer as you build it up. Melt 5 tablespoons of butter, drizzle it all over the pyramid, pop it in the oven at 375°F for 30 minutes (until lightly golden brown), and serve, sprinkled with herbs if you like. I thought about a rosé for this dish, but the weather was cold and rainy and I decided on a lighter red instead, the Navarro Correas Pinot Noir 2006 fit the bill perfectly.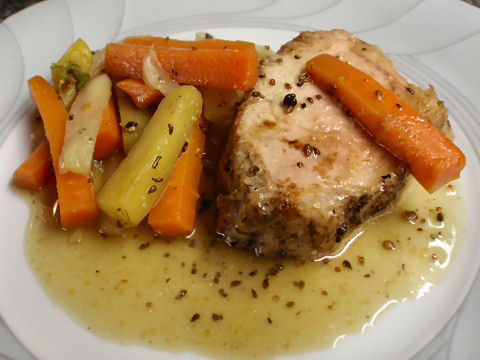 For the main course, since we'd just been playing around with pork roasts, I decided on much the same, except this time I did it using a take on the caramelized sweet potato and fennel base that I often pair with crispy sweetbreads. The pork was marinated in ground fennel and coriander seed and black pepper for the day. Then browned and oven roasted. The sweet potatoes, fennel and some carrots were cut into batons, blanched separately, then sauteed in a little olive oil with the same three spices, only just cracked in a mortar and pestle, and then finished with a dollop of dijon mustard and some honey. A little salt to adjust the seasoning and served. This dish called for a nice, hearty red that could stand up to a touch of sweetness, the Bodega Tacuil RD 2006, an unoaked blend of Cabernet Sauvignon and Malbec was a fantastic accompaniment.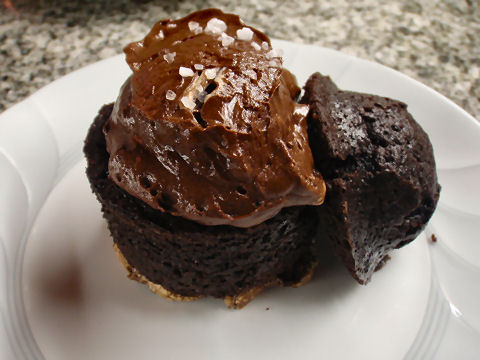 A little different take on a chocolate mousse cake. For the base, a cocoa and almond meal meringue cookie – pretty classic, just whipped egg whites with sugar whipped in at the last minute, then folded in some vanilla, cocoa powder and almond meal, piped them onto a baking sheet and baked. The cake, the chocolate and chili cake that I made not so long ago, but done as individual cupcakes. The mousse, a quickly made chocolate and olive oil mousse – fair warning: this is addictive mousse, and only takes about ten minutes to make, which is very dangerous for the waistline. Two parts dark chocolate, melted in a double boiler or in a microwave at 50% power, stirring regularly so that it melts evenly. While it's melting, beat two parts of heavy cream (these are all by weight) until it's stiff. Fold the melted chocolate into it. While slowly whisking, pour in one part of good olive oil and whisk until it's completely incorporated. Stick it in the refrigerator for ten minutes – just enough to cool down the melted chocolate completely (or just eat as is). You can't leave this in the refrigerator for a long time as the olive oil will seize up and make the mousse grainy, so this really is something to make just before you're ready to serve it – and just make as much as you think you'll be able to eat! A sprinkle of coarse sea salt on top (Maldon flakes would be perfect), and there's a decadent end to the dinner! This dessert is so sweet that a very sweet dessert wine would just be over the top overkill, so I went with the lightly sweet and somewhat bracing Chenin Blanc Dulce from Santa Julia, which cut into that richness and paired up nicely.