"A human being may form different notions in the world. Some people think spicy food is good, some think sour food is, some like sweet food, and some like bland. Those are all tendencies of one's own making. Even if a comedy is playing in Manhattan, there are still a whole lot of people who don't like it and criticize it. That's how human beings are."

– Li Hongzhi, founder of the Falun Dafa
Buenos Aires – I've recently been working on a series of interviews with local chefs who are reworking traditional Argentine cuisine. They're tired of the reputation for bland, meat and potatoes food that the country has, and want to show the world, or at least visitors to this part of it, that there are Argentine chefs capable of using something more than salt and a few dusty, dried herbs. It got me thinking that outside of a couple of special requests for private dinners, we've never offered up an Argentine menu at Casa SaltShaker – we've always said that there are enough restaurants in the 'hood serving local food that we want to put something different on the plate. On the other hand – there aren't a whole lot of places serving up Argentine food with much zip – so for our end of the year weekend dinners I decided on… Argentine cuisine if they actually used spices….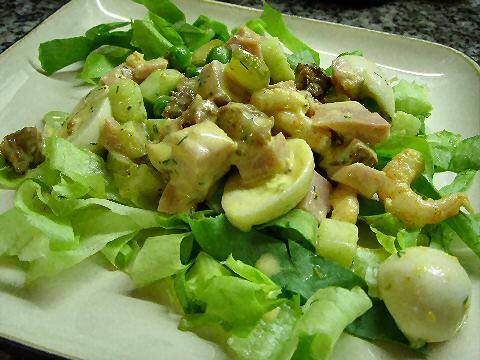 One could argue that the term "Russian Salad" is too generic to be defined, and there are certainly a number of versions of it, depending on where you are in the world. Here in Argentina, it's been dumbed down to the blandest possible potato salad, a version that if you were to serve it at a picnic in the Midwest, where I grew up, a place not noted for its amazingly spicy cuisine, you'd be laughed off the property. Boiled potatoes, carrots and peas – really boiled – usually to the point of near mush – and a close to equal amount of mayonnaise to "bind" it all together. Why not spoon the Hellman's directly out of the jar?
Arguably, the "original" Russian Salad, which at the time was called the Salade Olivier, was invented by French chef Lucien Olivier, at the Hermitage restaurant in Moscow, where it was a composed platter of cold meats and vegetables – generally particular choices that were considered delicacies, such as veal tongue, grouse, caviar, crayfish, smoked duck, gherkins, fresh soybeans – that changed seasonally, and were bound with a mayonnaise type dressing – however, just enough to lightly dress the salad. No boiled potatoes, which at the time were considered food for the poor. In the spirit of that original salad, I composed one of strips of butter and oak leaf lettuces topped with a mix of diced ham, longaniza and cantimpalo sausages (both peeled and then sauteed briefly), shrimp, hard-boiled quail eggs, sweet gherkins, cucumbers, capers, and fresh peas, all bound with a bit of a homemade "Russian" dressing – a mayonnaise style blend of egg yolks, good red wine vinegar, mustard, olive oil, worcestershire sauce, chili sauce, parsley, celery seed, salt and pepper.
In the winter, locro is a popular stew here, something I've talked about many times and even presented my own recipe for. There are also vegetable and fish versions of the stew, though not nearly as popular. Still, for summertime, a lighter style version seemed appropriate – so, aiming for something more soup like I made a corn stock (boiled corncobs in water for about 20 minutes), then boiled up some squash in it and pureed it to make a medium thick soup base. Meanwhile I sauteed diced bacon, onions, peppers, garlic, and the corn I'd cut off the cobs in a bit of butter, then added that to the soup base along with some finely chopped smoked trout. Finished off with a bit of smoked salt to add a little more smokiness and it came out as a great summer twist on locro.
Empanadas were a must at some point in the evening. One of our favorite spots in the area to order empanadas from, La Querencia, has a very nice eggplant and herb version that I'm quite taken with – still, it needs more zip. Having just made the smoked eggplant puree for our holiday dinner, I thought about that – and so, a couple of small empanadas showed up on each plate filled with charred eggplant puree, garlic, mint, and hot peppers, and a dipping sauce of a mango chutney on the side.
We've all seen, and eaten, more milanesas here than we care to think about, let alone admit to. I'm perfectly happy at many a lunch to have a pounded thin chicken version – breaded breast of chicken, topped with cheese and tomato, but I do long for something more – and also something that leaves the chicken juicy and flavorful rather than flat and leathery. So I left the breasts whole, cut a pocket into each and filled it with a mix of cremini duxelles (sauteed finely chopped mushrooms and shallots) and yellow bell pepper. Then, each breast got itself dipped in flour seasoned with salt and pepper, then into beaten egg, and finally rolled in a mix of breadcrumbs, hot paprika, and a Chinese spice mixture of black pepper, cinnamon, salt, and m.s.g. Rather than fry these, I baked them in the oven drizzled with a little olive oil, and served them up with some sauteed globe zucchini.
Finally, of course, no Argentine meal would be complete without some form of dulce de leche – and a cheesecake in which I substituted the lovely caramelized stuff for the milk that I normallly put in, seemed the perfect ticket. Dusted with cinnamon and sugar, the evening ended beautifully.