"Route 66 has held a special place in the American consciousness from its beginning. The road is uniquely American. There are a thousand stories of hope, heartbreak, love, hate, starting over, and new dreams found along the next bend of the highway we call the Mother Road. The story of Route 66 is our story; it embodies what makes us a great nation. No other culture has had the same type of love affair with the automobile, and few have had the wide-open spaces offered by the American West." – Guy Randall, Route 66 aficionado
The theme? A 66th birthday party (Mike, you look at least a decade younger than that). The place, here at Casa S. A group of 7 to celebrate. No shellfish. And, away we go….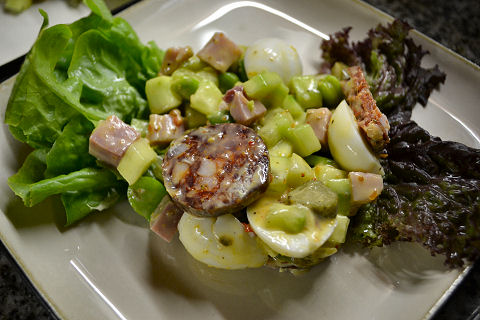 Salade Olivier
Bollinger Special Cuvée
Our re-mix on the traditional Salade Olivier, the predecessor to the ubiquitous Ensalada Rusa here in Argentina. Minus the shrimp, as requested.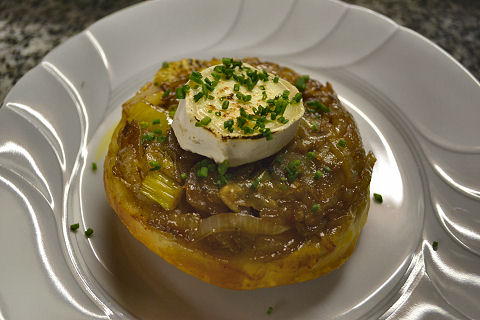 Seven Onion Tarte Tatin
Catena Zapata "Saint Felicien" Chardonnay Roble 2009
A much more fashionable reworking of one of our early appetizers, a red wine onion tart. Done here as a tarte tatin, caramelizing a mix of red, white and yellow onions, shallots, scallions, leeks, and garlic in butter, brown sugar, anchovy, salt, black pepper, and a splash of red wine. Topped after baking and flipping with a round of St. Maure goat cheese and some finely chopped chives. I suppose, depending on if you count the garlic or not, it's either a seven or eight onion tarte tatin.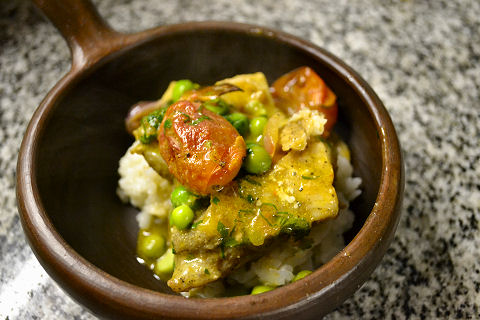 Sea Bass Sudado
Lagarde Blanc de Noir 2010
Henry insisted we had to slip in one Peruvian dish, and having just had our somewhat disappointing experience with a sudado at a San Telmo eatery, I thought I'd bring balance back to our world. Classic, the way he taught me to make it, and served over rice flavored with onion, garlic and bay leaf.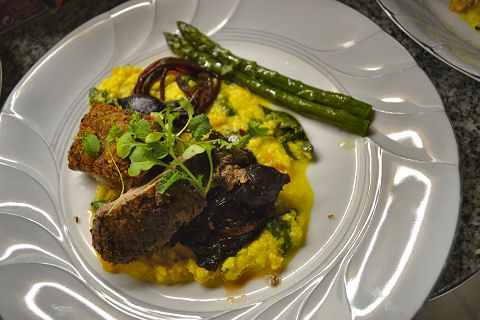 Lamb Two Ways with Humita
Tempus "Pleno" 2004
Not quite what I'd envisioned for this plate, but overall good flavors. Two cuts of lamb – the loin crusted in panko and pancetta crumbs and pan seared; the shoulder rubbed in salt, cinnamon and sumac and oven roasted. Served over a spicy humita – the traditional corn puree of the northwest of Argentina, with some roasted baby beets with their greens, and sauteed asparagus. It just needed more finesse, and the shoulder roast was a bit gristly for my tastes.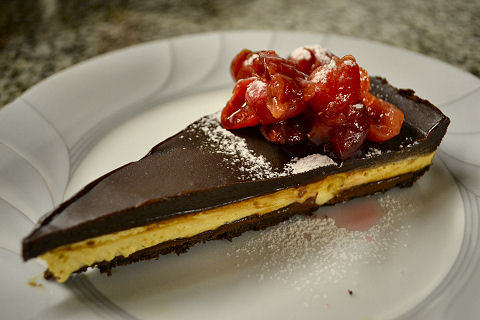 Torte Titano
Uxmal "Bravio" 2000
A slight reworking of my version of a torte titano – still layers of chocolate crust, nutella, toasted hazelnuts, homemade cream cheese flavored with espresso, and dark chocolate ganache, just a bit refined, and topped with a nice contrasting scoop of fresh sour cherries simmered in sugar syrup and then soaked in grappa overnight.
Happy 66th Mike!