"The negroni is a short and perfect apertivo made of equal parts bitter Campari, sweet vermouth, and floral gin over a couple of ice cubes with a small slice of fresh orange dropped in it to release its oils. That perfect Italian presence, which sparks your appetite and brightens your mood, holds in balance the sweet and the bitter, which I can't help but think of metaphorically, as the relationship with the non-threatening Italian continued even after the girlfriend, whom I had come to think of as the great love of my life, finally left, giving me and our many shared years the double bird…"

– Gabrielle Hamilton, chef/author, Blood, Bones & Butter
I just finished reading the above book, and although I found it a little too poor me whiny about said chef's relationships and how those things drove her to cooking – at moments, the connection was almost as tenuous as that statement – overall it was an interesting read. And the passage on the negroni, a cocktail which came up earlier in the book as well, got me thinking that it's been a long time since I had one. So, the negroni became the cocktail to launch this weekend's dinners. A change-up from our usual fruit juice based cocktails, and overall a nice one – not everyone liked the negroni, but most did, and even the few who didn't seemed to appreciate that it was an actual cocktail, and that they'd gotten to try one that they hadn't before. From there, I can't say that the menu built, because the rest of the menu had little to do with the cocktail itself, but, it put me in a certain frame of mind I suppose.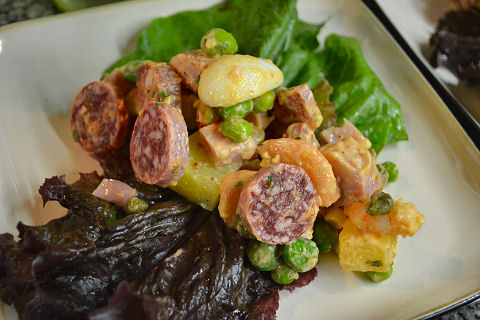 Lettuce / Longaniza / Quail Egg / Shrimp
Nieto-Senetiner Extra Brut, N.V.
With all the hot weather I've been doing a lot more with salads, and cold soups, and one of our favorite salads is the Salade Olivier, the ancestor of Latin America's ubiquitous Ensalada Rusa. This version contained potatoes, peas, corn, quail eggs, longaniza sausage, fuet de tandil (a sort of salami), ham, gherkins, capers, and a bit spicier version of the dressing, using sambal oelek in place of a little bit of basic chili paste.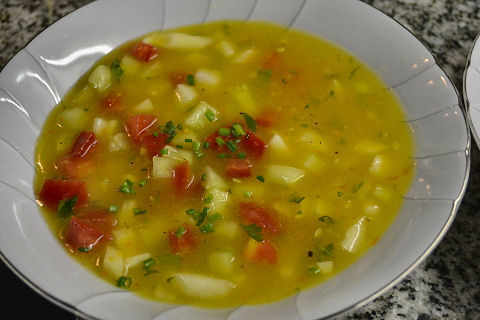 Mango / Cucumber / Onion / Peruvian Yellow Chili
Lurton "Vuelá" Sauvignon Blanc, 2010
A gazpacho was a natural choice, but I wanted to tart it up a bit – the base is a couple of fresh mangoes, a charred yellow bell pepper (skinned), a couple ají amarillo, some garlic, ginger and lime juice. Into that, a diced cucumber, some plum tomatoes, a large white onion and a handful of chopped cilantro. Salt and white pepper. Refreshing and delicious!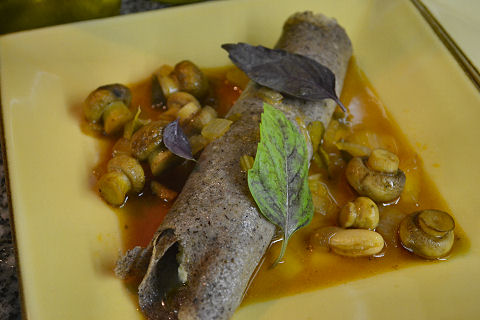 Ricotta / Mushroom / Buckwheat / White Wine
Monteviejo "Festivo" Rosado, 2011
I wanted a really nice, earthy dish, and I'm was still up on the roast pork sugo that we served recently. I thought a mushroom version would be interesting, and a little checking around revealed that there's actually a similar sauce made with porcini. Unfortunately, those aren't available here, but, I thought that going with caramelized, roasted button mushrooms would be a delicious approach, and it turned out really well – same recipe as linked, only using mushrooms that have been browned under the broiler in a mix of olive oil and butter. The crepe, to emphasize the earthiness, a buckwheat one (1 cup each buckwheat flour, egg, water, teaspoon of salt), and the filling, homemade ricotta with a bit of grated romano cheese, salt, white pepper, and chopped garlic chives.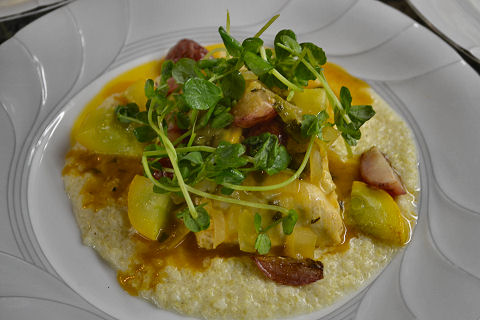 Chicken / Gherkin / Caper / Quinua
Tierra Prometida Bonarda, 2007
Another favorite, and not well known, Italian sauce, the "picante" – not as in hot with chilies, but as in what we would call "piquant", were we to use such a word on a regular basis – meaning some sharp, but not necessarily capsaicin based spicing – both Spanish and Italian need a separate word too, just saying. Chicken breasts cooked with onions, garlic, parsley, capers, gherkins, anchovies, salt and pepper, plus a little bit of flour, until nicely browned, then some white wine and white wine vinegar, let it reduce, then tomato paste dissolved in hot water, turn the heat down and continue to cook until the chicken is done (flip the breasts now and again), and the sauce is thickened nicely. Adjust the seasoning with salt and pepper. Served over creamy polenta style quinua (cooked first in salted water, then finished with a slow cooking and regular stirring with a mix of the lactic triumvirate – milk, cream and butter. Some sauteed yellow summer squash and radishes, pea sprouts, and a good ladle of the sauce over all. My favorite dish of the evening.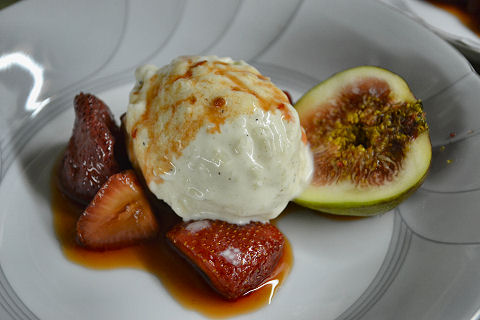 Rice / Strawberry / Balsamic Vinegar / Pink Peppercorn
Etchart "Cosecha Tardía Torrontés 2011
And finally, finishing up with a creamy risotto gelato. Odd sounding? Yes, I suppose – think of it almost like a frozen rice pudding. Carnaroli rice slowly cooked in a mix of cream, sugar and cinnamon. Let it cool. Meanwhile make a fairly standard ice cream base, or creme anglaise – milk, cream, eggs (I like whole egg rather than just yolks, though the latter will make this even richer), sugar and vanilla. Mix the two together, roughly equal volumes, chill, and then churn in an ice cream maker. Now, the first night I made it early and it got too hard, and the texture and scooping just weren't to my liking. I realized that with a well chilled base it only takes about 15 minutes to churn the ice cream, so, I setup the maker and churned it while people were eating the previous course. Came out perfectly the other two nights. Served over fresh strawberries tossed with a spiced caramel – caramelize some sugar, then off the heat add some molasses, grappa and balsamic vinegar, back on the heat to dissolve, and then off the heat mix in some crushed pink peppercorns. Toss with the strawberries and let marinate for a couple of hours. A wedge of fresh fig and an apparently simple, but deceivingly delicious dish.