"I was supposed to eat something new, so I tried the roasted soft squid. I ate just a bite of it. It was fascinating and completely gross."

– Jason Kotecki, cartoonist, author, public speaker
Bah, what does he know?! We love our tentacled creatures be they boiled, roasted, or braised, or… well, as in the case of yesterday's Tentaculo Espectaculo class, umm, oh yeah, boiled, roasted, or braised. This was the third time we offered up the class, each time with a slightly different mix of recipes. And, the second time that only one person attended (the middle of the three I had four people and a waiting list – go figure – actually this time there were three people registered, but a local couple had to cancel at last minute). In the end it worked out, the one student who came got extra attention, and a reporter for a local newspaper was able to fit in and cover the class for her paper.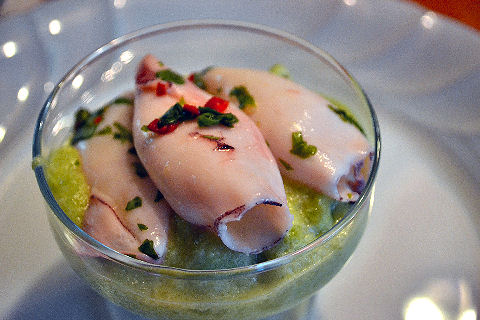 We led off with a calamarete (baby squid) ceviche, momentarily dipped into boiling water and then cured in a mix of orange and lime juices, salt, chilies and cilantro. Served over a light, delicate, fresh pea mousselline.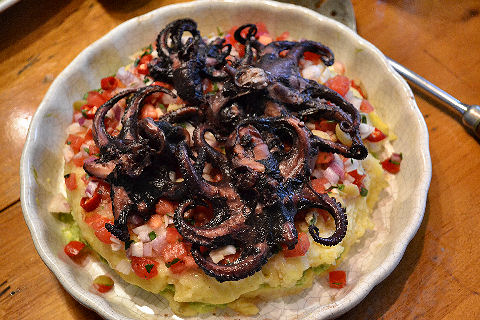 Certainly the most wriggly looking of the dishes – a baby octopus causa – you've seen a different version of this served up as individual portions and prettied up a bit at
one of our Peruvian dinners
. Layered spiced potato puree and avocado, topped with a spicy salad of olives, tomato, onion and chilies, and then in this case, the baby octopuses braised in red wine and spices instead of confited in olive oil.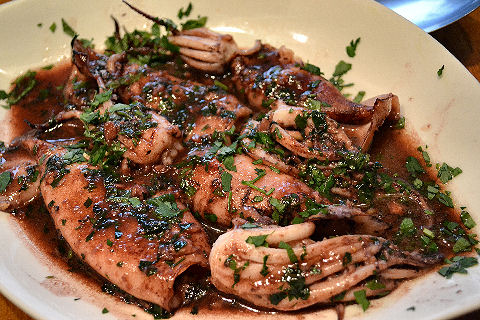 A classic dish from Istria, roasted garlic calamari. Very simple and delicious in its syrup of reduced fish stock, garlic, parsley and olive oil. And that's what you missed, yesterday on the Casa S channel.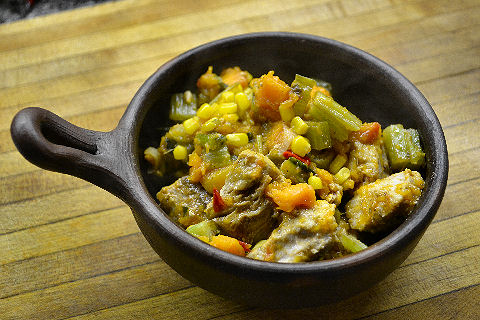 For lack of anything better to call it, I'm calling this a Tuna Succotash, even though there aren't any lima beans in it – it's one of those thrown together kind of dishes using whatever happens to be around – but remember I had those tuna steaks left from the pizza the day before. Into a pot with fresh corn kernels, the chopped stems of the swiss chard we used in the Fall Vegetables class, some squash, leeks, tomatoes, red chilies, chipotle chili powder and salt, then cooked over high heat with the lid on and just a splash of corn oil. When the vegetables were getting soft I added in the tuna, cut into large dice, covered the pot back up and cooked it until the fish was just cooked through. This is Henry's kind of dish, and he promptly declared me the best chef in the world and finished off most of the pot.
Oh, and hey, made it to the gym and discovered that despite all that packing in the food over the last two weeks, I actually lost 3 pounds, not gained… very strange.