"All I know for certain is that reading is of the most intense importance to me; if I were not able to read, to revisit old favorites and experiment with names new to me, I would be starved – probably too starved to go on writing myself."

– Penelope Lively, author
It was a leap of faith, though perhaps a small jump, that I would encounter a good number of dishes while spending a week dining out in New York that would inspire me to either reproduce them or take them in a new direction. I can generally count on that I'll have at least the five requisite moments of forking something in and thinking, oooh, I like that, I want to revisit it. The cheek of it all, however, was that coming back from NYC and hitting the ground running with classes on both interim days prior to this weekend's dinners, I wasn't going to have time to practice much of anything, so it was going to take some in the moment adjusting and finger crossing. It also meant staying a bit within my comfort zone and just adding in new flavors, but then, that's how new dishes start out anyway.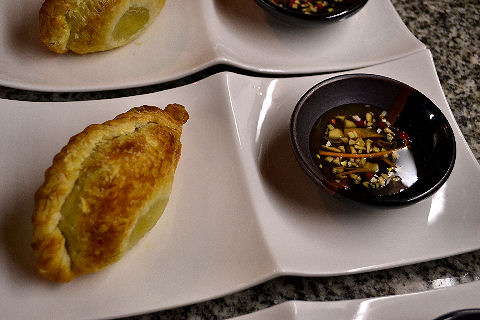 My visit to Qi, one of Pichet Ong's new projects (he has more new projects going on than most chefs work on in their career it seems) had two dishes that stood out. The tea leaf salad, while absolutely delicious, was just something that would take too much research and playing around with to get right – I'm not even sure I could get all the necessary ingredients here. On the other hand, the little chicken and corn samosas with spicy vinegar were a nice bite that I could translate. I took it in the direction of the corn, and empanadas – but not the typical humita empanada that is oft-served here, which I generally find to be a bit too sweet, instead the Salteña version called humitas en olla – a thick, rich stew of grated corn, fresh cheese, squash, green onions, chilies and basil – I'm making myself a post-it to do a step-by-step on that one, it's amazingly good. Cooled the mixture, stuffed empanada dough rounds with it. And, instead of the simple vinegar chili sauce, I went with Vietnamese nuoc cham – vinegar, lime, fish sauce, chilies, garlic, green onion and carrot. I could eat those all day. (Vegetarian version for one guest, the same with soy sauce standing in for the fish sauce.)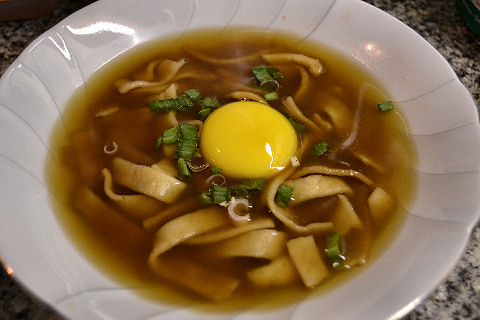 The visit to Kin Shop yielded up two really tasty dishes, though the really comforting one for this cool, rainy weather we're having had to be the mushroom soup. Here, I took a shot, because it was easy to go back and change it if it didn't work out, I've been reading through Aki and Alex's (Ideas in Food) new book Great Recipes and Why They Work, which I'll review when I'm done with it, but suffice it to say for the moment that there are some really intriguing… ideas in food. I decided to try their pressure cooked mushroom stock for the base. I can say I like the results, though I'll probably tweak it down the line – actually I slightly did, they use only button mushrooms in the base recipe, I used a mix of those and baby portobellos. I've been playing around with oat-based noodles, but they're not quite where I want them to be yet – so I tossed the batch as they were simply too crumbly to use, and went with some simple wheat and egg noodles. No duck eggs here, and for presentation I actually wanted to see the yolk, so just a chicken egg yolk slipped in at the last moment, a sprinkling of green onions, and I think it worked out well, though has room for improvement.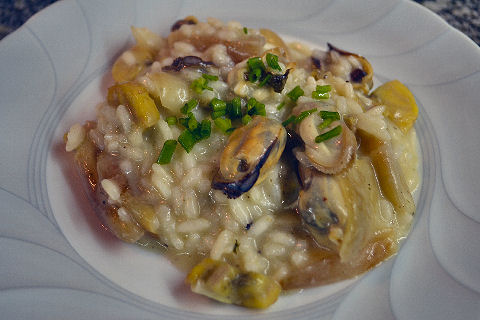 Remember the smoked plantain and caramelized onion sopes at Empellon, way back there on my second eve out in NYC? Rock star material. This inspiration needs some work though. I decided to go the route of a risotto, using caramelized shallots, finely diced smoked plantain (smoked in the wok over cherry wood), grilled mussels, and finished with goat cheese. Somewhere along the line that hit of chipotle got dropped out and I just noted it – what was I thinking? That's why one needs time to play with the dishes. It wasn't bad, and people cleaned their plates, but it was my least favorite dish of the menu. (For the vegetarian guest, pulled some risotto aside before adding the mussels and tossed it with some sauteed fava beans – other than being green, they kind of look like mussels.)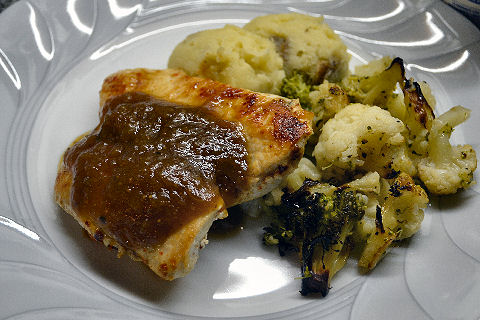 On to my first night out at Cookshop and that delicious fish dish with the charred cauliflower and broccoli, with lemon tahini sauce. Loved those flavors, but also wanted to go a bit bolder. The charred veggies were a given, and left as is – blanched and shocked and then drizzled with a little olive oil, salt and pepper, and put under the broiler, stirred now and again to get some good browning. Delicious as is. I made skin-on mashed potatoes with just a splash of milk to give them a creamy texture, and then flavored them with green lemon oil and toasted sesame oil, salt and white pepper. I decided to go with chicken rather than fish – rubbed flattened breasts with salt and chili flakes and let them sit for a couple of hours, then sauteed them in a mix of corn and sesame oils until nicely browned. The sauce, a serendipitous one. I was at my local vegetable market the other day and Guillermo, my connection, suddenly darted to the back and returned with an entire flat of black figs that were just a touch past ripe, so they were too soft for him to sell. He told me to take them and have fun. I made a fig barbecue sauce – mashed them in a big pot, added a liter of dark beer, a quarter cup or so of molasses, a trio of fresh ají amarillos, a couple of onions, and a half teaspoon of habanero chili powder. Cooked it down until thick, using the hand blender about halfway through the process to puree it all. Salt to taste. Ended up with a whole lot of sauce, used some of it this weekend, have more in the refrigerator, and bottled up a half dozen small jars of it and took it back to the market for G and the boys – it may be a touch spicy for them, we'll see what the word is after they try it out. People were kind of licking their plates clean on this one and so were we, so I'm happy with it. (Thick slices of eggplant done the same way for the vegetarian.)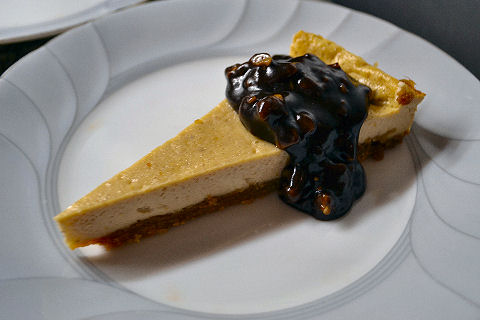 There was that amazing bourbon pecan souffle at Beacon there towards the end of the trip. I'm not about to attempt a dozen souffles in the moment in a home oven. But, a bourbon pecan cheesecake sounded like my style of dessert. Unfortunately, no pecans to be had, so it became a bourbon walnut cheesecake – a straightforward base with bourbon standing in for the vanilla extract and some finely ground walnuts added in. The sauce, based on this one from Shuna Fish Lydon – with the addition of a tablespoon of bourbon at the same time the vanilla was added, and about a quarter cup of chopped, toasted walnuts. Killer.
Not bad for some on the fly inspirations. On to tonight's vegetarian feast….