I suppose this might explain why the last couple of trips here, when I tried to just wing it for eating by tweeting and fb-ing where and when I was going to be dining, no one showed up. It seems that amongst even my restaurant friends, dining out early has become de rigueur, either on their own or because they now have partners who work in these places apparently called "offices" and work strange hours like from 9 to 5, which I thought was just a movie. 5:30, 6 p.m., seem to be the preferred times, so that they have the rest of the evening free. And midtown now seems to be the location of choice. When I left this town 6 years ago, no one ate in midtown unless they were going to the theater (maybe that's it, maybe they're all sneaking out to the theater after they down a plate or two with me… hmmm…).
And, Thai and Mexican food seem to be the only suggestions for what to eat. Now, I like both, a lot, I don't object to eating either of those, but breakfast, lunch and dinner every day for the week? I'd like some variety, thank you very much. But… well, it's more about seeing them I suppose… well, dammit, yes it is, but hey, I'm only here for a week, and there's food I want to check out as well. I'm going to have to find a compromise between these approaches for the next visit….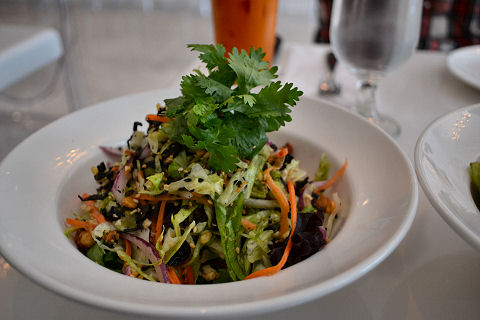 Now, sometimes it can't be avoided. If I want to meet up with Pichet Ong, pastry chef extraordinaire who has turned to the savory side with a hand in multiple restaurants that have opened over the last few years, it's likely going to be Thai food. So for lunch yesterday, meeting up with him at the newly launched
Qi Bangkok Eatery
, 675 8th Avenue, was simply about where he was going to be for the afternoon. Another friend joined me at the table and Pichet drifted back and forth, taking care of various business things he needed to do. No full review or anything, just what I ate… other than mentioning that the room, which is all in clear plastic and glass and white leather and marble, has a certain strangeness to it, like being inside an ice sculpture, or the champagne bubble scene from Wings (the first film to win an Academy Award for Best Picture, back in 1927, see it if you never have). Best thing I ate was this tea leaf salad – fresh, lively, spicy, and with a touch of bitterness from the tea leaves. Absolutely wonderful.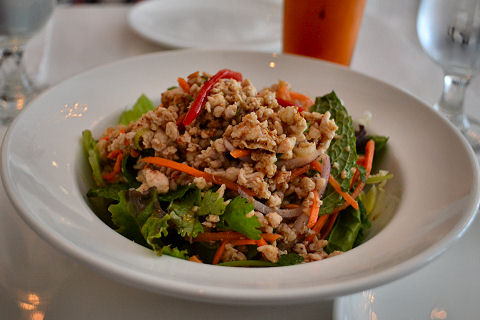 It was unfair of me to order the
laap gai
, my still favorite Thai dish, after that stunning version made with duck at
Chao Thai
the other night. In fact, I may be ruined for other laaps for quite awhile. This was simply good – more or less what I'd expect the dish to be, though the spicing toned wayyy down, surprisingly. But then, this spot is located in a very strange area, on a strip of discount electronics and souvenir shops and fast food/chain kind of eateries. Pioneering ones way into the 'hood sounds risky to me – maybe less so in the evening for pre or post theater, but at lunch it wasn't exactly teeming with people.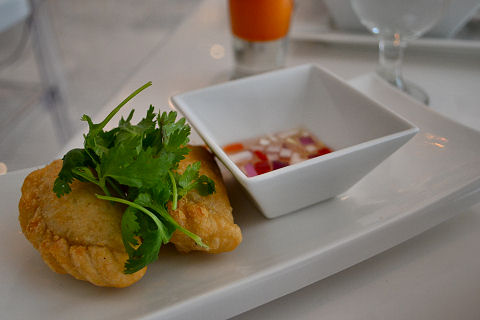 Pichet insisted we try the curried samosas. Really pretty darned good – actually less samosas than, say, mini-empanadas, made with puff pastry (he is a pastry chef by trade, after all), with a tasty little curried chicken filling and a zingy vinegar and chili dipping sauce. The tea leaf salad wins though.
Dinner was slated to be more Thai food, though a version tossed out there by celebrity chef Todd English at his new Ember Room. I was meeting up with someone I used to work with many, many moons ago at American Renaissance restaurant, and his boyfriend, and they at first highly recommended it. I hadn't heard much good about it, in fact, most of what I've heard has been pretty atrocious, and when I brought that up he told me they'd only been there once and it was only so-so. Let's pass on that. Instead, we ended up at Hell's Kitchen Restaurant, 679 Ninth Avenue (see, both places in midtown…), a "progressive Mexican" restaurant. Not sure what that means, but I ate there once back when it first opened, and other than the dimly lit, poorly decorated atmosphere (really, travel posters?), I vaguely recalled it being pretty good. [Closed]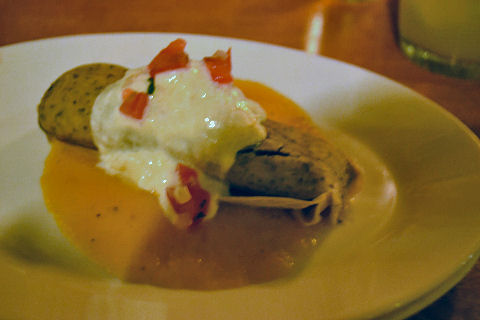 I was feeling a bit overstuffed from the last few days. Not sure why, although I've been eating out quite a bit, I've, for the most part, leaned towards lighter fare. Decided on a couple of vegetarian dishes – the first a huitlacoche tamal with mascarpone cheese and habanero sauce. Huitlacoche for those who don't know is usually translated into English as corn smut or corn fungus – it is a fungus of sorts, a mushroom if you will, that grows on corn. It's pretty unappealing looking, generally being sort of charcoal grey and bubbly looking, but it's really good. The tamal itself was nicely packed with flavor, if a bit on the skimpy side, the mascarpone added a nice richness to the dish, the habanero sauce… not a lick of spice to it. I have no idea what sort of habanero powder, puree, or fresh they used to make it, but Taco Bell wouldn't even class that sauce as "mild". I asked for some hot sauce, which unfortunately didn't arrive until I was into my main course, despite a couple of requests…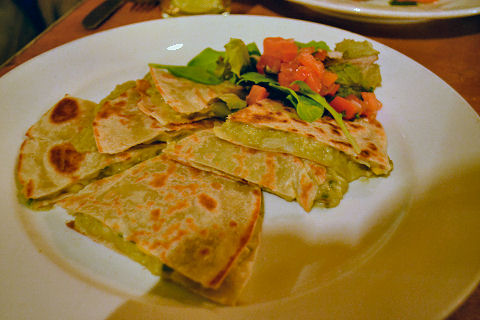 The poached artichoke puree quesadilla was delicious on its own, flecked with idiazabal cheese, a slightly smoky Basque sheep's milk cheese, and a roasted sweet corn and poblano cream. Again, devoid of any spice – then again, poblanos aren't particularly spicy. But, my hot sauce request finally honored, with a really good, smoky and fiery bowl of what was likely my missing habanero heat along with something nice and smoky, perked the dish right up. Absolutely a winner with the heat added, though a main course consisting of one quesadilla cut into six pieces, for $18, was once again on the skimpy side. These were basically two small appetizers, for $28 combined – not sure I'd call that a good deal for food of this level.
But, it was what it was, and it was good to catch up with my friend and meet the love of his life. My lunch plans today got cancelled, so I'm planning on making it a shopping day – take care of all that stuff. Maybe grab a lobster roll… And I've already stamped my foot and declined another Thai night out this eve, pimping instead for some good Chinese down in Chinatown. Early. 6pm. But hey, that gives me the rest of the eve to do something else. Who knows, maybe I'll even fit in another meal, late….