I couldn't get out of Kentucky without having a bit of "local" cuisine – something other than the abominations that were served at the buffet mentioned in the last post. Imagine my surprise to find that in the Yum! Inc. capital of the country (i.e.,, the corporate headquarters for KFC, A&W, Pizza Hut, Taco Bell, Wingstreet and Long John Silver's – you did know that it's all one company, yes?), that fried chicken other than the Colonel's secret recipe is actually permitted and not banned by corporate influenced legislation. I guess Harlan Sanders didn't feel that Goose Creek Diner was likely to be much of a threat to its profits….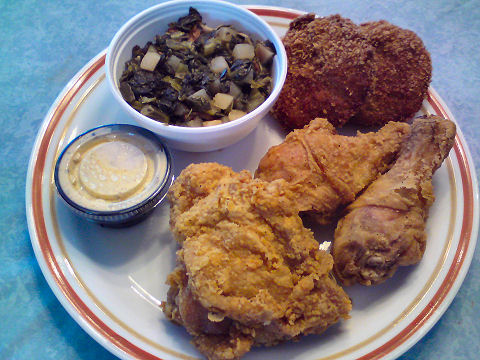 The fried chicken from GCD is pretty good. Not great, but pretty good. My personal preference runs to something with a bit more breading and crunch, these seem to be little more than flour dusted and then fried. On the other hand, the fried green tomatoes were fantastic, particularly with their spicy ranch dipping sauce, and the vinegary stewed turnip greens with diced turnip and smoked ham hocks were another winner.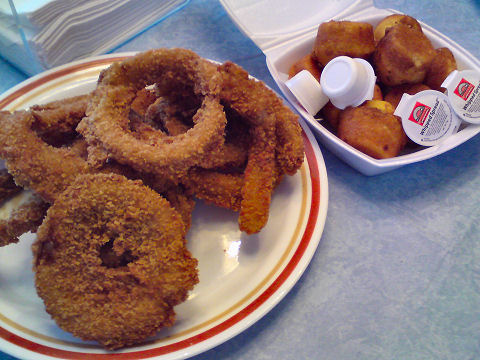 And just in case there wasn't enough fried stuff around, my folks got the plump and crispy onion rings, cole slaw and corn muffins to go with their chicken dinners. What a shame I wasn't there on "all you can eat fried chicken liver" night….
Back to the airport the next morning and headed, completely uneventfully, to NYC, getting in late afternoon – I was able to rebook on an earlier flight at my transfer at O'Hare, jumping onto a plane 20 minutes after landing from Louisville, saving myself a three hour layover. Laundry, shower, shave, and back into the world heading to Elmhurst to meet up with a trio of friends at Chao Thai, 85-03 Whitney Avenue, a mere block from the Elmhurst subway stop on the R. I was assured that I was in for a Thai feast (Can I count it as my Passover seder? There was no leavened bread to be seen, and we can just pretend the pork was something else, right?) not to be matched elsewhere in the city….
The place is small, and with my friends' foreknowledge, we arrived nice and early at 7pm – by 7:30 there was a line of folk waiting to get in. We ordered up six plates of food to share, plus rice and sticky rice. No alcohol served, and based on a posted sign, not allowed in the place either, though my friends assured me that if we wanted to we could buy a bottle of wine down the block and they'd let us drink it. I was also warned that we were going to order everything "mild" not "medium" or "spicy" and that it would be more than spicy enough – post dinner I think we could have safely gone up to medium, but given that we were already breaking sweats at mild, I think spicy might indeed have been beyond our coping levels. I'll leave the rest mostly in pictures with little commentary….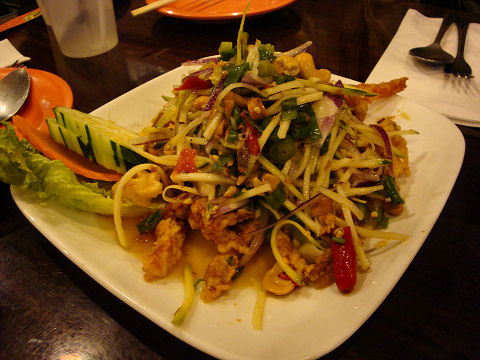 Fried soft shell crab salad with mango and plenty of fresh chilies. First soft shell crab I've had in a very long time! We don't get them in BA.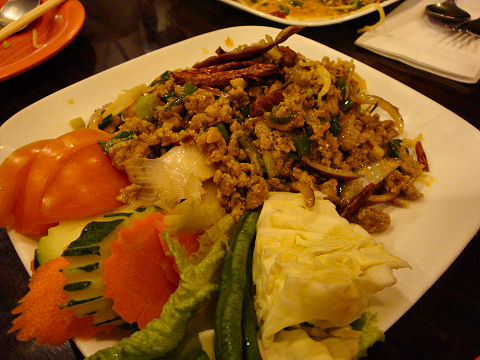 As regular readers know, larb, or laap, is my all time favorite Thai dish. Normally made with chicken or sometimes pork, at Chao Thai it is additionally offered in a beef variety and, as here, duck. Might just be the best larb I've had, though this dish could have definitely gone a step spicier.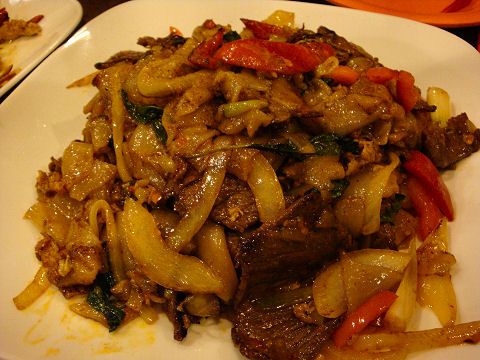 The Pad Kee Mao, drunken noodles with beef (also available in pork, tofu, vegetable, shrimp, squid, mixed seafood, beef), chilies, basil and egg. We were still going strong at this point and made rapid work of all three plates.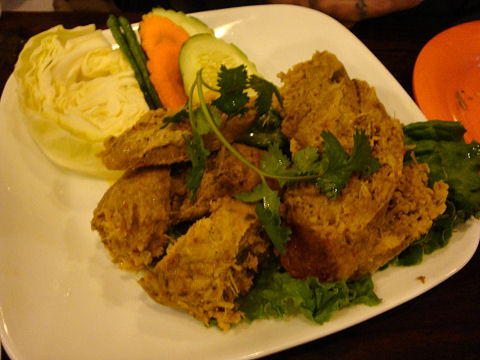 We decided that ignorance was bliss and chose not to ask any questions about the Northern Thai Sausage – light, delicate, delicious.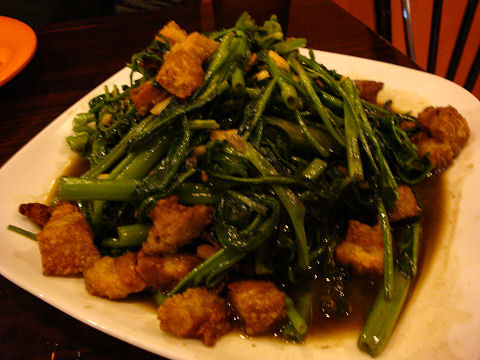 The Morning Glory Soybean Sauce – a heap of delicately sauteed "water morning glory", a.k.a. water spinach, water convolvulus, swamp cabbage, or chinese spinach – lots and lots of garlic, only a touch of chili, and deep fried pork belly. We didn't make it all the way through this dish, it was a lot, we were getting full, and just a bit of forewarning, water morning glory doesn't do what most green vegetables do – let's just say it stops things up rather than pushes things through… don't overdo it, it's delicious, but… got it?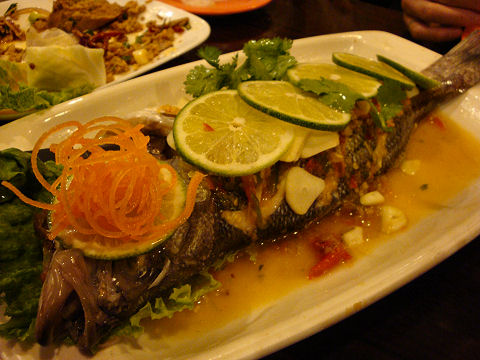 We barely got through half of a whole steamed striped bass in ginger sauce. On the menu the ginger sauce version is with a fried fish, but we asked for it steamed with ginger, garlic, chilies, black pepper and lime. A trifle overcooked, but absolutely delicious. We just couldn't handle any more.
So what did what was really dinner for six cost the four of us? A whopping $95. Yup, that's right, even with tip it was only $30 apiece – and we overdid it. We decided to walk about a mile along the avenue before hopping on a Q32 back to the city (we could have also taken any of the trains that pass through the Roosevelt Avenue stop at that point).