"Songkran, the most vigorous of Thailand's festivals, was the official Thai New Year until 1941. Formerly tied to the movement of the sun, modern Songkran takes place from 13-15th April. Songkran began as a ceremonial bathing of Buddha images as part of a new year's spring cleaning ritual. However, it has degenerated over the years into a free-for-all water fight in which the streets are filled with revellers armed with water guns, jars and buckets.

– Richard Greaves, Festivals in Thailand
Buenos Aires – It was clearly time for our second annual Thai/Cambodian New Year's festival dinner. First of all, the dates were right, and second of all, last year it was so popular that we had to add an extra dinner and nearly another. This year, the response wasn't quite so vigorous, and, in fact, only a few locals came, the two evenings were almost entirely peopled by visitors to the city. Actually, I've been noticing that recently – perhaps we've become a "been there, done that" location for many who live here, it's hard to tell – I keep hearing from people about how they're going to come again, or come for the first time, I've got people here who I consider to be good friends who have yet to make an appearance at one of our evenings, despite repeated promises to do so (I've long ago stopped even bringing it up with them, it feels like a waste of my time and probably annoys them at some level). They'll either get here or not, but I don't quite get the continual promises to show up, especially when I'm not asking. Hey, you're not interested, you're not interested. We'll keep having fun with the people who are. Now, back to Southeast Asia, and a dinner that I was quite pleased with. Far more unusual, I think, in terms of the dishes, than last year's menu. Oh, and it was just coincidence, I think, that I'd just checked out one of the local Thai restaurants.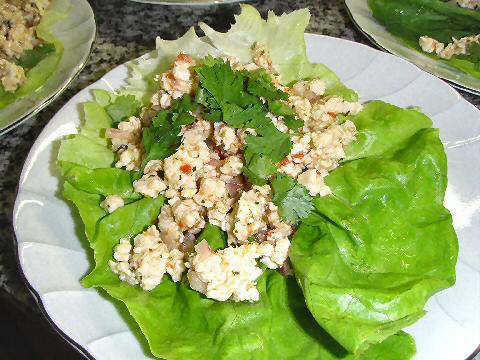 While not from either Thailand or Cambodia, or even, as best I know, one of the other countries celebrating New Year's at this juncture, we began the gathering part of the evening with my twist on a Singapore Sling. It was the only cocktail that I could think of that off the bat invoked the general region… Mine is a blend of gin, cherry liqueur, and while in the past I've used Benedictine, I haven't seen it here, and I used just a splash of a local herbal liqueur called Pineral, then topped the whole thing off with sparkling water. Strong, but quite good I thought. We moved on to dining, and one of my favorite Thai dishes of all time – I think maybe because it was the first Thai dish I ever tried, and it just sort of lodged itself in my brain. It's called laap gai, or larb gai, or any of various other transliterational spellings. My version involves first toasting some rice flour until it just barely starts to color, then adding ground chicken to it, and cooking it, making sure to stir it regularly and keep breaking it up so you don't end up with lots of big clumps like a chicken burger. When cooked, I add a good amount of chopped red onion, and a pureed mix of lime juice, mint, cilantro, and fairly hot chilies, and then let it sit until cooled, then chill in the refrigerator. When it's time to serve it, I pour a mix of lime juice, fish sauce, green lemon oil, and chilies over it to adjust the seasoning (the chilling will mute a lot of the flavors and it will need to be perked up).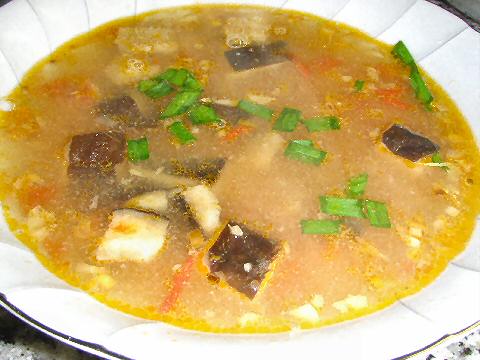 The surprise hit of the evening! I got great commentary on this one, and nearly everyone seemed to love it and comment on it. A take on a Cambodian soup of crab and pine mushrooms, the first thing I did was put some salt, sugar, tamarind pulp, finely chopped lemongrass, and diced tomatoes into a pot with just a splash of peanut oil and cooked them over medium heat until the tomatoes were near falling apart – about 7-8 minutes. Then I added a good amount of chopped up crab meat and some diced pine mushrooms (shiitakes are a good substitute if you can't find the others). I cooked that for a few minutes until the mushrooms started to get soft, then added shrimp stock (fish stock would work, as would vegetable – in fact, the original recipe called for chicken stock). I brought that up to a simmer and let it cook for about twenty minutes. Meanwhile, I finely chopped a whole lot of garlic and then fried it in peanut oil until browned – not burned, but clearly nice and golden brown – and then added that, oil and all, to the soup pot and mixed it up. When ready to serve, I added a mix of lime juice, fish sauce, and chilies to the pot – just enough to brighten up the flavors, the idea isn't to create a spicy dish – actually, the original recipe had this mixture served on the side and letting people add it to their own tastes.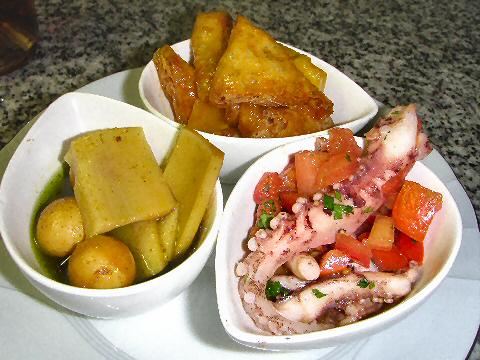 This course was the most fun for me. I'd started off with the idea of one of these sort of Thai "tapas", and realized that it would be too small of a course or too much of one thing for a course if I gave a bigger portion. I decided on a trio de tapeos – these are dishes that are often served on the side of a main course, or just on the table as a sort of adjunct to a meal, or at least that's my understanding. The original dish was the quail egg one – the eggs are hard boiled and then cooled and peeled. In a pot, I put a pureed mix of cilantro stems, salt, ginger, garlic, black peppercorns, and star anise, along with a little oil, and cooked that over medium heat for about 7-8 minutes until it was nice and aromatic. At that point, the recipe called for palm sugar, which the market seemed to be out of, but I had some chancaca, which is a Peruvian dark brown sugar loaf. I added a good dose of that, brought the heat up, and let it start to caramelize – another 7-8 minutes. At that point, I added a mix of soy sauce, chicken stock, and oyster sauce, and then put the quail eggs and some pre-cooked bamboo shoots into it, turned the heat down, and let it all simmer together for about twenty minutes. The next dish on the Thai side, was a simple one, but I think my favorite of the three – a very simple dish of fresh pineapple that's been fried in peanut oil, and then fried tofu added to it, and finished with mushroom sauce (vegetarian oyster sauce), and chili oil. And, finally, a take on a Cambodian dish, sauteeing a handful of cracked black peppercorns in very hot oil, then adding diced tomato and squid tentacles (or rings if you prefer), and cooking until just done. Just a touch of salt to finish and voila. It was interesting, the first night, people ate through the first two, and only the guys ate the squid – Henry said that the women seemed bothered by the long tentacles, and there was, I admit, no real way to cut them up on the plates (well, one could have removed the little dishes and then used the plate to eat off of) – so the second night I cut the tentacles in shorter pieces, and lo and behold, everyone ate the squid and the tofu dish, but basically few people touched the quail eggs, a couple of folk deeming them "weird". Such is the world of different groups!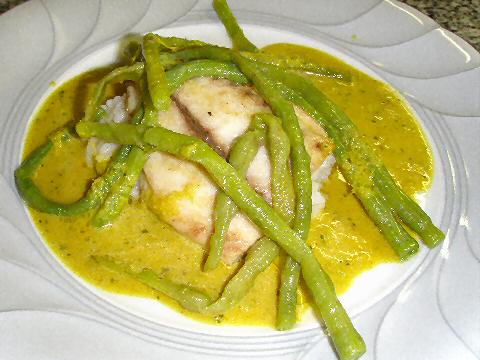 To the main course, and a tasty little preparation of red snapper, which I picked up in Chinatown and filleted. The fillets were simply sauteed and served atop jasmine rice. Arranged haphazardly atop are a few long beans that had simply been blanched and shocked and then briefly sauteed to rewarm them. The sauce was the key – a pureed mix of chlies, kaffir lime leaves, lemongrass, coconut milk, garlic, shallots, fish sauce, paprika, turmeric, and aji-no-moto, or msg, all cooked together for about half an hour over low heat. The first night I served it as it was, but decided that it still had a bit too much fiber in it, presumeably from the lemongrass and lime leaves – so the second night I strained it before serving. Flavor's the same, but the texture was nice and smooth. I loved it, hopefully others did too!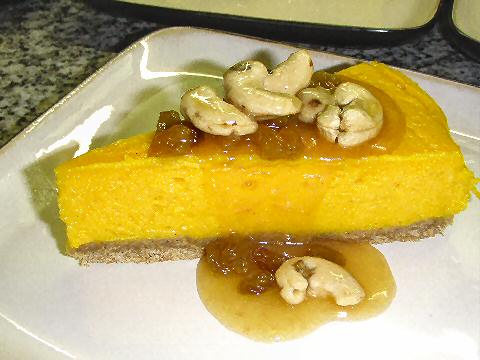 And, we finish up with a dish merely inspired by some of the flavors in Thai and Cambodian desserts – a pumpkin (well, Korean squash) tart with caramel cashew sauce. The tart actually started out with an old Betty Crocker recipe. I made a few changes – the crust was a mixed together blend of a cup of pastry flour, ½ cup of butter, 2 tablespoons of brown sugar, 2 tablespoons of powdered ginger, and an egg yolk – not that different – and pressed into the bottom of a springform pan. I roasted the squash, cut in half, until soft and steaming, and then scooped the flesh into the blender, added ½ cup of sugar, a splash of vanilla paste, pinch of salt, about a 1″ cube of fresh ginger, and started it pureeing. I added four whole eggs (there was more squash pulp than in the original recipe), and some heavy cream – it was about ¾ of a cup. Poured that over the base and baked until just set in the center. The sauce was a simple caramel of sugar with a splash of lemon juice to prevent crystallization, and then when it was medium dark I stirred in a little milk and some cold butter, and whisked until smooth. To that I added some lightly toasted cashews and golden raisins, and then just set it aside, rewarming it when it was time to ladle over the pie.
So, hmmm, next year, Songkran doesn't fall on a weekend… I guess we won't have a third annual feast…