Saturday was Thunder Over Louisville, a day-long air extravaganza that's normally held the weekend before the Kentucky Derby (an extra week separation this year because of the timing of Easter) – basically a 6½ hour airshow followed by a half hour fireworks display along the river between Louisville and Indiana. Now in its 19th year, it's apparently, normally, a pretty spectacular show. Unfortunately, the day was windy and rainy, and most of the airshow simply didn't happen.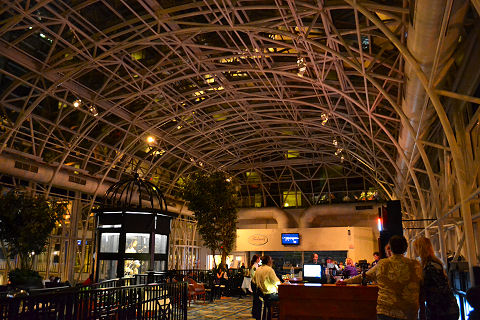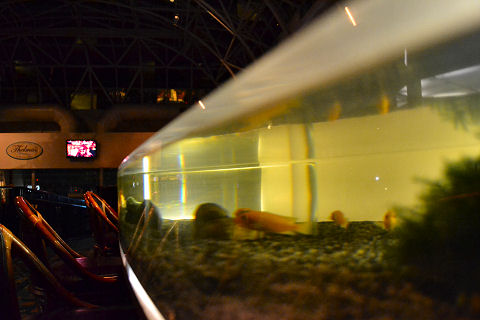 Now, rather than plan to be outside, we'd made reservations in the Al J's bar/lounge of the Galt House hotel, which is a glassed in bridge facing onto the river and connecting the two towers of the hotel. It has a very cool bar counter that is an aquarium, running probably a good 40′ in length. It's a pretty spectacular vantage point, if the show happens. The day was also to include an all afternoon and evening buffet and open soft drinks bar. Another unfortunate, the buffet wasn't ready at 3pm when the event started, in fact wasn't ready until nearly 5pm (we'd skipped lunch planning on this), and closed up while the fireworks were going off, more than two hours before the close of the event. And top it off with that all it consisted of was a couple of crudite platters of dried out raw veggies, some dip, some crackers, potato salad, overcooked pasta salad, some "sandwiches" that consisted of a slice of cheese and a slice of lunchmeat on a croissant, baked beans, and wayyy overcooked barbecued chicken. Not exactly the festive all you can eat buffet we'd hoped for, and given how little of the food got eaten by the four dozen or so attendees, that was probably a consensus.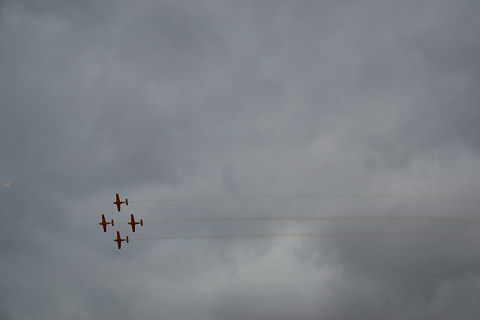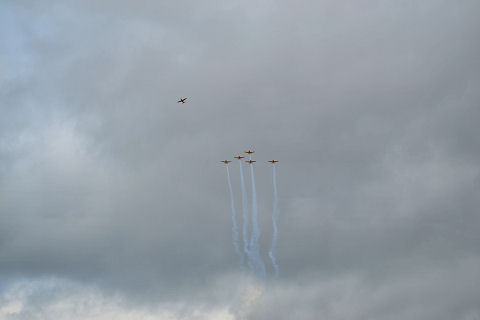 What there was of the airshow was interesting. Photos weren't all that great – I didn't think about that the new camera doesn't have a telephoto lens, should have brought the point and shoot, which does. On to the fireworks, which were pretty! 57,000 of them supposedly (we could only see half of the show from where we were, the other half is apparently a mirror image, further down the river out of our view).