In the restaurant biz, there's the dreaded "veg plate" – it's an afterthought, something that most chefs don't even bother to think about until the moment when someone shows up in the restaurant with an "oh, by the way, I'm a vegan and need you to cook for me instead of anything on your menu." Unfortunately, such occurrences are far more common than one would think – I mean, how hard is it to mention it when you're making a reservation so that the chef actually has time to come up with something of quality equal to the rest of what's on the menu? Yet, time and time again it's offered up as a challenge – even in our Casa S setting it's the most common last minute, at the dinner table, thing to be thrown at us, despite that we ask everyone who makes a reservation if they have any dietary restrictions. More than once I've simply had to make do with putting out not much more than salad fixings for someone like that who apparently doesn't think being vegan/vegetarian comes under the heading of "do you have any special dietary considerations I should know about?"
But no such considerations apply at the East Village's Kajitsu, 414 East 9th Street 125 East 39th Street – I've been before and even written it up sort of off the cuff once before, but this time decided to really let you see what it is they offer – which is Japanese shojin cooking, a vegan style of cooking developed in Zen monasteries which also treats food as an art form to be appreciated. I met up with two friends who recently moved from BA to NYC – one of them was the person who first asked and got me started teaching vegan cooking classes just to be able to cook some good stuff at home, and who now, a couple of years later and many classes into it all, has enrolled into the Natural Gourmet Cookery School in the professional chef's program here. I didn't force her, really!
The place is small, maybe 40-50 seats tops, split into two dining rooms that each hold half of that. Service is friendly and even a touch obsequious. In some ways it's not very efficient, though it is a beautiful dance to watch – waitresses bring the trays of food to a side board near to your table and then serve things one item at a time, carefully carrying each bowl, cup or plate, or even piece of silverware, one at a time, back and forth, but with an interesting grace. It does slow things down a touch, which is, of course, likely the intent. The menu has two options – a four course or a seven course menu, respectively $50 and $70, plus options for various sake pairings.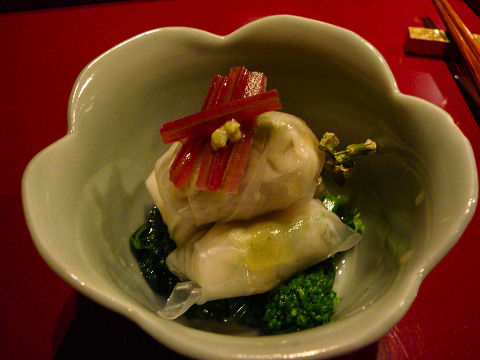 I think for the most part it will be simplest to simply reproduce Kajitsu's descriptions of the dishes followed by my impressions, this one: Okara Summer Roll with Broccoli Rabe and Swiss Chard, Turnip Puree, Avocado, Snow Peas, Sesame Seeds, Wasabi, Soy Sauce. To us it comes across almost like sushi, in a very strange way – the texture, even the flavors invoked that. Okara is a thin film that is left over from the process of making soy milk, basically a sheet of soy fiber that makes a very delicate wrapper.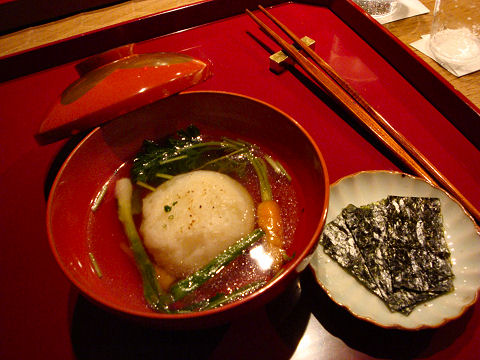 Vegetable Consommé with Onions and Mountain Yam Dumpling, Tiny Turnip, Tiny Parsnip, Tiny Carrot, Spring Onion, Nori. A very light, delicate consomme with the flavores of the various vegetables listed infused into it, and a single one of each gracing the sides of a large dumpling that seems solid at first, but breaks down into soft shards that one can simply drink with the broth. The nori seaweed on the side is dipped quickly into the broth and then eaten separately.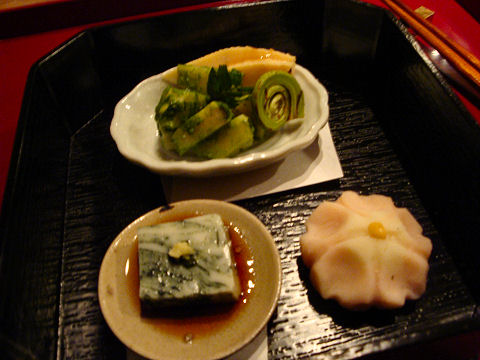 No question the menu gets a bit wordy – I'm not sure that every ingredient is truly needed to be listed as it almost seems, but so be it. Braised Bamboo Shoots with White Miso and Sansho Leaf, Marbled Sesame Soy Tofu with Yomogi and Ginger Soy Sauce, Cherry Blossom Potato. The bamboo shoots are braised two different ways, one simply that almost seems slightly pickled, the other in a miso and sansho sauce, giving it the green color, a single fiddlehead fern top (oh my, it wasn't listed!) also graces that little plate. The cube of tofu is infused with the flavors/pulp of yomogi, which is the Japanese mugwort plant, in a beautiful little marbled pattern, the sharpness of the ginger atop makes for a really interesting contrast. The cherry blossom form made from a mix of white and pink potatoes seemed to me to be unflavored or nearly so, other than a little teeny drop of hot mustard dotted atop, just providing a foil for the other components of the dish.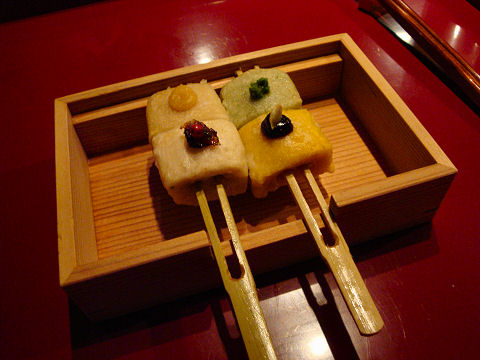 Four Flavors of Grilled Nama-Fu, Red Miso Sauce, Balsamic Soy with Smoked Olive Oil, White Miso with Yuzu, Matcha Salt. First, nama-fu, basically the seitan of Japan,
i.e.,
wheat gluten, though as I understand the process the gluten is then mixed with sweet, glutinous rice and millet. I asked about it to our waitress who insisted that that wasn't the case, it was just gluten with a single additive to each of the four, but based on texture and flavor, I'm pretty sure the rice was in there…. Starting from the upper right, the green one was flavored with green tea and topped with a little dab of a green tea salt – I'd say it was my least favorite of the four because the tea took on a bit too much bitterness in that concentration. The orange-ish one was flavored with kabocha squash and then had a very concentrated drop of the balsamic vinegar, soy and smoked olive oil that was delicious together – that combination will be fun to play with down the line. The white one was simply flavored with white miso and topped with a salty red miso paste. And, my favorite, the light yellow one, which had toasted millet mixed into it and topped with a white miso and yuzu citrus juice puree – outstanding!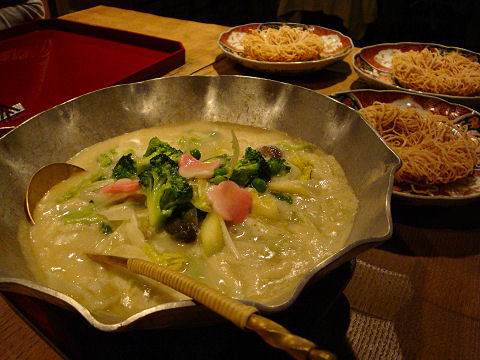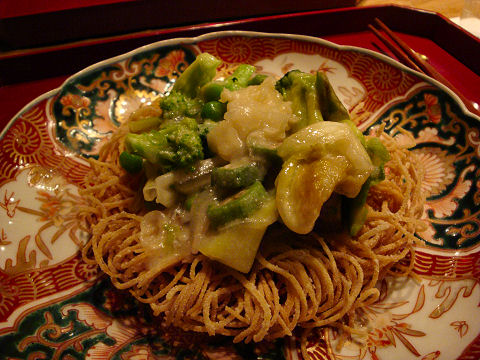 Crispy Fried Soba Noodles and Spring Vegetables in Miso and Sesame Broth, Lettuce, Broccoli, English Peas, Asparagus, Okura, Bean Sprouts, Enoki Mushrooms, White Mushrooms, Scallions, Glass Noodles. Shortly before this next course was brought out, the crispy nests of soba noodles were brought to the table and lined up. The soba is, we were informed, 80% buckwheat and 20% regular wheat flour, and made in-house. Next, a beautifully hammered silver bowl was brought to the table with a stew of vegetables – I actually think there may be a typo in the menu, there were slices of what were clearly okra in the medley, and I think that whoever wrote it up made the mistake of confusing it with the okura back in the first dish. Creamy, rich, decadent, delicious, and a great counterpoint with the crispy, crackly noodles. We were stuffed.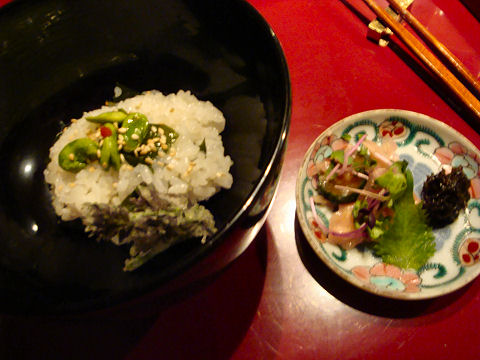 But, there was more to come. Steamed Rice with Wakame Seaweeds and Grilled Fava Beans, House-Made Pickles. Just a simple dish of plain white rice, the seaweed served in a couple of different forms – crispy, sauteed, pickled – along with smoky fava beans and a mix of thinly sliced vegetable pickles. Excellent, but at the same time, perhaps just a touch too much food given the size of the main course. There's also an option that must be ordered in advance when you make the reservation to swap this course out for a special rice dish,
Takenoko Gohan
, a large clay pot of rice flavored with grilled bamboo shoots that is served family style ($15 supplement).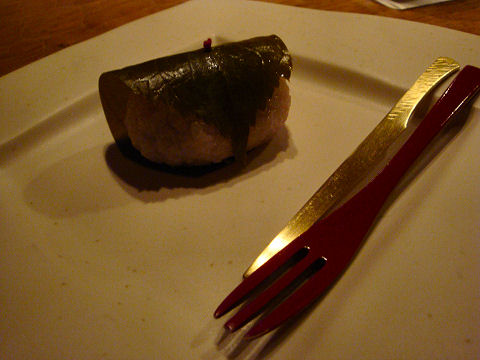 Sakura Mochi. After all the other detailed descriptions, this one is surprisingly lacking in detail. Sakura are Japanese cherry blossom trees – not to be confused with sakuranbo, Japanese cherry fruit trees. Here, mochi, a sweet glutinous rice, is mixed with a salty cherry blossom paste and wrapped in a cherry blossom tree leaf and then steamed. Absolutely right on and thankfully a small amount, because we were bordering on exploding at this point.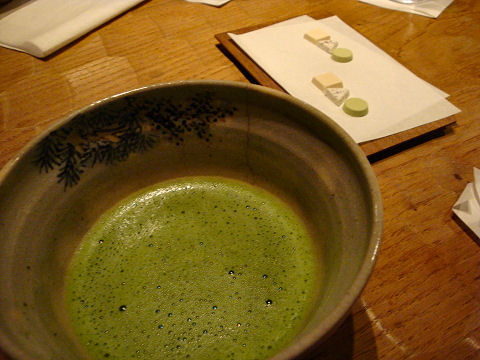 It's a shame they don't do the whole tea ceremony table-side, instead delivery the tea already whisked and ready to drink, along with a little trio of candies made by a friend of the chef's, in the form of the restaurant's logo. The candies are little more than pressed sugar, each with a different flavoring, though I wasn't fond of them, this time or on previous visits. But, the tea is a nice digestif, and we then waddled out into the night where somehow after a short walk we found ourselves at Lula's Sweet Apothecary, 516 East 6th, where they serve up intensely flavored vegan ice creams based on cashew milk. I only made it through about half a scoop of banana walnut.
All this on top of a noon outing to Bridge Cafe, 279 Water Street, where I tucked into a monster sized sandwich of a fried soft-shell crab BLT with sun-dried tomato pesto. Vacation. Just keep remembering it's vacation…. extra eating is okay. The gym awaits back in BA. This trip isn't helped by being the first trip back here where I'm not working out at the dojo on a daily basis, but focusing almost entirely on social stuff. Sorry there's no photo, it was really pretty, but, still getting used to the new camera and couldn't get it to focus, didn't realize there was a switch to turn off the autofocus that I hit accidentally.