These first couple of days in NYC are involving taking care of a bit of business and some minor medical things, and leaving next week after my return from Louisville as a complete play week. Still, that doesn't mean all work and no play, and the chance to spend a day with my aunt and uncle who zipped down from Connecticut is always a pleasure. My aunt hovers at the perfect median age between myself and my father, her brother, and has always been a sort of generational bridge who can see both sides of the gap. And, the two of them are a lot of fun to go out and wander the city with. Unfortunately, the city, or at least Mom Nature, wasn't overly cooperative yesterday, with most of it spent in alternating drizzle and downpour.
We started from Grand Central, where I'd arrived early and picked up some more of my favorite green lemon oil from O&Co., and was excited to find out they now have Sao Paolo outlets – Brazilian friends take note, their flavored oils are spectacular, and when you come to visit, you can always bring me some! And Oliviers folks, open one in Buenos Aires, please! But I'm stocked for at least the next couple of months.
We wandered up Madison as the drizzle was light, but along about 54th Street the heavens opened up and we decided that rather than continuing to meander, we'd duck into the closest restaurant that looked a) respectable (i.e., we rejected the Burger Heaven that we were closest to) and b) didn't cost an arm and a leg as many spots in that 'hood do. We ended up at Papillon Bistro & Bar where my uncle and I tucked into a couple of seared tuna sandwiches, the fish fresh, moist and perfectly cooked to medium and served up with a wasabi aoili and arugula on a fresh baked ciabatta and my aunt took on a half a free range chicken that she seemed to feel must have led a quite happy life given how happy it made her.
Back into the streets and the rain back to a drizzle, we continued on up to 70th Street and over to my favorite museum, The Frick Collection, where they'd never been. We enjoyed it thoroughly (despite the now steep entry fee of $18!), including, for the first time in all the years I've gone here, sitting down to watch the short film on the history of the museum and Henry Clay Frick himself. After, we drifted about in Central Park for awhile and then across and headed down Broadway, stopping off for gelato at one of the Grom outlets, none of us having been – the Sri-Lankan cinnamon gelato was spectacular, as were the two different dark chocolate versions available. The caramel and pink sea salt one was a bit of a bust – little flavor of caramel and no hint of the salt.
They headed back up the railroad tracks in the late afternoon and I headed out and bought myself a new camera – I've been dreaming about a decent DSLR for the last couple of years but resisting spending the $, I'd finally decided this trip was the one – so I'm the proud new owner of a Nikon D3100. It's going to take some getting used to not just having a pocket sized digital – but I've actually missed my regular old SLR camera over the last many years, so this feels comfortable – and even with just starting to play with it, I think you'll see the photos are far more detailed and clear, even in reduced size. Plus, dinner was in a very dimly lit room, and look how well they turned out… without flash.
Dinner was meeting up with my friend Aldo – interestingly he and I only knew each other in a sort of passing way when I lived in New York – he worked for various wine companies I dealt with, but was never someone I worked with directly, more of saying hi at tastings and other wine events. Over the last couple of years, we've become online friends and have now made it a point to get together when I'm back in town. He's now on a hiatus from the wine world and working at the new Empellon, 230 West 4th Street (corner of West 10th Street – yes, I know, for non-NYers that intersection makes no sense whatsoever, but that's because you don't understand West 4th Street and its quirks). The chef at the helm is Alex Stupak, who made a name for himself in the pastry world at Alinea in Chicago and WD-50 in New York. He's now switched over, or perhaps back, to the savory side of things with a creative little Mexican restaurant – something that nothing in his background other than being his favorite kind of food to eat, had prepared him for.
I was telling Aldo that I couldn't remember why I'd put Empellon on my list to try while in NYC this time, and it came to me just a few minutes ago – it was a terrible review of the place. A really terrible review. One so terrible that I knew it couldn't remotely be accurate, and besides it was written by a college kid who has made a name for himself trashing places that other people like. I just knew I had to check the place out.
So, as usual, the room first. I hate it. Sorry guys, but I really hate the room. There's not a soft or sound absorbing surface in there and the din between the customers and the high volume music is deafening – I spent half the evening asking Aldo to repeat things he was saying to me, sitting not three feet away. One wall is a sort of dilapidated whitewashed brick while the other is loungy club lighting and metal. In short, it looks like any of dozens of other loungy club spots in the Village that are trying too hard. Then again, the owners of the place have a history of success with that sort of environment, so maybe they know what they're doing. The place was jammed to the rafters with late 20s/early 30s trend-seeking diners and more waiting to get in – making us the old fogies in the room by 20+ years. Each.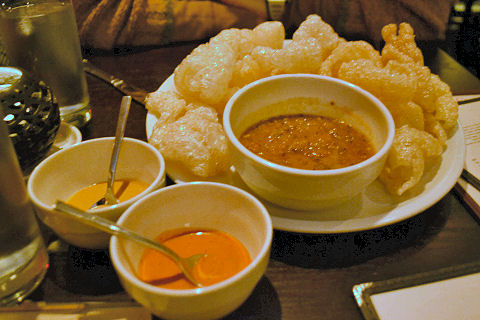 We ordered the chicharones, a guilty pleasure for both of us. These perfectly crispy, crackly "chips" come with a lovely herbal salsa Veracruz that was tangy and dead on. But even better, right there on the table, two little sauce bowls of liquid gold. The fiery de arbol chile sauce lit up my tongue. But the true stunner is the roasted cashew and chipotle pepper sauce. Alex should just bottle it and start selling it, he'd make a fortune. Aldo recommended glasses of a sparkling Grüner Veltliner from Szigeti, in Burgenland, Austria, which was dry, light, refreshing and a great way to start.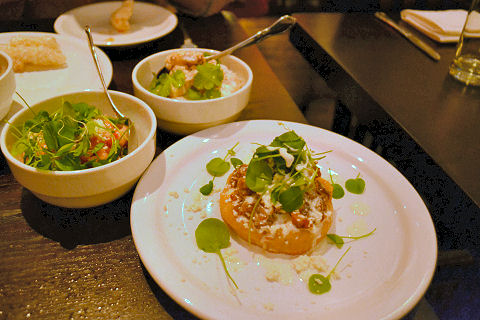 The menu is not extensive, it's divided in a few sections, each of which only has 2-3 items (except the tacos, of which there are eight), all sort of tapas style plates for the most part – small but meant to share. We ordered two of the ceviches – the white tuna with a beautiful dice of chioggia beets and a puree of fresh guava was bright, fresh, and delicious. The octopus ceviche, which the above mentioned critic described in glowing hateful detail as a "repulsive concoction", "disconcertingly textureless" and "tastes like a poisonous mushroom" was just plain divine. The octopus is cooked and then cured perfectly, it's balanced by the random piece of roasted parsnip that gives a burst of sweetness, and it's dressed in a smoking sauce of chipotle, de arbol and ancho peppers that I just want to rub on, well, pretty much anything. The rock star of this round however, had to be the sope, a crispy round of corn masa topped with smoked plantains, caramelized onions and a spicy cream sauce. I picked a couple of glasses of Ostertag's Sylvaner to go with this round – a minerally, dry, lightly herbal wine that balanced against the spice beautifully (the wine list, by the way, is fantastic) I'd go back just for the last two dishes over and over…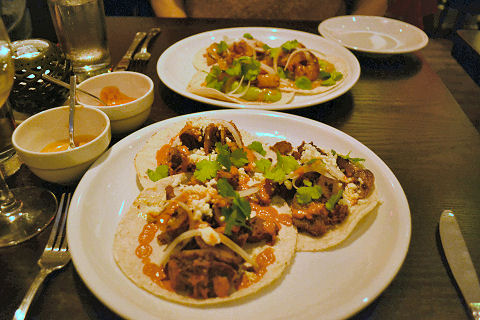 …but then I might not get to try the tacos. These are not tacos from the Bell. These are tacos the way Quetzalcoatl, the feathered serpent god of the Mayans intended them to be. The barbecued shrimp tacos were excellent – the shrimp cooked just to that point before most people would consider them done, so they still retained a slight snap when you bite into them. The zesty and mildly spicy chipotle barbecue sauce perfectly offset by a creamy guacamole. But the revelation dish of the evening was the plate of beer-braised tongue, potato and arbol chile tacos – the meat tender and falling apart juicy. If there is taco perfection out there, this is it. And to think, Alex didn't even want to keep the tacos on the menu – at the beginning the restaurant opened with them served individually as little appetizers, and there was a whole range of main course dishes. But it seems that (and not surprisingly given the crowd as noted above), no one ordered the mains, everyone ordered all the little tapas and plate after plate of the tacos. Sometimes you have to listen to you customers – these, quite simply, rock. A couple of cups of Tenuta Delle Terre Nere's Etna Rosso from Sicily were soft, smooth and silky and have a rustic touch that was so perfect with the tongue tacos you could cry.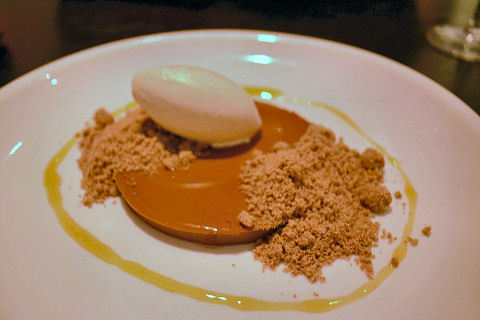 I don't want to disparage the dessert. It was really good. But to be honest, good as it was,it seems out of place given the rest of the menu. It probably fit perfectly with those now discarded main courses, but for ceviche, sopes and tacos it's too… foofy. This particular one is a chocolate flan made with Mexican chocolate (cinnamon and almond spiked), and it wasn't flan-like in texture. It's coated with honey, served with a cinnamon ice cream (that paled mostly in comparison to the stunning cinnamon gelato I'd had earlier in the day), and a chocolate streusel made with corn masa sprinkled about. Let's just say that neither of us took more than a couple of small spoons of it, and then contemplated ordering another savory course instead.
So, overall. Hmm… hate the ambiance, did I mention that? Service friendly and efficient. Love the food, liked the dessert (I'd probably love it in another setting). If I lived here, I'd go back, though perhaps not often simply because I like to be able to have a conversation over the dinner table with my friends – maybe if I was dining alone and wanted to sit at the bar. If I had any recommendations to make (of course I do, right?), lower the pounding music volume, put in some sound absorbing surfaces, somewhere, and revamp the desserts (keep the same flavors, just make them more casual).