MARY: Is there anything that you miss about New York when you're there?
MARC: Not really. Sometimes I miss hamburgers, I should say that. I miss the tuna pizzas at Mercer Kitchen.

– Mary Clarke interview with Marc Jacobs, in Index Magazine
Back and getting back in the swing of things. I find myself wondering just what Henry ate while I was away. The refrigerator was stocked with vegetables and fruits, plus there was chicken, beef and fish in the freezer packaged up in individual portions for him to make stuff. As best I can tell, it was all still here when I got back – and let's say the plant kingdom stuff was not in good shape, what a waste. He did go through some pasta and rice, and half a dozen cans of tuna. But two weeks? So after the refrigerator clean out, I headed to the corner, with the goal in mind of dropping off those extra pounds I picked up over the last two weeks (everyone here keeps saying I look like I lost weight, how bizarre).
Tuesday, salad for lunch, and dinner were tandoori kebabs of cauliflower and broccoli, with chicken added for Henry's portions. Screwed up the photo and the one on the site with the recipe was better anyway. Yum! I'll be making those again.
Wednesday, jumping right into classes, only one person signed up for the Autumn Vegetables class… you guys are missing out!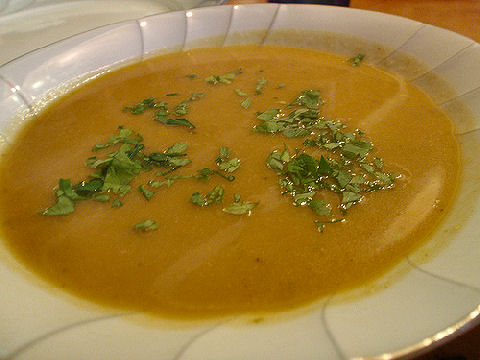 Brussels Sprout Bisque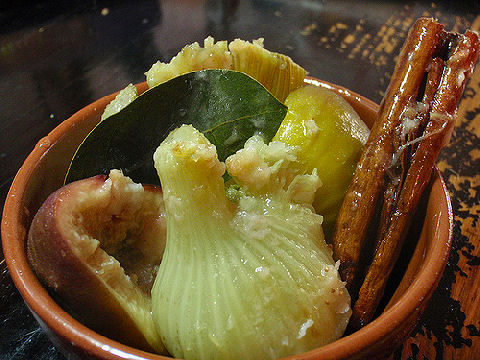 Roasted Fennel and Figs with Bay & Cinnamon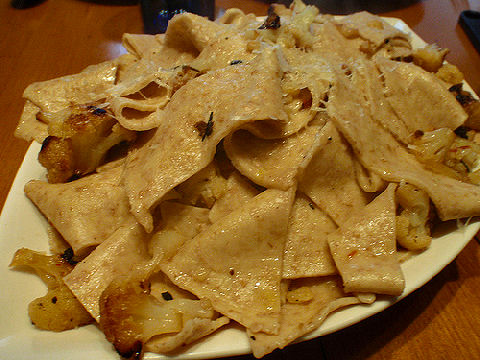 Whole Wheat Langanelli with Charred Cauliflower and Rosemary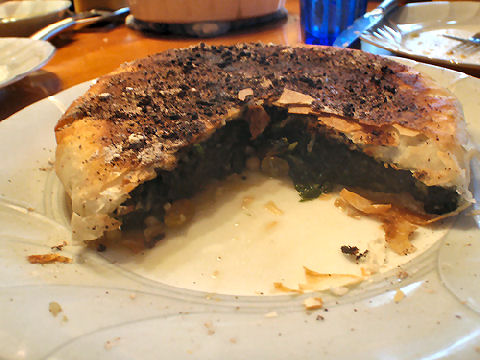 Swiss Chard Pastilla
Dinner, I'd started into what was in the freezer that I'd left for Henry. I thawed out a couple of tuna steaks, planning on something… or other… that never quite came to be, as I suddenly found myself in the mood for pizza. So I only used a part of one steak, more to be done tonight.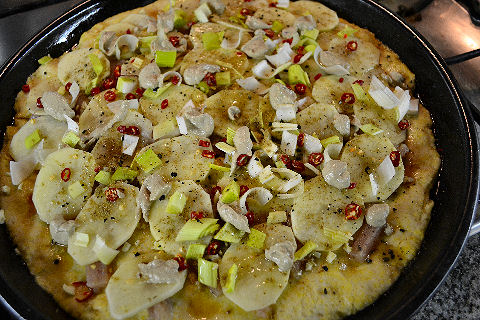 Loaded up a Chicago style crust with a drizzle of toasted sesame oil, then slivers of the fresh tuna, dollops of green olive tapenade, thin slices of potato, leeks, chilies, dusted the whole thing with salt, pepper, cumin and coriander, and then another drizzle of light sesame oil.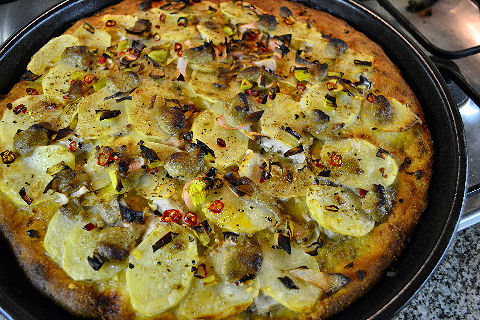 Then into the oven for about 15 minutes to reveal a beautiful, lightly charred pizza…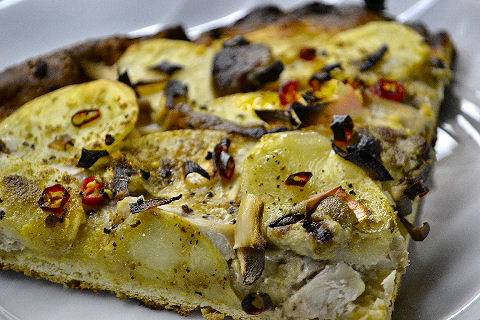 Which I proceeded to dig into with gusto and left the rest for Henry when he got home. It may not be the
Mercer Kitchen tuna pizza
, which is with raw tuna added after the pizza is cooked, and dosed with wasabi, but I think Marc Jacobs would be happy with ours.
Okay, off to the market for some fresh squid and octopuses for today's Tentaculo Espectaculo class. Stay tuned.