Cuzco, Peru – One may as well start close to the center and work one's way out… so we booked our first tour for the former capital of the Incan Empire with a "city tour". It's a bit of a misnomer, as only one site that we visited was actually in the city, and our guide really didn't bother to say anything else as we drove around the capital. Stop one turned out to be nearly around the corner from our hotel, at Q'oricancha, the temple of the sun. The Dominicans, who were the local division of the Catholic church that moved into Cuzco, tore down a good percentage of the original sun temple and built a monastery and cathedral atop the Incan foundations. However, there are still some catacombs, which we didn't get to to visit, below. Right now, with Cuzco being as touristy as it is, the only thing accessible is the cathedral and courtyard. The monastery and the catacombs are by special appointment only.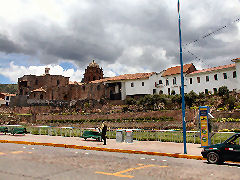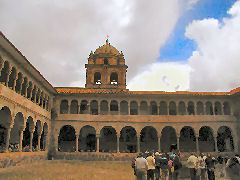 From there, we headed out to the archaelogical ruins that surround the upper part of the city. First stop, Sacsayhuaman, the temple of Satisfaction, as the name apparently means in Quechua. There are a lot of theories about the place and its reasons for existence, as there's little to indicate exactly what it is. The form is a series of zig-zagged walls, which some folks think represent lightning, though more feel it relates to the lower level of the Incan spiritual trilogy, the serpent god. This is backed up by the series of underground caverns and passageways that connect to other nearby temples (the serpent god representing the underworld). The site is used for the annual festival of Inti Raymi, on June 24th each year – the winter solstice and start of the new year for the Incan calendar.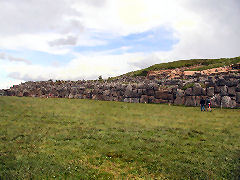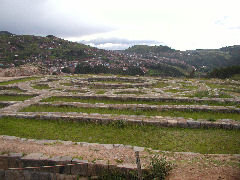 From Sacsayhuaman we moved on to a spot called Q'enqo, a small series of underground caverns with altars in the form of the Incan cross, representing the three-worlds of the dieties – the serpent god, the puma god, and the condor god. We didn't spend a huge amount of time there, the portion open to tours apparently being a bit limited, but it was an interesting visit.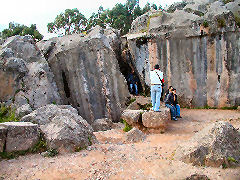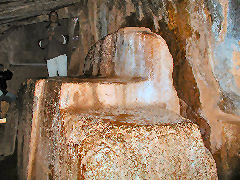 I'm not going to go into great detail at this point with the various sites we visited – somehow or other I think if you're not right there in the middle of it all, it just looks like a bunch of ruined stone walls and rocks. We visited Tambomachay, the Incan baths; and Puca Pucara, the nearby fortified town that no one seems quite sure what it was for… or maybe I was just getting a bit woozy from all the history…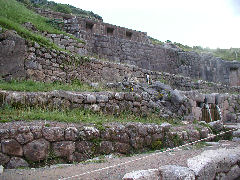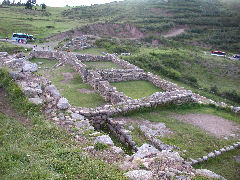 Back to the city and lunch at a spot that some foodies had recommended, Pacha Papa, in Plazoleta San Blas, a beautiful little plaza with a pretty stunning fountain wall. The food was excellent, easily, in retrospect, the best food we had in our time in Cuzco, and I recommend it highly. We tried tamales, stuffed rocoto peppers, an adobo of pork stewed in chicha, the local grain beer, and onions, and one of the best seco de corderos either of us have ever had… more on the afternoon in the next post…