Cuzco, Peru – With a long morning of touring under our belts, as well as a mountain of food, we took a short siesta and then decided to continue using up our admissions on the tourist boleto… we headed a few blocks from the main plaza to the Municipalidad, or town hall, which also houses the city's Museum of Contemporary Art. The museum, or gallery, is spread out in various salons throughout the building, which makes wandering it a bit different from the usual museum as you find yourself accidentally poking into the mayor's office, or prosecuting attorney's office, or other similar spots. While you're busy looking over the local art, others are their to petition for the release of loved ones from jail, or apply for licenses, or, in one spot, a couple of local businessmen appeared to be getting medals for something or other. The art is an interesting mix of primarily painting, with a bit of ceramics and metalwork scattered here and there. Most of it wasn't all that interesting, although I'd say that in general I liked it more than I usually like modern art. A lot of paintings of indigenous folk were in the mix, along with a fair number depicting scenes of the Spanish conquistadors.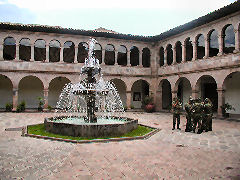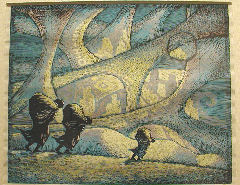 The rest of the late afternoon was spent wandering about, not really doing much of anything but admiring the city. A few thoughts along the way – sparkling clean – no litter, no garbage, nothing… it's clear that the locals take some pride in keeping the city clean – part of that may be to keep tourists feeling happy, but I think there's also just a respect for where they live. The streets are filled with traffic, both pedestrian and motor, but not crazy like Puno was – it's pretty orderly, even if the cars zip around fairly fast… there are actual traffic lights and street signs. The city is definitely not laid out in a grid pattern, streets wind around, go odd directions – I swear there are a couple of intersections where everything either comes in one way or goes out one way… but somehow they manage. There are lots of little plazas and green spaces, each, of course, presided over by a church (none of which are accessible to view except at mass time, unless you pay a fee, of course). The ambulatory vendors and shoeshine boys are far more aggressive than they were in Puno. They will follow you around, demanding that you use their services and buy from them, or perhaps accompany them to a club for a drink (your cost of course) – and they don't take no for an answer. They shove each other out of the way vying for your attention, and more than one fight will break out in your vicinity over who has the right to sell you things. Also different from Puno, cabs are pretty much cabs, not bikes or motos, and they're set fees. If you're going pretty much anywhere in the central area of town it's 2 soles for the ride. If you're going further, it's more, but not significantly. Most taxistas are available by the hour to tour outlying areas as well, roughly 10 soles an hour is a good negotiated price – great if you find yourself a private guide and just need transport.
We decided on a casual dinner a little away from the main plaza, and ended up in a cute looking little place called Inkaritu that offered wood-burning oven pizzas, and classic local dishes. We, of course, went for the latter, and sampled a bowl of crema de quinoa soup, some more stuffed rocoto peppers, and a favorite, ají de gallina – all good, all cheap, satisfying if nothing special. The ambiance was definitely up there though, the place has a very homey, casual feel to it.