Several years ago my friend Rick and I were talking about taking a trip up to Paraguay, doing the whole Jesuit Mission trail, the Paraguayan side of Iguazu Falls, and visiting a couple of the cities, from Ciudad del Este to Asunción to Concepción. Well, Rick has moved back to the States and I only have a few days free, so I decided to head up and check out just a small part of that, the city of Asunción, the capital of Paraguay. Aided by the fact that the new Sol del Paraguay airline is offering $200 roundtrip tickets all inclusive, while their competitors quote fares of $300-400, it seemed an opportune moment.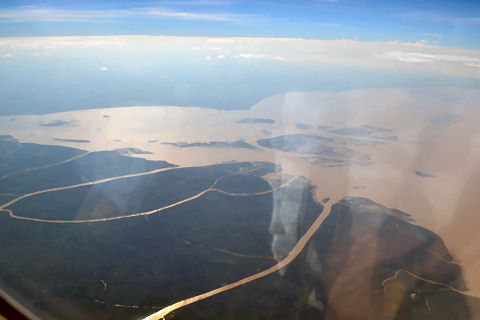 So, early yesterday morning I found myself on a Fokker 100 zooming upriver on, likely, the route that Spaniard Juan de Ayolas probably took by boat in 1537. He was looking for a way to the silver mines of Bolivia and Peru, I'm just looking for the city he founded on the banks of the river.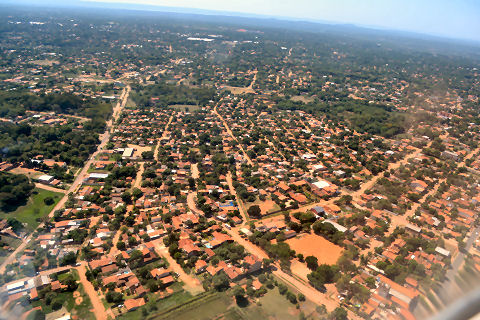 Coming in over the eastern suburbs of the city it all looks a bit rough, but pretty. Out of 6 million inhabitants in the nation, about half a million live in the city proper, but another 1.5 million live in the surrounding suburban area. Quite possibly the easiest pass-through of any airport immigration I've ever encountered, I'm through and out to a taxi in under 15 minutes from getting off the plane – of course, the plane wasn't full and it only holds 100 people to begin with, and it didn't look like any other planes had just landed.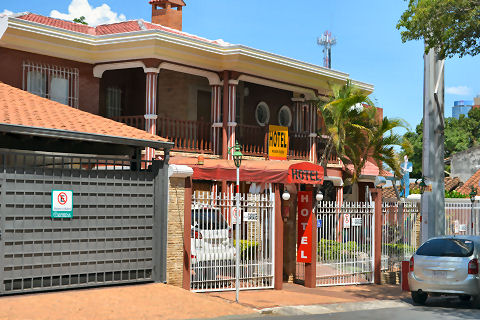 Changing money was the first fun part – it might be the first official change place I've ever been to anywhere where they didn't want to see any identification. Getting used to the local currency, the guarani will take some doing – at around 4300pgy to the dollar, the $250 that I changed for the next few days meant I had just over a million of them in my pocket. But those will likely go fast – my taxi ride in from the airport to my hotel, La Maison Suisse in the Villa Morra neighborhood, was 90,000pgy. Nice little hotel by the way. Already recommend it.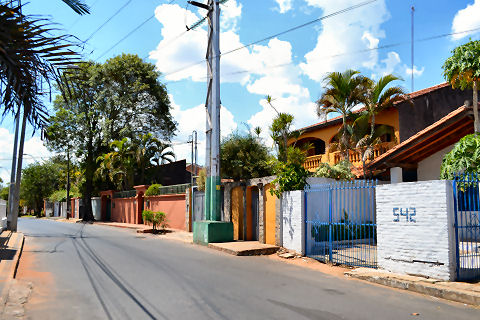 Everybody told me that the neighborhood was clean, safe and a great place to stay, and much of it looks that way.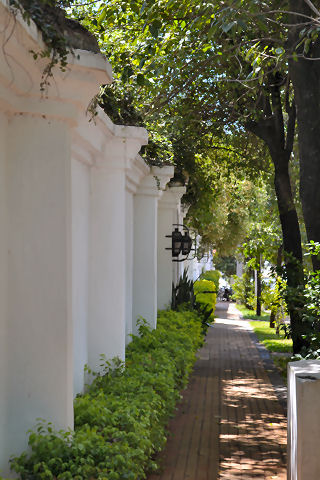 Some of it is really quite nice.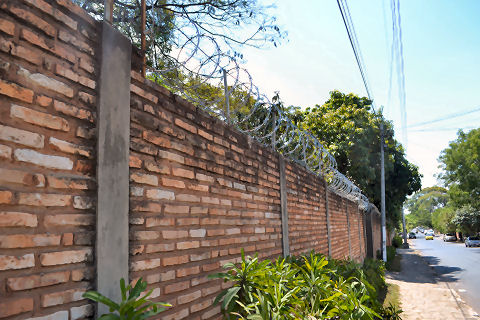 Though some of it worries me a bit. There's a lot of razor wire and electrified fencing here. But still, everyone here keeps saying that outside of the downtown area at night, the city is perfectly safe to wander around in. Hmmm….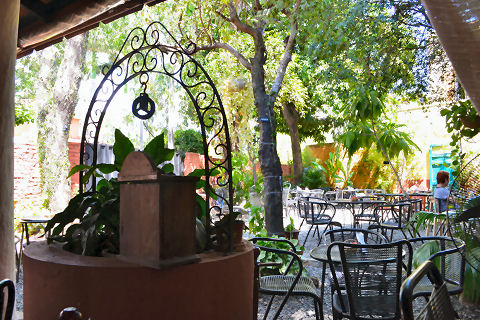 With only three hours sleep and little to eat (the strange cheese empanada on the plane was just not doing it for me), the first thing I did was head out for a bite. I have a list of places that people have recommended, including some local friends whom we'll hopefully get to in the next couple of days. Sundays in Asunción are not particularly active, and with temperatures hovering in the high 80s I saw very few people out and about. But I headed to El Café de Acá, just a few blocks walk away, which I'd been told was a fairly basic cafe, but also was a good place to try traditional basic local fare.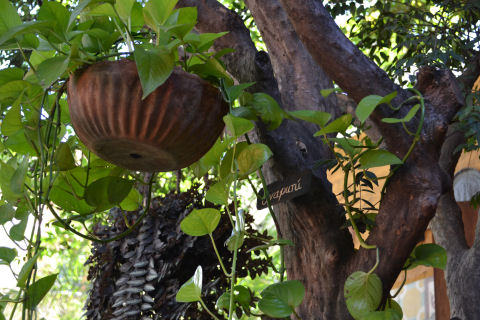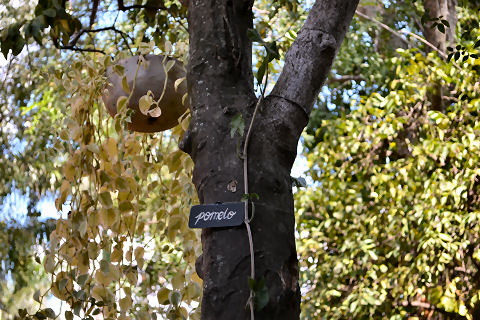 While there is an indoor area that's air conditioned, most people, including myself, were sitting outside either in front on the porch or in the rear garden – when I arrived there were only a couple of people there, but within an hour the place was about 1/3 full, pretty much all expat locals from what I could tell. Seems to be the spot for the expat community to gather – though that's based on one visit. The trees in the garden all have tags on them to let you know what they are.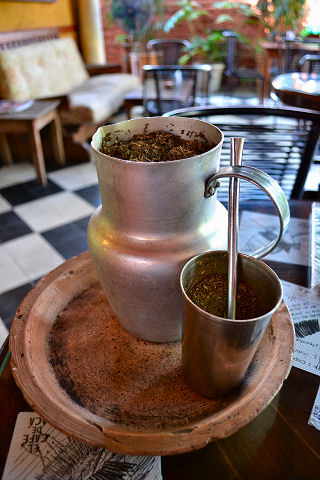 The local drink of choice is tereré, iced maté, something my friends back in BA would probably find an anathema – the lack of iced tea and coffee is already a running battle between the expat community and locals. But, my helpful waitress guided me, tereré is rarely drunk just plain – it's always "XX y tereré" – the XX being some sort of other herbal flavor – she highly recommended mint. The maté is about half filled with yerba maté, a bit less than we'd do in Argentina, because a pitcher of ice water is served on the side packed with mint leaves which then add to the mix as you pour the water in the cup. It's really refreshing and believe me, is going on my summertime drinking list back home – I rarely drink hot maté during the summer and have been making iced tea and coffee, but this will be a nice change-up.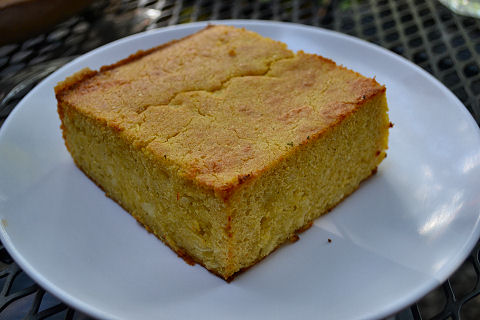 The menu, besides offering the usual fare of cafes, has a quartet of local specialties, though each comes with a couple of variations. This is probably the most emblematic of Paraguayan cuisine, the sopa paraguaya. As to why it's called a "soup", I don't know, though I'm sure I could research it. Basically, it's a very moist and dense cornbread. It's delicious, though as a meal, which is the way it's served, it could really use some sauce or something. For me, I think a half portion on the side of something else would be my approach. Unfortunately, no sauces other than some mild green tabasco or the smoky chipotle tabasco were available, though those added a nice kick.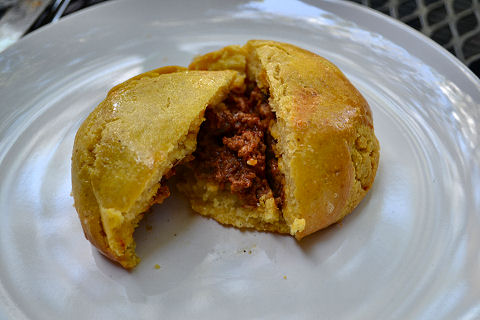 The other choices on the menu were an mbeyju (many of the local dishes are named in the national indigenous tongue, Guarani – same as the currency – in fact it seems that most locals pepper their speech back and forth between Spanish and Guarani), a mandioca flour (yuca root flour) flatbread, either plain or filled with ham and cheese, a chipa guazu tradicional, a different sort of cornbread, plain or with ham and cheese, or, the chipa so'o, which I opted for, a sort of hot pocket of spicy ground beef. Now those I could eat several of. All told, a bill that looks whopping on delivery, of 32,000pgy, but that's $7.50, plus a tip of what came out to, when I thought about it, 75 cents. Remember that three hours of sleep, the hot weather and pretty much nothing being open? I headed back to the hotel, took a nap, sat by the pool and read for a bit, and chatted for about an hour with the hotel owner about things to do and places to eat at.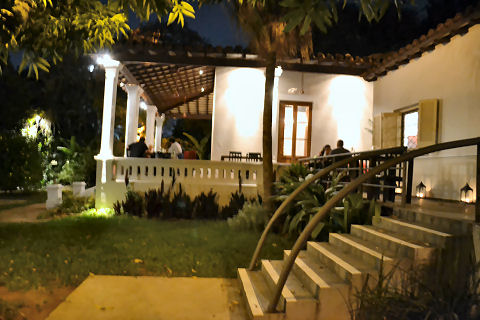 And then it was time to go out to dinner, you know? Few options available on a Sunday night, but one on my list that was open, and conveniently located about 10 blocks away, was El Dorado. Trusting to the insistence of the hotel's owner that walking around the 'hood was perfectly safe, I headed over. The three blocks to the main avenue, and then the six on the avenue itself were all fine with plenty of street-lighting. Finding the street that the restaurant was located on was a bit hit and miss, street signs are not in evidence at many intersections, but I finally figured out which one it was, only to find a steep hill paved with cobblestones and virtually no street lights at all. Well, it was only supposed to be a block and a half, so I headed uphill and found the place – no name in front, no street address, just a guess based on it looking more or less like it was a restaurant in the midst of the homes.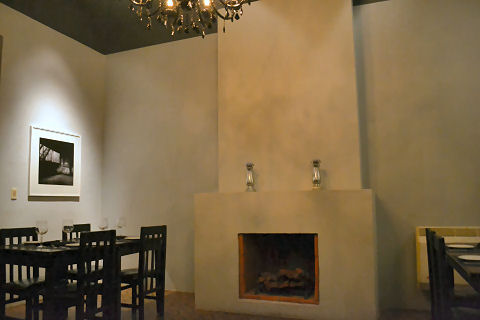 And, in fact, it is an old colonial style home, with three of the rooms turned into dining salons, each for 3-4 tables, plus the outdoor wraparound porch. Spare, but charming.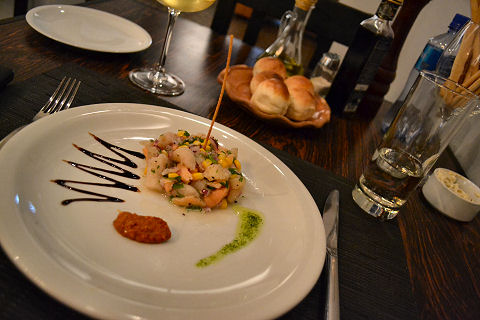 You know I only overeat for you guys, right? The menu looked completely fascinating, and so I geared up for a four course binge. Started off with a ceviche of salmon and surubí, the tigerfish of the river. Mixed with cilantro, corn and red onions, it was a little heavy on the lemony acidity for my tastes, but easily solved with a sprinkling of salt. The fiery red chili paste in front was there to mix in to taste, I, of course used all of it. The little bit of balsamic vinegar syrup on the side and cilantro oil on the other just added extra flavor notes. Really quite good.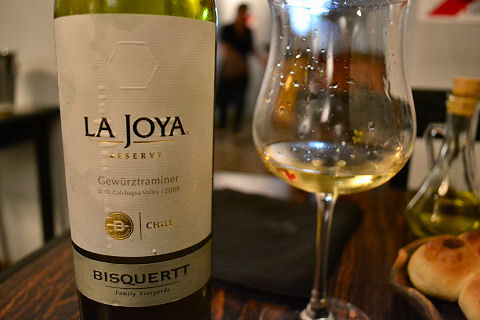 Most of the time when I eat out solo I either order wine by the glass or order a bottle and just don't drink all of it, sometimes bringing whatever's left back home. But I have to say, this Bisquertt "La Joya" Gewurztraminer Reserva 2009 was so spectacular that, well, I finished it off. Very minerally, steely sort of character with a sort of raw quince fruit and wildflowers on the nose. It reminded me of the really dry, minerally style of Gewurztraminers from the Alto-Adige, from someone like Alois Lageder. The wines from Chile, although there are some wines produced here in Paraguay, El Dorado's list only has Chilean and Argentine wines on it.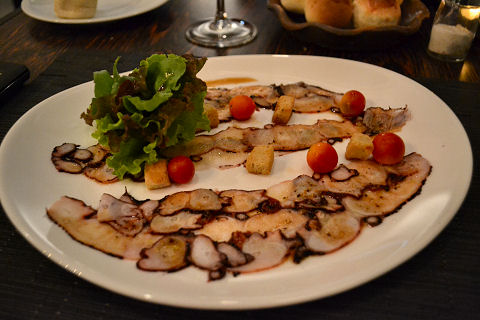 I guess I'm just on an octopus tear recently – 'tis the season or something. Here, a "carpaccio" of octopus tentacles – not really a carpaccio since the octopus is cooked – perfectly I might add – and then beautifully sliced – incredibly delicate knife work here with most of these strips being four or five slices of octopus still attached, which means they've been sliced near paper thin like an accordion fold, back and forth, so that they can be laid out flat and pressed. Served cold, lightly dressed in an orange, lemon and ginger vinaigrette. Total yum.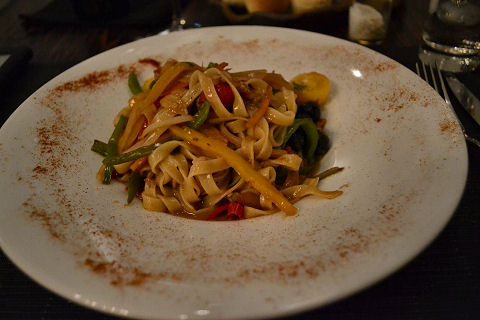 Slight disappointment on this one. Not the flavors which were perfectly fine, but the balance of ingredients. Fresh fettucine, maybe just slightly over-cooked past the al dente stage, tossed with a tangle of sauteed vegetables and shreds of duck confit. Too heavy on the vegetables and too light on the confit, which kind of got lost in the mix. Not bad, but not up to the other two courses.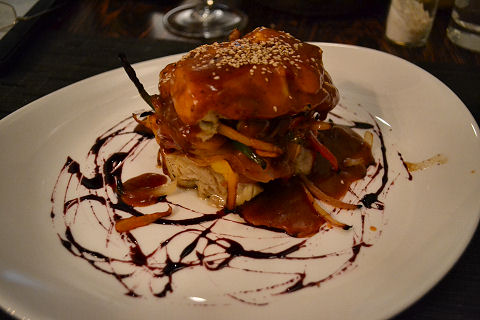 This, however, was. Batons of more surubí "interlaced" with plump shrimp, sandwiching a tangle of more vegetables (pretty much the same ones as in the pasta, but in balance here), and all lacquered in a sauce of a shrimp reduction and caña añeja, an aged molasses based spirit. Truly delicious way to finish up the meal. You didn't think I was going to go for dessert too, did you? The bill came in at 375,000pgy, probably pretty pricey for Asunción at $90, but well worth it.
Given the bottle of wine and the quantity of food under my belt I asked for a taxi rather than walk the ten blocks back. Chatted a few moments more with the hotel owner and then toddled off to bed, early, sound asleep by 11.30 and up at dawn. Now, time to go out and explore the city center.