It all started with being in a rainbow sort of mood. There I was, thinking about presenting a five course menu in the colors of the rainbow (minus blue, which just doesn't work well for food). And that was the starting point, but I ended up not being tied to it because, well, I just didn't want to be. So, it's a modified rainbow. Severely.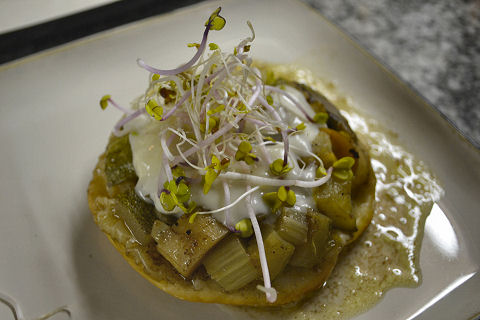 A reworking of one of our savory tarte tatins from
a bit ago
, changing out artichoke hearts which are out of season for palm hearts, which are pretty much always available. This started out as "green".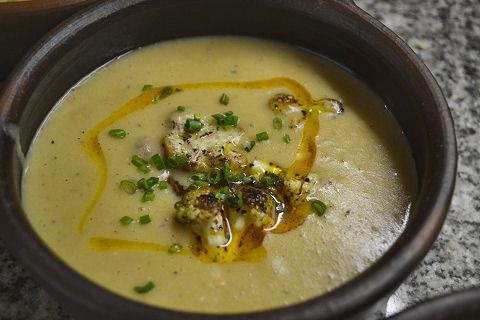 And, pretty much a non-reworking of
what amounts to a hummus soup
, with cauliflower florets fried in sumac, salt and pepper. One night used the lemon yogurt, one night not. Toss up as to which we liked better. Color, kinda sorta yellow.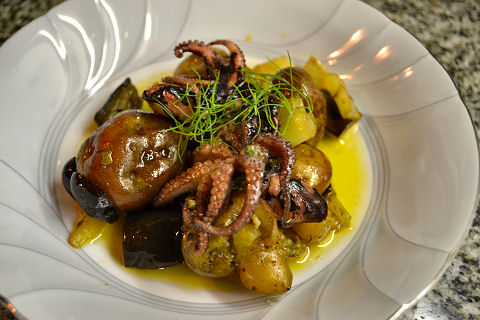 With last week's disastrous lunch at
Cuisine du Park
looming fresh in my mind, I thought I'd play with the idea a bit. Baby octopus confited in olive oil flavored with garlic, ají amarillo, coriander, green peppercorns and salt – roughly two hours at very low heat. Boiled up some little Andean potatoes, drained them, and then added them to a saute of fennel, black olives, eggplant, thyme and oregano. Put the potato mixture in a bowl, topped with a couple of the octopuses, and then spooned some of the confit oil over the whole thing. It was a hit except with the two people who simply refused to even try octopus, one of whom also wouldn't eat the olives. Color, purple.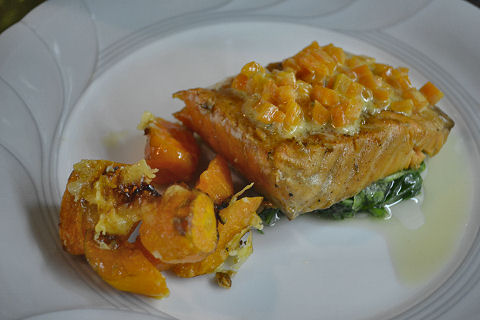 Two different presentations of a dish that's still a work in progress. The only difference, the first night pan sauteed the salmon fillet on the skin, the second night grilled it without. Served over wilted arugula. With two different carrot preparations. One, the carrot fondue I mentioned from last weekend's menu, the other a last minute addition after Ruth Reichl tweeted about preparing what amounts to a carrot frico (I used gran pampeano, the local version of grana padano, cheese). Color, orange.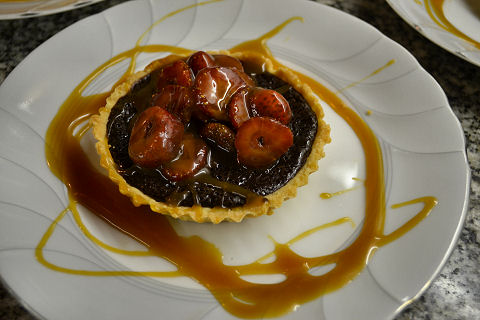 And, a dark chocolate tartlet with a touch of nutmeg, in an almond crust, topped with strawberries macerated in chocolate liqueur, and drizzled with our bourbon caramel sauce. Red, that was the color.