For those of us extranjeros who live here in Argentina, we've come to expect a certain lack of authenticity when it comes to the presentation of cuisines from far away lands. The food of nearby neighbors is often quite good, but the further away the country of origin, the less likely that the food will be recognizable in terms of quality and flavor. One of those that somehow seems to be hit the hardest is Mexican food, which gets the additional whammy from the aversion that many locals have to picante ingredients… like chilies, or, well, pepper. So when it comes time to assess a Mexican restaurant the question, generally, isn't "how good is it?", but "how acceptably bad is it?" And with that in mind, I just can't be quite as caustic about my lunch experience the other day as I might otherwise be.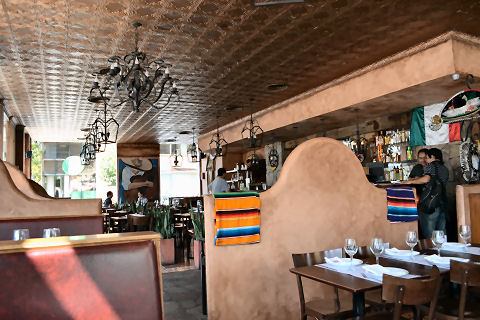 Oh, there's no question it was pretty bad. A complete lack of spice, poorly prepared ingredients, and a "Mexican ambiance" that would be more at home in a food court at a Disney theme park. But, the ingredients were fresh, there wasn't anything fried in bad oil, it wasn't greasy, and, while lacking in spice, the food at least contained things like herbs, garlic, onions and salt – a leg up on much of the competition already. But the billing of the place as truly authentic traditional Mexican cooking (fajitas, nachos… right), and the billing period, which is outrageous, gives a reinterpretation to the initials that form the name, DF Restaurante Mexicano, Olga Cossenttini 1611, Puerto Madero Este, 5787-4004 – rather than standing for Distrito Federal, I'd assert it stands for D*mb F*cks, because that's what the owners must think we all are. Okay, that was my caustic moment. Not too painful, was it?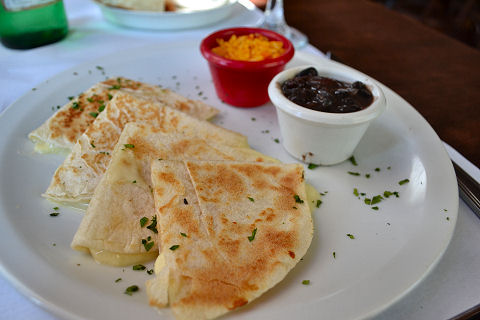 The menu, other than a few paeans to Tex-Mex cooking like the aforementioned fajitas and nachos, consists of promising sounding dishes. And it's quite varied. I asked my waiter for some recommendations and he proceeded to start paging through the menu, which is about six pages long (though each page only has four or five dishes on it), and pointed to each and every menu item, recommending them one by one – it was fascinating to watch, he literally didn't skip a single item, and didn't seem to find anything odd about pointing to them one after another and saying "I recommend this". I tried a new direction and told him I liked really spicy food, the way it would be served in Mexico, and asked which were the spiciest dishes. His reply was all telling, "Mexican food would all be too spicy to eat as far as I'm concerned, so I haven't tried anything on the menu." Well then, thanks for those recommendations…. He finally settled on telling me that the quesadillas were very popular as were the tacos de arrachera (entraña, hanger steak).
So, I started with an order of the cheese quesadillas, on the not quite as "gigantic" wheat tortillas promised, and basically consisting of a what was likely some pre-shredded packaged cheddar and insipid white cheese melted between two of them. Nothing else. The ice cold black beans and room temperature rice, both completely unseasoned, added nothing to the plate. Asking for some hot sauce I got a bottle of tabasco, which turns out to be the only thing spicy they have in house – they apparently don't have any actual fresh chilies, at least according to my waiter.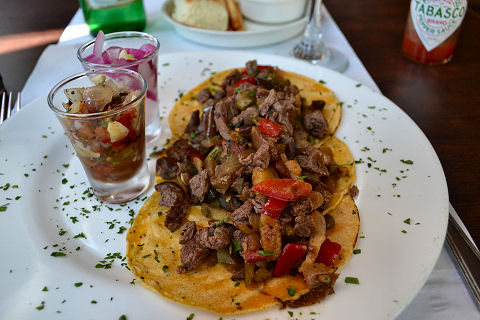 Now, the description of the taco dish was that it was marinated hanger steak with spices and herbs served in corn tortillas (the trio of which were gummy and stuck together), accompanied by a gordita rellena filled with a mix of ricotta and goat cheese (note that it's not on the plate, and my waiter said he had no idea what such a thing was, there had never been one on a plate he'd served). It was also sharing the plate with cured red onions (which apparently consisted of putting them in a shotglass of salted water) and salsa de mocajete which is normally a roasted tomato and green chili sauce, but was instead basically a local salsa criolla – chopped tomatoes and onions in a little vinegar, with some cilantro. He also brought some sour cream and guacamole on the side. As I said earlier, at least it was all fresh, if lacking in seasoning.
So, DF isn't as bad as some of the truly awful places in town, nor is it as good as some of the less mediocre ones. It fits comfortably in the middle, and would probably at least rate a Recommended, particularly given that it's the only Mexican-ish food restaurant remotely close to Puerto Madero (at least as far as I know), but for the price tag, which for these two dishes (40 and 50 pesos respectively) and a bottle of water and cubierto came in at 130 pesos with tip. So I'm giving it an Okay, particularly as I've only tried two dishes and only dealt with one unintelligent and uninformed server there, though given the price I'm unlikely to return. At least for those in PM, DF is, well, there.