I'm always up for good pasta, it's easily my favorite food in the world when made right, cooked right, and sauced right. So along with searches for pizza along bus routes and heaping platters of grilled seafood, why not add in a quest for really decent pasta in Buenos Aires? You'd think it wouldn't be difficult, after all, forty some percent of the population trace their heritage directly back to the Italian peninsula. But that was awhile back, it turns out, and like the telephone game, someone's great-great-great grandmom told her daughter, who told her daughter, who told her daughter… on to the present day, how to make one dish or another, and somewhere in there we had a loss of translation.
Some of it, no doubt, was simply the necessity to change ingredients, many things weren't and aren't available here that are in Italy. And some of it is simply a cultural difference – what Argentines consider to be al dente pasta, for example, is far softer than what the Italian folk back in the motherland do. When I cook pasta to what I consider to be "true" al dente, I hear cries of "tan crudo" (too raw) and find deprecations written up on local blogs (okay, that was once, many years ago). All that doesn't mean there's not good pasta here in BA, there's plenty of it, there are, however, too many places that make mediocre dishes – and I've written up any number of them. Today, two mini-reviews, at opposite ends of the spectrum, not quality-wise, both, I will say upfront, are quite good, but they fall into different, shall we say, economic brackets.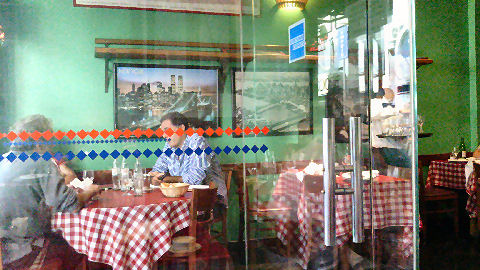 The first spot is the much beloved Broccolino, Esmeralda 776 in Retiro, a place I can't believe I've never written up. Then again, despite how much I like the place, I rarely go there, mostly because I rarely go to Retiro to eat, though these days, it's becoming a little hotbed of new spots, so that may change. The decor is not so much Italy as it is Little Italy – the walls are lined with photos and posters not of the European boot, but of the isle of Manhattan and scenes that remind me of Moonstruck. The tables are covered with red and white check plastic cloths, the waiters are a proper mix of New York gruff and friendly. The menu is extensive. I feel like I'm in the middle of Big Night.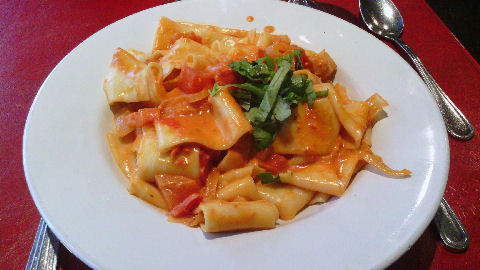 On my last visit I place an order of pappardelle all'amatriciana. A whopping bowl arrives shortly, filled with soft strips of this classic semolina pasta bathed in a tomato, onion and bacon sauce. It's not the traditional guanciale (cured pig's cheek), but I didn't expect it to be, it's still good, smoky bacon, and both the sauce and pasta are made right, if the latter are pushing the edge of width for pappardelle (which should generally be between 1 and 2 cm wide, depending on whose grandmother taught you to make them, these come in probably more like 2.5 cm. I think about ordering a bowl of another pasta, but there's no way I could eat that much. Besides, the pastas run around 70 pesos a bowl and I don't feel like spending more this day, other than, perhaps…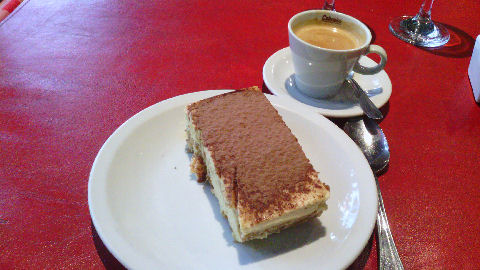 …a slab of their fantastic tiramisu. It's really one of the better ones I've had, not too much liquor, a good balance of all the components, really just right. And I like that, New York style again, the waiter asks if I want my coffee with or after dessert – a very non-BA thing to do. All told, pasta, tiramisu, bottle of water, half bottle of wine (from the unfortunately not very well thought out wine list of too many usual suspects that don't really pair with the food), and a coffee, and I scoot out the door an hour or so later for a mere 177 pesos plus tip. Not a cheap lunch, but not expensive either with all that thrown in (especially on the tarifa azul exchange rate, it's basically a $22 lunch). A place I do go back to now and again and definitely recommend.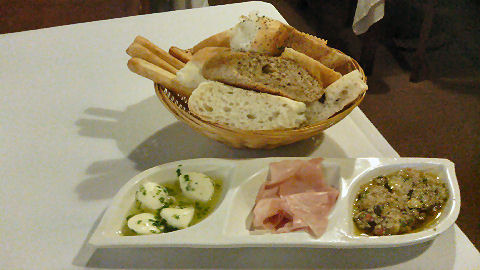 Way back, during my first year in BA, I was out at some wine tasting event or another and the owner of the Sottovoce restaurants (one in Puerto Madero and one here in Recoleta) invited a bunch of us back to his PM location for a bit of a spread. I wasn't working at the time and kind of watching the pesos, despite how cheap things were then, and he suddenly proposed the idea that he would serve up a multi-course menu for which we'd all shell out around 150 pesos. Now by today's standards, that's not much, but at the time, that was about 65 dollars, and it was also a time when Henry and I could go out to a nice restaurant, have a three course meal and bottle of wine, and spend half that. I balked at the idea (not to mention I wasn't even carrying that much with me), and got soundly chastised by the friends I was with. I held my ground, after all, they weren't offering to pick up my share of the tab, and I didn't have it, so I ordered a simple plate of pasta while they indulged in eight or nine small courses. Of note, none of them, at the end, particularly thought it was worth it, especially since, having come from this wine event, we supplied all the wines, not the restaurant. I threw in whatever I had in my pocket and just never went back to the place, it seemed a rip-off. But, I wanted to go back and give it a shot on my own terms, and now that I'm working, it's not a hardship to indulge now and again. So I hit the Recoleta branch, at the corner of Libertador and Ayacucho, for lunch one day last week. A lovely basket of bread with some tasty accompaniments was on the table within seconds of ordering.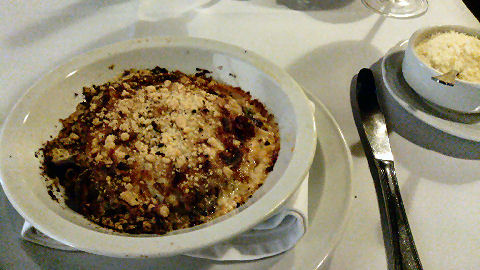 I was originally going to try an appetizer, a half pasta, and a main course, but they were out of the appetizer I truly wanted to try, so decided to just go with a full order of the pasta. Rotolo are wide tube shaped noodles that are often stuffed and then baked standing on end because they're only about an inch and a half high that way. Here they were just sort of left to flatten, swimming in a bowl of bolognese sauce. It was a good but not great sauce, and there was way too much of it in relation to the pasta, which was way overcooked and lost in the bowl. This bowl is about half the size of the one at Broccolino above. The whole thing had been stuck under a broiler to brown which gave the top a little texture, though doesn't look all that pretty. A somewhat disappointing start for 129 pesos.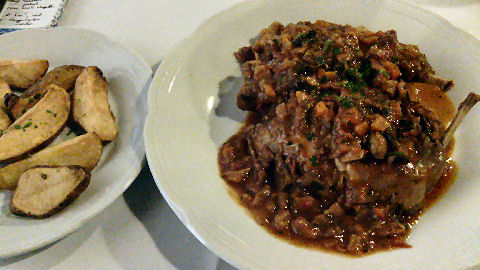 On the other hand, the main course of rabbit in "hunter's sauce" was spot on delicious and perfectly cooked. The rabbit was tender and juicy, the sauce was earthy and beautifully seasoned, and though the price tag of 152 pesos was steep, it was half a rabbit. Plus decent oven roasted potatoes on the side to help mop up the sauce. After that much food I wasn't going for the dessert, even if I thought it might be interesting to compare their tiramisu to Broccolino's, but I also figured I'd spent enough for lunch – a pasta, a main course, a bottle of water, a glass of wine and a coffee came in at a quite steep 412 pesos plus tip (though, thinking on the blue rate exchange, even with tip this meal barely tops $50 – it's pricey for BA, but it's not all that much for what I ate). Do I recommend the place, hmmm, on a price tag basis that's a tough call, but the food is good and if you're feeling in the mood for a splurge, I could see it. Will I go back? I don't know. There are plenty more pasta places to check out, and that's my plan first.