"In the '90s we began to blossom and feel proud of ourselves, of our architecture, our designs, our cultural heritage – and our food. The secret ingredient to this whole revolution was believing in what you have. Loving it."

– Gastón Acurio, Peruvian chef
Buenos Aires – Sipán should not be confused with Saipan, the largest island in the U.S. Commonwealth of the Marianas Islands; nor with Šipan, the largest of the Elaphiti Islands, off the northwest coast of Croatia. Sipán is an archaeological site in northern Peru, considered by many archaeologists to be one of the most important sites discovered in the last couple of decades, preserving as it does (did, perhaps, until the archaeologists found it) the undisturbed tomb of the Lord of Sipán, dating from the Moche culture – 100-800 A.D. – along with three other important tombs in the area, and a Caral fire temple dating back to 2600 B.C.E. In our particular case today, a relatively new restaurant here in BsAs is the topic, once again, not to be confused with the restaurant of the same name that was, until recently, located on Manhattan's upper west side.
No, this particular Sipán is located in the heart of tourism – mere steps from the pedestrian souvenir mall that is Calle Florida, at Paraguay 624, 4315-0763, and bills itself as a destination for Peruvian food and Pisco (the "pisco bar" offers up, or at least based on the menu we received, a whole five different piscos – not exactly representative of the hundreds of them produced out there, in both Peru and Chile (I won't get into the debate about who has the rights to the name for this brandy) – we order a couple of pisco sours and a mojito, the former two rather small renditions, the latter a decent amount, all well made. [Closed – their Palermo branch is still open]
The style of the place is sort of advertising billboard meets Japanese sushi bar – a look that you'd have to see to quite understand – with huge colorful photographs of ingredients on some walls, collaged together, and then little mini-shrines of buddhas and hello kitty-ish statuary along others. The clientele, for the most part, are clearly tourists, and particularly those well-heeled, as Sipán is not inexpensive – this is a spot for those who want to try reinterpreted Peruvian cuisine with some Japanese thrown in for good measure, but don't want to have to deal with the more typical clatter and clutter of most Peruvian spots around town.
We start off with a trio of appetizers, very smartly brought to the table one by one after our waiter realizes we plan to share them. A ceviche of mero, or sea bass, hits the table perhaps too soon after being introduced to its citrus marinade. It's pretty, but clearly the large chunks of fish are completely raw – and the waiter actually pours a pot of lemon juice over the top of them, while claiming that they were pre-marinated and this is just for added citrus. Given that the ceviche arrived within moments of our ordering it, that's a dubious claim, and the crudo state of the fish belies it. Still, we mix it up and let it sit while we chat for a short while and then dig in. The fish is fresh, but the ceviche holds little more than fish, salt, and lemon juice. Nothing spicy – no hot peppers, no garlic, no ginger – a few slivers of green onion atop, some scattered toasted corn kernels. It is bland, plain and simple. We add some of the barely hot sauce that is on the table which adds some interest, but not much.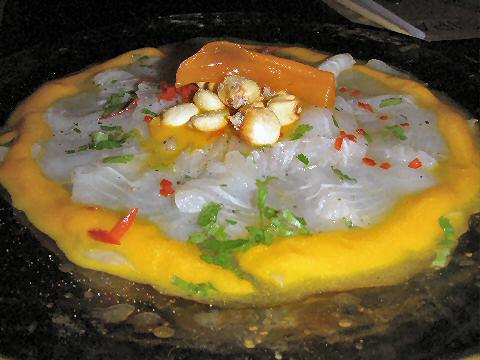 A
tiradito
, picture here, fares far better, and in fact turns out to be the best dish of the evening. Thin slices of
lenguado
, or sole, are arrayed around the plate, drizzled with citrus and olive oil, and surrounded by a moat of moderately spicy yellow pepper sauce. We dig into this one with gusto. This delightful dish is followed by an offering from the Japanese side of the menu, a kon-tiki roll, a strange sort of coconut shrimp sushi roll that is tasty, especially with the sesame dipping sauce that accompanies it, but the rice is too cold and too gummy to compete with most good sushi spots.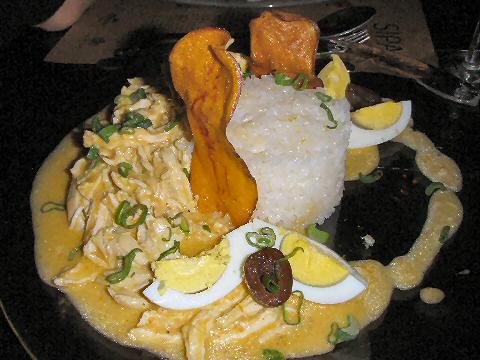 The main courses do not fare well under scrutiny, even of a casual sort. Our waiter assures us that they are so big that we should only order one or two for the three of us to share. We opt for two, an
ají de gallina
and a
seco de cordero
, each of which arrives as a fairly standard plate of food if not actually lacking in the size of a typical main course – certainly by comparison to most Peruvian restaurants here. They are also insipid – flavorless, poorly cooked – and the waiter turns out to be correct in one respect – we are unable to finish the two plates, but it's not because of the quantity, they're simply that bad. The former, pictured above, a mere handful of threads of chicken in a runny yellow sauce that other than color bears no resemblance to the traditional sauce for this dish, and certainly has no spice whatsoever, not even salt; and the latter, a scoop of diced meat in brown gravy and mushy white beans that is more reminiscent of beef stew in my high school cafeteria than anything that ought to be coming out of this kitchen, especially at these prices – though we're being taken out to dinner by a visiting friend, I can see that the tab for three drinks, three appetizers, and two main courses runs him, with tip, near to 300 pesos.
If you're looking for interesting higher quality Peruvian food, both Moche and Zadvarie provide far better dining experiences; and if Peruvian-Japanese fusion is your desire, Osaka, while probably more expensive than Sipán, certainly delivers food of much higher quality and creativity. Or, Ceviche, which I found to be a bit too pricey for what it offered, was certainly better quality than this for about the same price. And all of these four (in Palermo) have better ambiance and, other than for the business traveler who simply doesn't want to go more than a few blocks from a downtown hotel, better location.