Buenos Aires – You won't be able to say I didn't give you fair warning. It'll have been your own decision. One of the things that is decried most in the world of dining out in Buenos Aires is the standard of service here. It's unquestionably one of the most friendly places to eat out – with one exception that comes to mind, waitstaff are invariably engaging, charming, appealling, and seemingly interested – condescending or nose in the air attitude, thankfully, has not crept into the service scene here. At the same time, constant mistakes, forgetfulness, casualness bordering on sloppy, and lack of knowledge are very near badges of honor for waiters here. The friendliness goes a long way to make up for that, but a raising of the bar is definitely in order. Enter Maat, Sucre 2168, in Belgrano. [This place closed in late 2009, a true shame!]
Originally planned as a group of six of us, my friend Michael and I ended up being a dining duo at Maat last night, a true shame for our intended dining companions. We'd gone there on the basis of an article written last week by the food critic for The Buenos Aires Herald, which paid little attention to the food, though clearly he enjoyed it, more importantly he made the place sound like an intriguing spot to visit. We were looking for somewhere a little "nicer" to try, and this fit the ticket. The basic premise at Maat, and here's where your notice comes in, is that it is open to the public for breakfasting, lunching, and dining. Until July. As of the beginning of July it will become a private, members and guests only, "gourmet club" with a limited membership drawn from those who have sampled its offerings and been inspired to join. The idea of joining the country club was never part of my upbringing, suburban midwestern Jews don't usually do such things, but it always seemed like an interesting idea in the movies.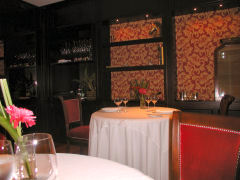 From the reservationist on the phone to the greeting at the door, to the charm of the waitstaff, service is one of the three highlights of the experience at Maat. They're polite, well-mannered, respond to questions with intelligent answers, eager to please, I could go on, but do I need to? There was a tendence for a few too many members of staff to inquire a bit too often about whether we were enjoying our meal, but then, maybe I've just gotten so used to being ignored by waiters and managers here that I've just forgotten what it's like to be taken care of. The restaurant itself is the second highlight – an old converted two-story home, with three separate dining rooms and a rear yard deck, a library lounge, and a beautiful and extremely well-stocked bar. My photo doesn't remotely do the place justice, and I apologize for the quality of the photos here in general, given the setting, I chose not to use a flash, though in the end I could have, as we had one of the four dining areas to ourselves for the evening, so no one would have been annoyed.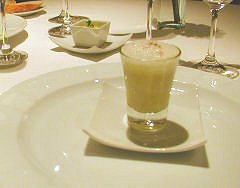 And, on to the third highlight, the food. You do of course realize that service, ambiance, and food all being highlights stacks up to a pretty darned fine experience? Bottled water was brought, unbidden, when we sat down, and replenished throughout the evening, and although we moved into second bottles of both sparkling and still, we were only charged for one. Bread was brought to us, beautifully arrayed in a large basket by one of the servers, a description of each of seven or eight breads was offered and then those we chose were placed carefully on our plates. The server returned regularly throughout the evening to replenish our selections as we desired. Complimentary glasses of champagne or a specialty cocktail of the evening were offered by the sommelier, yes, a sommelier. And, after ordering from the short, but intriguing and beautifully presented menu (half a dozen each of appetizers and entrees offered), we were brought a capuccino de ostras, an improbable sounding warm, foamed shot of pureed oysters and cocoa that was eye-openingly good.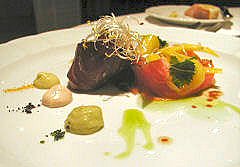 This is one dish where I wish the photo had been far better – the glistening slices of fresh salmon gravlax aren't done justice here. [A big thank you to David of Wyoming, a new reader, who retouched the photo for me, much better! Still could use a flash on that darker curl of salmon there on the left!] A trio of three different preparations, one soy marinated, the second offered with slivers of fresh papaya, and the third, well, I just don't remember, and accompanied by a trio of mix and match sauces, was a wonderful cold appetizer. This was also the point where the knowledge of the servers became evident, as the runner who brought the food stayed and described each dish, in detail, and answered questions about them – something often passed off to the waiter to handle. The sommelier also offered her services to wade through the fairly long wine list, a bit overpriced, but not ridiculously so, though in the end we chose on our own, the Trapiche Ciento Viente Años, a Cabernet, Malbec, and Petit Verdot blend that I've tried but Michael hadn't.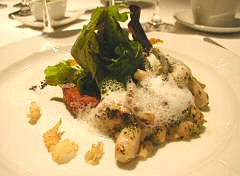 Sometimes I'm just in the mood to try things that are offbeat, and last night was one of those. So I began with the ancas de rana, or frog's legs. I'm not sure I can do this dish justice in prose. Succulent and tender frog's legs, just lightly sauteed in garlic and herbs, served atop a golden brown potato cake stuffed with langostinos, and surrounded by a foamed broth of peas and roasted garlic. Scattered bits of crispy garlic chips, a garnishing of greens, and two small wedges of perfectly ripened brie off to the side. Sublimely delicious!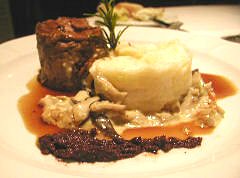 Michael opted to go for the interesting sounding cordero confitado, or lamb confit. Now, the idea behind confit is generally a very slow cooking with relatively low heat of a meat in its own fat, usually accompanied by garlic and lots of herbs – the flavors seeping deeply into the meat and the texture gradually reaching one of near spoonability. In this case the lamb is cooked in olive oil rather than its own fat, and, slightly disappointingly, apparently in just olive oil. Though the meat was beautifully tender, piled up in lovely column, it was a bit of a one-noter – excellent for someone who just wants the flavor of lamb on its own, but in our view in need of some sort of infusion of flavoring – be it herbs, garlic, or just salt and pepper. It was accompanied by a delicious potato puree topped with mushroom sauce, but overall was the one real non-winner note of the evening. Our waiter dutifully and cheerfully noted our suggestion and assured us he'd pass on our comments to the chef.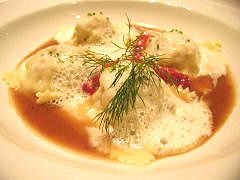 My main dish, on the other hand, was nearly as good as the appetizers. I only say nearly because after those frog's legs anything might pale in comparison. Roasted rabbit ravioli served in a broth made of the roasting juices, and topped with simple strips of roasted tomato. The pasta was cooked to a perfect al dente, the filling was rich and flavorful, the broth was oustanding – more bread please?! We retired at this point to the adjacent library lounge to finish off our wine, and then, two complimentary glasses of Strega liqueur, something we'd commented on enjoying after seeing it used in a gelato on the menu – a point our waiter remembered, and then made his own point to bring to us.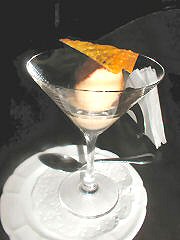 Ensconced in the comfy, stuffed armchairs we chatted a bit about the club idea, perused through the library of food books (including things like the outrageously pricey annual volumes from El Bulli, in Spain and the Spanish translation of Nobu Hoy), and really just let ourselves sink into a sated stupor. Clearly, however, we our waitstaff were not through with us, and martini glasses arrived with a swirled mix of two sorbets, quince and cocoa (slightly too sweet, but quite good), topped with a triangle of brittle caramel. Given the sweetness, not quite the palate clearer they are intended to be, but enjoyable nonetheless. The idea of dessert seemed like a not so good idea – not because they didn't sound wonderful, but we'd had quite a sufficient amount of food and alcohol. Yet, we felt we had to try something…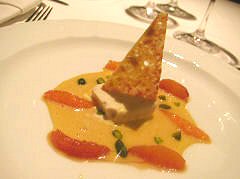 Strangely, the most intriguing sounding dessert, chocolate accompanied by the aforementioned Strega gelato, was sold out for the evening. I say strangely because we hadn't seen any other customers throughout the evening, other than two young women being given a tour by the maitre d', who ended up eating out in the garden. We did walk around a little later and it appeared that maybe they'd had 8-10 customers throughout the evening in the other dining areas, plus a few drinkers at the bar. So, it seems that everyone before us must have ordered that one dessert. Who knows? On our waiter's recommendation we settled on splitting a chestnut parfait accompanied by a roast orange sauce and orange segments (and another brittle caramel triangle). In a nice touch, the kitchen split and plated the dessert separately for us so that we didn't have to share from just one plate.
So, you've been forewarned. You're on notice. Prior to July, pick a night or a day for a special meal and treat yourself to some pampering and great food out in Belgrano. Come July, you're going to need friends who've already been. (By the way, I have no idea what membership is going to cost – the waiters don't know, they give you an inquiry card to fill out if you want, which we did, and someone will apparently contact us… they "think" it's around 100 pesos a month, which includes membership, invitations to wine tastings, and 50% off on dining… I'm not clear about the latter… if it's members only who are dining there, 50% off in comparison to whom? Why not just cut the prices in half? Which, by the way, are not inexpensive for Buenos Aires, but incredible given the quality – appetizers running around 20 pesos and entrees running around 35.)