"Lyon is full of temperamental gourmets, eternally engaged in a never-ending search for that imaginary, perfect, unknown little back-street bistro, where one can dine in the style of Louis XIV for the price of a pack of peanuts."

– Roy Andries de Groot, gourmet, author
Buenos Aires – Here's the thing. I'm wrong about things sometimes, often even. I make mistakes, just like everyone else. But there's one arena where I can, generally, do the little "I told you so" dance, and that's the judgment of character… not of a person, but of a restaurant. I would never go so far as to say that my little sixth sense that just picks up on what's working and what's not is infallible, but hey, someone should hire me just to do that, you know? I could just sit around and do a thumb's up, thumb's down, meh… you know, restaurant critic or something.
I don't know why I chose to enter Petanque again. It's not that I trashed it or anything in my original review pretty much exactly three years ago, though I did throw it a "not recommended" on the index, so you could certainly take it that way. I know I would. I mean, I wasn't thrilled with our service, and only liked one out of three dishes that we sampled. Still, I've been told, on and off, over the last three years that I got the place all wrong. And there I was, in San Telmo, and the place I'd been planninng to go turned out not to be at the address it was supposed to, and the bistro looked bright and cheery, and I was feeling particularly charitable towards the French, and I went in.
My waiter this time was not a forgetful ditz. He was friendly. And robotic. Can one be both? How can one say it… he greeted me warmly, made sure I had my menu and was comfortable, and then a little switch turned off and he went blank. He returned, took the order, yes, but the warmth was gone, not a sound issued from him, he simply scribbled my order on a pad, plucked the menu from the table, and left, not a peep. I saw him pass by once or twice more during lunch, but he never returned to the table. Someone else brought the food, someone else came around when it was time for dessert, even the check – and the someone else was just sort of pleasant. Then when I was leaving he scooted over to me to thank me for coming and hoped I'd had a pleasant time. It was just odd. But it's like the whole experience there – the owner, who many have sworn to me is an affable guy, always greeting customers, was sitting at a table in the corner staring gloomily into space – when I passed enroute to the washroom he glanced, smiled and nodded, said hola and returned to vacant contemplation.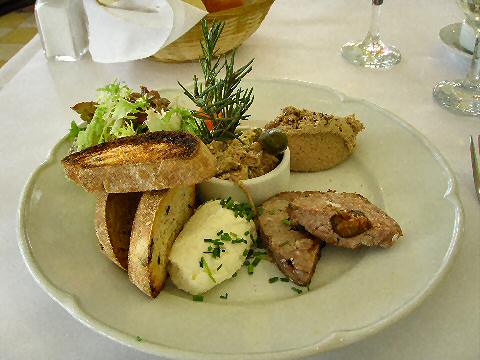 The selection of exquisiteces, or delicacies, was rather good, no question. The pate creamy and smooth, lightly seasoned. The rillettes with a proper, just crushed texture, perhaps a tad too redolent of rosemary, but that's a personal thing, I like barely a whiff of the herb. The cured terrine, a nice, hearty country style, perhaps going overboard on the rusticity – I'm used to bits of gristle and fat in that sort of terrine, I am, however, of the opinion that one should forego the chips of bone. The quenelle of cheese, labelled on the menu as boursse was like a tangy ricotta – I assume it's a takeoff of some sort on boursin, though it was much softer and creamier – quite good.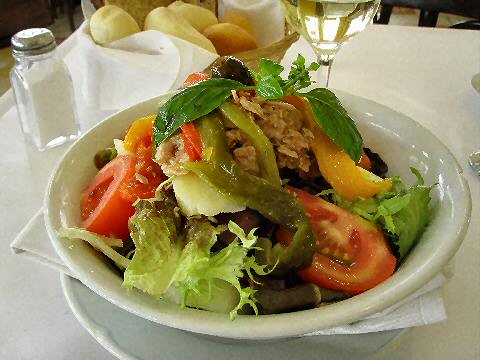 The niçoise salad was simply, inexcusable. A bowl of lettuce with a few fat, hard tomato wedges atop, some droopy roasted pepper strips, a couple of cubes of potato, and a small scoop of canned, oil-packed (and not olive oil) tuna. A splash of vinegar atop the whole thing. Sure, it approaches into the territory of what a niçoise should be, but not only was it simply not it, it was icey cold. Cold enough that I was verging on one of those "ice cream headaches" just trying to eat the thing. I can only assume that for lunch hour they have a bunch of these sitting in the fridge, or even the deep freeze, awaiting some unsuspecting customer like myself.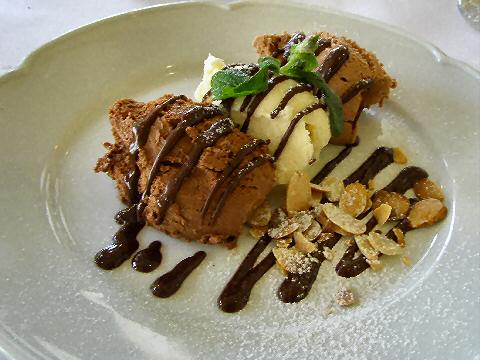 I probably wouldn't, shouldn't have gone for dessert, though, I'm glad I did. It was actually pretty good, and at least left me with a good taste in my mouth rather than that of the travesty of the salad. A trio of chocolate mousses – milk, white, dark, a drizzle of chocolate sauce and some almonds. The texture was right, the flavors were nice and intense. Well done.
So, I'm still leaving this place at "not recommended". I thought about moving it up a notch to "okay", but when it comes down to it, there are enough other French bistros and brasseries in town in which to dine, that aren't so inconsistent and have a staff who actually give a merde, that I'm just going to be obstinate and not do so.
I told me so.