It's spring fever…. You don't quite know what it is you DO want, but it just fairly makes your heart ache, you want it so!"

– Mark Twain, author
Buenos Aires – No question, spring has sprung in these parts. And what better place to stop off for lunch on a beautiful spring day in Palermo than Spring, J.L. Borges 2284 Bulnes 2577 [new location], Guatemala 4452 [and moved again], a spot I've passed by many a times and noted the sign for comida vegetariana, and said to myself, "one of these days I have to get back here and check it out." And, so I did. It's a large space, very plain, and, upon entering, I realized it was a tenedor libre, an all you can eat buffet, with a Chinese, or at least Asian, bent. Of course, a buffet calls out to my deepest roots, right into the genetic material of my being, and given that I'm trying to shed a few pounds plus lower a bit of that cholesterol stuff, a vegetarian version seems the better option.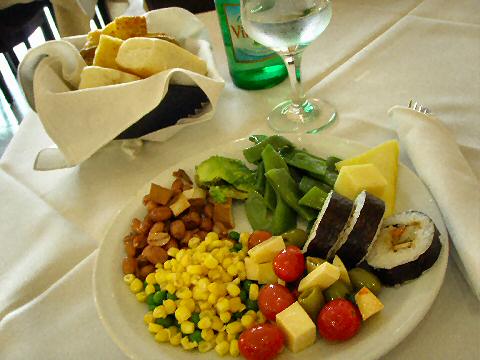 I'll tell you up front, the cold section, more or less the "salad bar", is the best part here. The selection of different fresh vegetables, premade salads, dressings, and, to the side, a pair of daily soups, is among the best I've seen in town. You can see I wasn't shy about picking out a good range to try out – and there at 10 o'clock on the plate was a little salad of smoked tofu and peanuts in a smoky sweet soy based sauce was not only a standout for the salad bar at Spring, but one of the most interesting tofu dishes I think I've ever had. I could have just eaten a plate of that.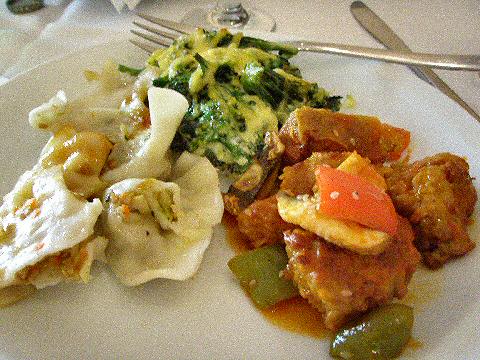 They're a little less successful in the hot section, which first of all isn't all that hot – the line is setup weirdly, with the front row of trays directly over the steam and keeping hot, but the back row, more or less balanced on the edge of the counter, and really not much warmer than room temperature. There's also a preponderance of cream sauce and cheese covered dishes, in fact very few that weren't one of the two, which won't sit well with the vegan set, and perhaps gives lie to their claim that all their food is wonderfully healthy. Still, I found the vegetable filled dumplings to be quite good, and the sweet and sour tempeh was actually excellent. The broccoli with cheese wasn't bad, but not all that interesting – I pretty much ignored all the rest.
I think, other than perhaps the tempeh dish, I'd stick with the cold dishes, unless something in particular caught my eye one day – and I will be back, because for a mere 20 pesos at lunch, it's a great deal in a city that's starting to get expensive these days. And the dishes do change – or at least that's the claim – 80 selections that change throughout the course of the day – and better quality than most of the Chinese all you can eat places I've checked out in town.