Seriously, it was all about the 'shrooms. Except for the one person who wouldn't try them because the smell of mushrooms makes her nauseous. Not to be cliche, but I think she's just never tried them the way I make them. And we've had some hits on the mushroom front here at Casa S – the mushroom cocas, stuffed mushrooms, mushroom galettes, king oyster mushrooms with polenta, raw mushroom salad, mushroom terrine (which has come back as an accompaniment several times), in wheat "risotto", in strudel, and, of course, in our every popular, "textures of mushrooms" (a.k.a., mushroom cheesecake). There are more, but the list would get silly – and all from someone who grew up hating mushrooms.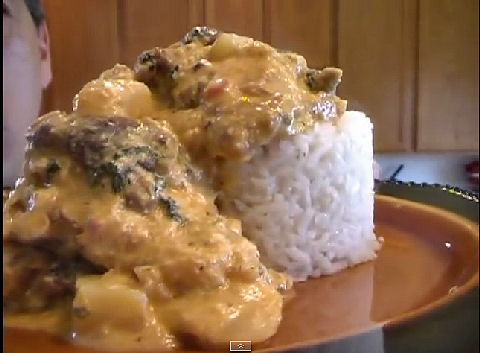 So there's this traditional mushroom dish from Peru, specifically from around the area of Cuzco, called capchi de setas ("harvest of mushrooms"). It's a summer dish – made from the mushrooms that spring up all over the surrounding hills after the summer rainstorms. Traditionally, the locals head out into the hills to collect this specific type of mushroom, and it's prepared quite simply – pretty much a mushroom stew. Saute some onions and garlic, add in a little ají panca paste, add mushrooms, fresh or rehydrated and boiled fava beans, and parboiled potatoes (or rehydrated and parboiled chunño), two herbs – huacatay and hierbabuena – and some broth and evaporated milk, and simmer it until the vegetables are cooked through, then beaten eggs and fresh cheese are rapidly stirred in to thicken the soup and make it stew-like, and finally, finished with rocoto chili puree or chopped rocotos. More or less – everyone has their own way of making it, but that gives you the base ingredients. You can see the dish, pictured above, being made here on youtube.
So, starting from there, what was I going to do to keep the flavors and the spirit of the dish, but make it into something that fit my style of cooking?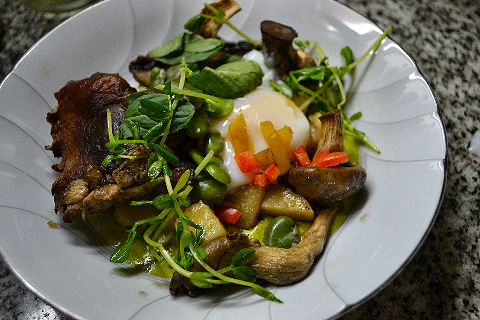 Just a bit different looking than the ladleful of eggy mushroom and potato stew that you get to at the end of that video, no? At the base, a huacatay sauce – vegetable stock and smoked chili (merquén) in place of the ají panca pureed with a good handful of huacatay leaves, then whisked together with cream and a little cornstarch to thicken it. On top of the sauce, cubes of potato that were cooked fondant style in mushroom stock; four different types of mushrooms – white button, portobello, oyster, shiitake – roasted in the oven with sprigs of hierbabuena; a sous vide egg topped with sea salt flakes; scattering of fresh fava beans, rocoto chili, hierbabuena leaves and some wilted pea shoots. It's the 'shrooms, man.
The rest of the dinner menu last week: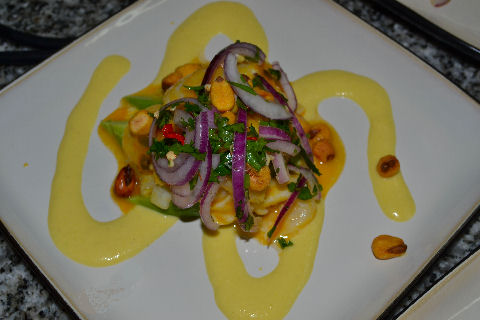 Fluke ceviche with ají amarillo and passionfruit – to start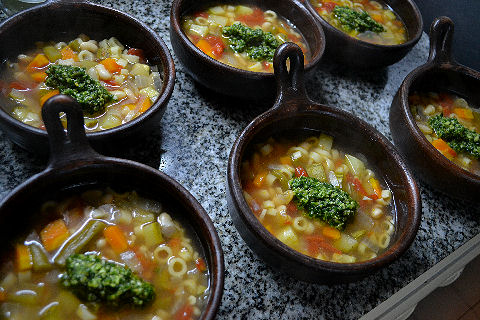 Soupe au pistou – second course, then the mushroom dish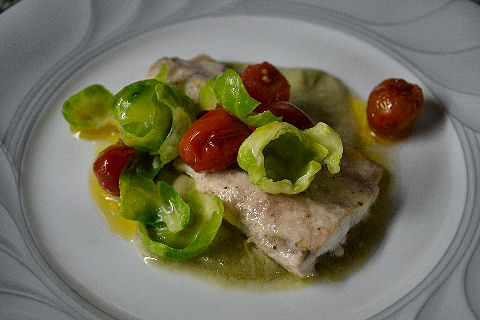 Broiled sea bass over a spicy artichoke puree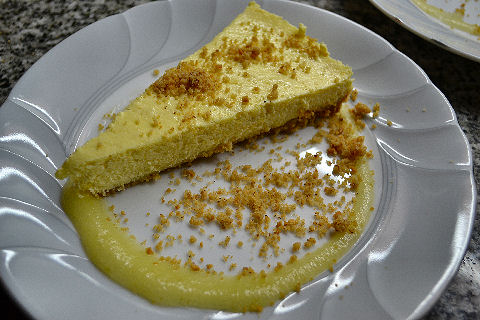 and finished off with mango cheesecake with lime puree and a spiced peanut crumble