Last week's dinners were all about the fish – a couple of new dishes I've been working on. And, some tweaks to the other plates as well.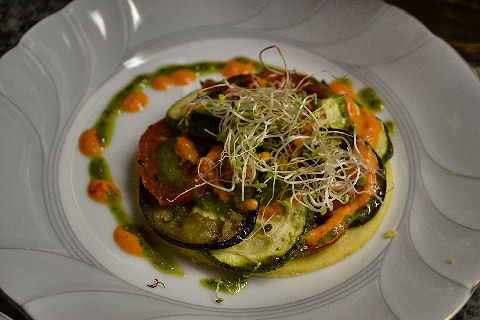 Our ratatouille galette with polenta crust – changing up the garnishing a bit with some mixed sprouts and a goat cheese and roasted pepper puree, and a mixed herb salsa verde.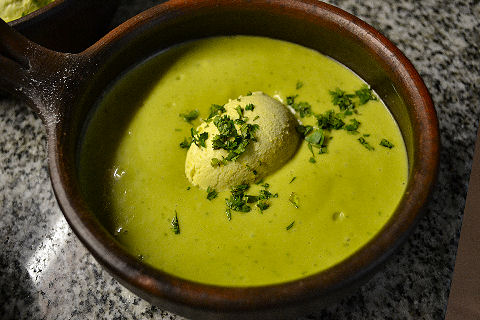 Recent repeat guests mentioned how much they'd liked a chilled avocado soup we'd made way back when, so I started playing around with it a bit. Sauteed onion, garlic, ginger and jalapeño until soft and starting to color, then covered with vegetable stock and simmered away for about ten minutes. Let it cool and then pureed it with several ripe avocadoes, lime juice, cream, cilantro, and a little port. Chilled. Served with a roasted corn gelato – roast the corn and some green onions then pureed and strained into our savory sour cream gelato base with a little lime and salt, chilled and then frozen in the ice cream machine just before serving.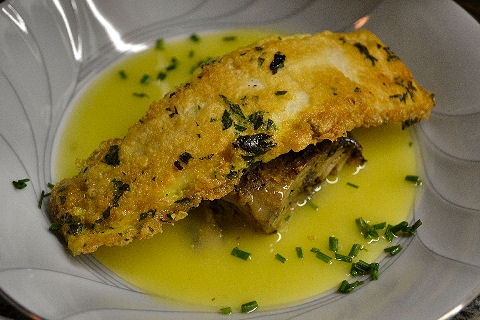 Three years ago I started off on a quest to find some decent recipes for some of the local river fish here, and the one that got the most attention was pejerrey. The first recipe up to bat was a la romana, a version of fried fish that doesn't involve breadcrumbs or a batter, just a quick dip in flour or other starch and then into a beaten egg mixture – and it's fried just like that. Served over a slice of mushroom terrine and surrounded by my version of a traditional Peruvian al ajillo sauce – basically I poach an entire head of garlic in butter and oil, kind of like making an Italian bagna cauda, then I add in white wine and chicken or vegetable stock and simmer it away for a few minutes. Then pureed, strained, seasoned with salt and white pepper, and thickened with cornstarch.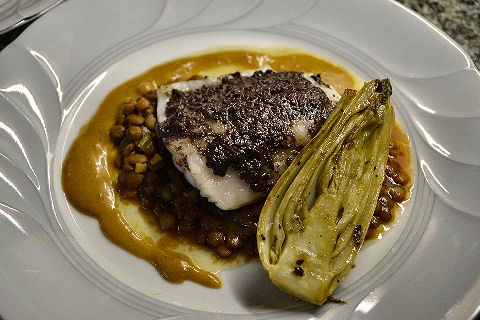 Abadejo (pollack), coated with black olive tapenade and broiled. Served over our classic lentil stew, spiked up with a little rocoto chili, and accompanied by roasted fennel and an orange, ginger and chili sauce (ginger and chili cooked in olive oil, then whisked with orange marmalade, zest and juice of an orange, soy sauce, black vinegar, ketchup, tamarind puree, all blitzed and thickened with xanthan gum).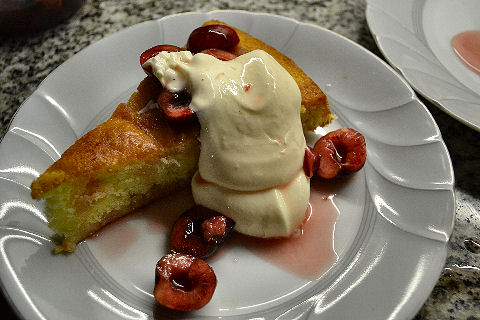 Lemon olive oil cake soaked with limoncello, served with cherries macerated in cherry brandy and topped with a limoncello and fresh lemon juice spiked whipped cream. A boozy little dessert.