"Over the years, Audrey Hepburn has become a symbol for class, elegance, and timeless style. Word has it that she had an hourglass figure, 34-20-34, a weight of never no more than 110 lbs. (except when she was pregnant), at a height of 5 foot 7. So how did she stay so slim, even after giving birth to two children? Did she starve herself? Was she anorexic? People who knew her say she didn't have any eating disorders. So was she always on a diet? The fact of the matter is, Audrey Hepburn ate pasta and chocolate every day."

– Rose West, The Audrey Hepburn Diet
'Tis the season still – private parties abound. In general, with those, the hosts either pick dishes from things they've seen in our past menus, or even ask us to recreate a menu, or, they leave it to us with whatever restrictions fit their diets, and I pick out favorites that follow along. Last night, pescetarian, medium spicy. No other strictures.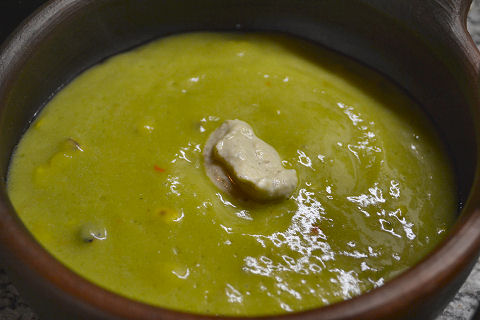 Our chilled avocado and roasted corn soup, spiked with chilies, ginger, garlic and onion. A little dab of toasted macadamia and rocoto pepper cream in the center.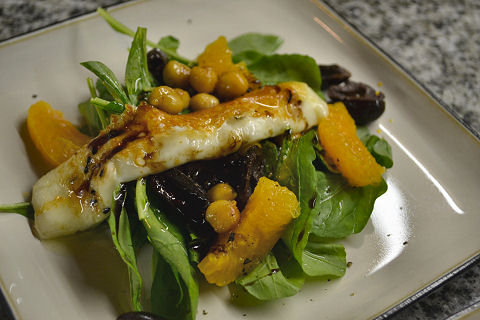 Grilled goat's milk feta cheese over arugula, tangerine segments, black olives, spiced-fried chickpeas.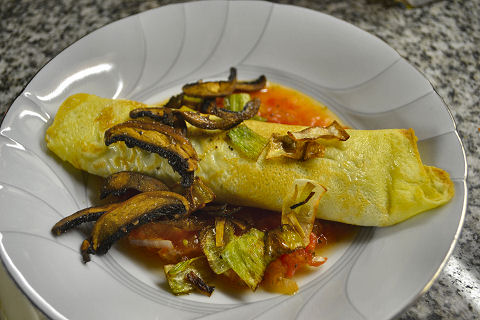 Tweaking the manicotti dish I've been working on – 100% semolina crepes wrapped around homemade cream cheese whipped with a basil, mint and cilantro pesto. Fresh tomato sauce with a touch of star anise and peperoncino. Crispy leeks and crispy baby portobello mushroom slices tossed with smoked salt and black pepper. My favorite dish of the evening.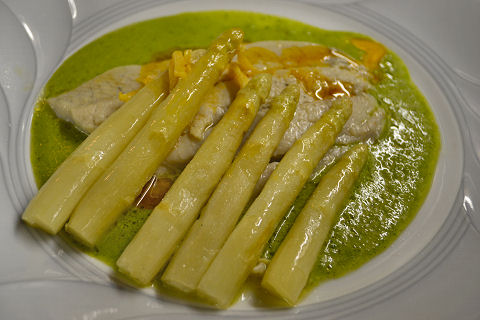 For whatever reason, post New Year's eve, the fish selection in town is limited right now. I wanted to make this dish with cod, the way I've made it before, but none available. Fresh palometa is a trifle stronger in flavor, but it's one of my favorite fish here. Served over a roasted green pepper cream puree, topped with fried garlic and smoked paprika oil, and some grilled white asparagus. Presentation wasn't as vibrant as I'd planned – forgot that I had some colorful sprouts to adorn the dish, but I do like it better with nice, thick, squared off fillets of cod.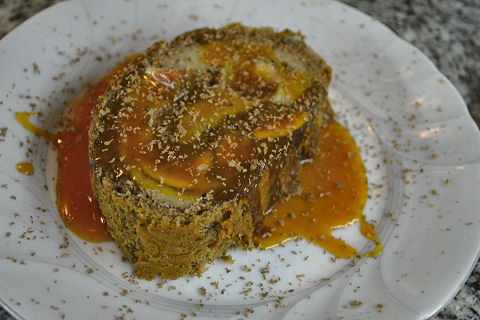 This is one I've been playing around with and this weekend am trying out a couple of versions. First off, a pionono presentation – a cocoa sponge rolled up around pastry cream that's flavored with toasted white and black sesame seeds and toasted sesame oil, diced fresh figs. Over the top, salted caramel sauce and grated chocolate. Eminently workable and absolutely delicious, and a very close second favorite.