"It's what we're known for. Nobody bad-mouths the roundup."

– Lynn Adams, Sweetwater Chamber of Commerce
A last look back at eats in NYC this last week….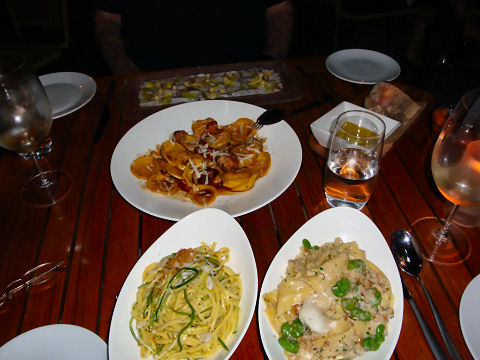 You might have thought after
my polemic last October
that I wouldn't set foot in A Voce again. And, I probably wouldn't have had one of my closest friends not just accepted a position at the
A Voce
down on Madison Square (41 Madison Ave) – so at least it's a different location. He swore by the pastas on the menu, so another friend and I popped over on a rainy night to sample away. First off, far prettier room. Night and day. Friendly, efficient service. And, the pastas – not knock-outs, but damned good. The pappardelle with fava beans, walnuts, meyer lemon, rosemary and "whipped lardo" gets high marks for sheer, over the top, unctuousness. The spaghetti a la chitarra with bottarga and julienned vegetables, lemon peel – perfect for a summer night. The strascinati with guinea hen sausage and morel mushrooms – yum. Not overly impressed with the octopus "carpaccio", but then, we'd been told to try the pastas! 
[Closed]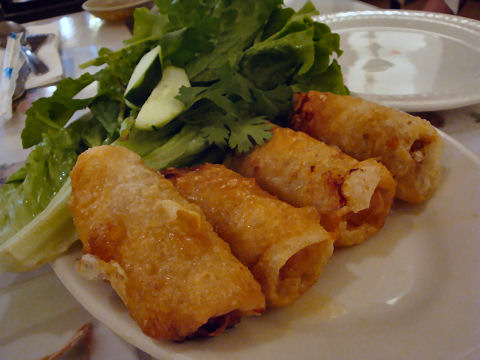 One of the first Vietnamese restaurants I ever went to, and
the first I ever reviewed
, was New Viet Huong, now called
Pho Viet Huong
, 77 Mulberry Street. As such, while not the best Vietnamese place I've ever been, not even the best in Manhattan or even Chinatown, it's always held a special spot in my heart. Same owners, same waiters as have been there forever. And, I almost always get the same things –
cha gio
– those crispy springrolls; salt and pepper softshell crab – if in season, if not, squid or lobster; and sauteed squid with sour mustard greens. All as good as ever, though the herbs and lettuce with the springrolls a bit skimpy for some reason.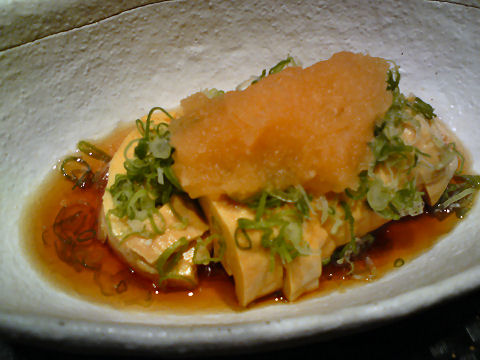 Another visit to
Kanoyama
, 175 2nd Ave, which I've reviewed more than once here – really, I just haven't found better sushi that wasn't astronomical in price in NYC. Lovely, creamy
ankimo
, monkfish liver; followed by a selection of my favorite
nigiri
sushi – yellowtail, sea urchin, sweet baby shrimp, a couple of random others; and even though I'd had one earlier, a softshell crab in a roll – we don't get softshells down here and it's something I do miss!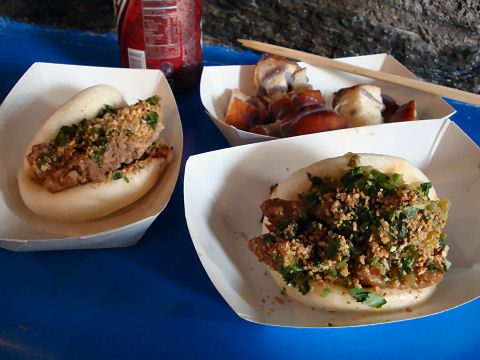 I've been reading about
Baohaus
, 137 Rivington Street, for it seems like eons. And who can resist a good
bao
? The place, pounding gangsta rap and complete lack of decor, staff that seem a touch, well, stoned. The food, hmmm – can't say I get what the fuss is about, the chicken bao made with gristly, stringy bits of bird, the pork belly bao nothing but chewy fat, the hangar steak one – oops, they didn't have any available – three menu items and they're out of one, half an hour after opening ("the owners came by and took it all for some party they're going to") – neither of them with any spice to them – pretty ho-hum. And the taro fries, enthusiastically recommended by the counter-guy – caramelly sweet. Overall, a pass. 
[Closed, moved to 14th Street, not tried there]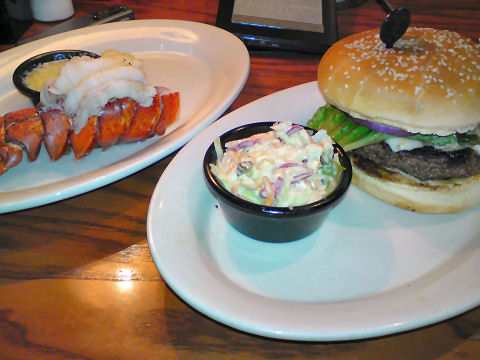 It was off to the airport where I found that my flight was delayed "due to heavy thunderstorms in the area" – really odd – we're looking out the window and the sky is blue, not a cloud in it. Then it was, "well down in Washington where you're transferring" (could have been, but when we did eventually arrive, they said – "a little light rain, nothing major"), and at one point there was some sort of "we can't find the crew" conversation going on. Either way, ended up into Dulles three solid hours late, missing my connection to BA by 15-20 minutes (despite the fact that they assured us that since there were nearly two dozen of us connecting to that flight it would be held). United's customer service totally not ready to deal with a plane full of people who'd missed connections – 1 person staffing the counter when we started lining up – eventually 3 – more than an hour and a half in line only to be told – no flights until tomorrow night at 10 p.m., it was weather, not our fault, so we're not doing anything for you – they relented and gave a 50% off voucher for a hotel, and no you can't get your luggage back unless you want to go to the international terminal, put in a request and wait 2-3 hours. Let's see, nearly midnight, think I'll pass on that. Off to the hotel and a microwaved "Lean Cuisine" that was horrific….
Little to do the following day, the hotel being in an industrial park on the outskirts of Chantilly, Virginia – three restaurants in the area, a Pizza Hut, a Bob Evans "Bob-O-Que", and a Longhorn Steakhouse. Went with the latter, ordering up a "Black and Bleu" burger (which they refused to cook less than medium/medium-well – "regulations" you know) – coated in a mix of peppercorns, topped with lettuce, tomato, onions, blue cheese; at least there was an option for cole slaw instead of fries, which I then put right into the burger; and an $8 option to turn it "surf and turf" with a broiled lobster tail and drawn butter – who could resist that? I haven't lobster in forever. And surprisingly, it was all pretty good – no complaints. And cheap!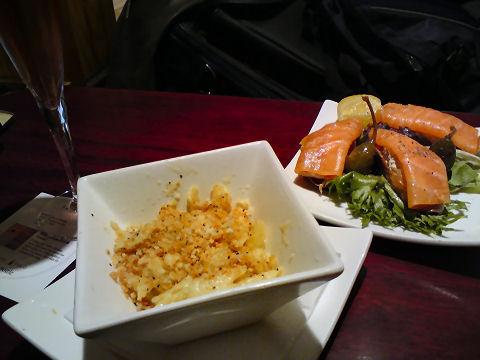 Back to the airport, where I discovered that the customer service agent from United hadn't confirmed that I'd accepted the change to the following evening's flight, so they'd simply cancelled it – 15 minutes on the phone with another agent straightened it out, but left me with "your bags may have been sent back to NYC, you'll have to check in with an agent there – an hour plus wait in line and 20 minutes for her to track my bags down, which had been placed in unclaimed baggage, thankfully she was able to get someone to find them and get them to the plane on time. With boarding pass finally in hand, I started getting messages from one and all that I simply must try Five Guys Burgers (plus there were a whole lotta fat people around munching on them) – didn't they read what I thought of the one in Brooklyn a couple of days ago? Not. Besides, I'd already had a burger. Spotted a
Vino Volo
– a relatively new concept, I think about two years old, of wine bars with food placed in major airports. First time I've seen one, though I met the sommelier who is in charge of their development and marketing awhile back when she was down here. Thought I'd give it a try rather than wait for a late night in-air catastrophe. Surprisingly, for an airport spot, very inexpensive, with small plates running $4-8 and large plates in the low teens – I tried their "signature" salmon bruschetta, smoked salmon stuffed with fresh crabmeat – delicious! – the penne with three cheeses and truffle oil so good I had a second small plate – and some rosemary roasted marcona almonds. A couple of glasses of wine from their by the glass selection – both inexpensive, and I was ready for a nice night's nap on the plane – which thankfully, this time, took off more or less on time.
And that's a wrap on the food ventures in NYC and this trip.