For several years while in Buenos Aires I used to read about the adventures of Layne Mosler, the Taxi Gourmet. They say that every good blog has some sort of gimmick, or core point of view, and hers was definitely something different – she'd hop into a cab and basically tell the cab driver to take her to his or her favorite place to eat – no matter how far away, no matter what sort of food. Not all cab drivers went for it – many simply deposited this seemingly crazy norteamericana at the closest touristy spot, but she also got a good number of really interesting lunches and dinners out of this approach. And then she wrote about not only the restaurant and the food, but enroute, she'd interview the driver and include something in her story about his life.
At some point, the number of parrillas that she was deposited at – one can only eat so many steaks with french fries and write about it – became too many, and some folks here in the States convinced her that her work prospects were better here, plus more variety of cuisines – so, she headed for New York City to work, and to continue her taxi adventures. Somehow, we never managed to connect in Buenos Aires, so I was happy when she offered that I might join her on one of them here in New York. Yesterday I found my way to 59th and Lex where we met up and flagged down the first cab. She warned me that she's found NYC cabbies to be a bit more reticent about the whole thing, so she's reversed her process a bit – she introduces herself to them as a journalist looking to just ask a few questions about what it's like to drive a cab in New York – she gives a fake destination about 30 blocks away, figuring that's enough time to get the ball rolling. Our driver, however, may as well have been waiting for us – he opened up immediately, telling us about his life here in New York, his work, and had no hesitation when asked about recommending his favorite restaurant – which conveniently was exactly at the point where we'd given the fake destination, in the heart of Little India, and he is Pakistani.
I do wonder, and perhaps Layne could chime in, if our destination had some influence on, well, our destination, i.e., his pick of places – does she pick a general destination based on the ethnicity of the driver? Had he been Asian would she have given a fake destination somewhere towards Chinatown? Or, had she picked East 6th Street, the other strip of Indian restaurants, would our driver yesterday have given us a different "favorite"? Either way, we found ourselves in front of Haandi, 113 Lexington Avenue, with a recommendation to try the Chicken Tikka, the Tandoor Chicken, and not the curries.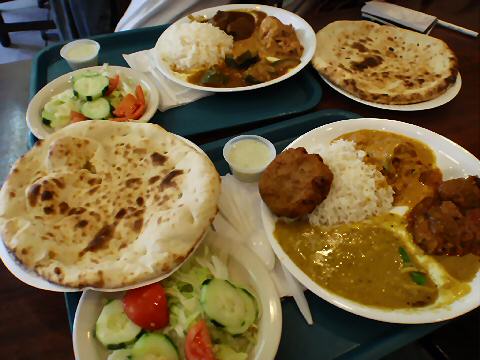 While this was the best Indian food I've had in awhile, that's pretty much because I haven't had Indian food in awhile. BA is not exactly loaded with Indian restaurants, and while I do like a couple of them, the spices are muted for local palates. Then again, the spices seemed pretty muted here too – nothing was particularly
picante
. Haandi's basically a steam-line lunch counter, and you can get individual dishes, or a special plate with salad, rice, bread, and your choice of three of the steam line's contents (maximum of two of them being meat). And a whole $8 – a bargain if it's really good – actually, a bargain as long as it's at least reasonably good, and that, it is. We dutifully tried the Chicken Tikka, which was tasty, but a little tame, Layne tried the Beef Curry, which was not good (he did say, "not the curry"), I tried the Karahi Chicken as well, from our driver's hometown, Layne also went for the stewed squash which was a little iffy, though my lentils with ginger and fresh green chilies were actually quite good – probably the best thing we tried. We ordered extras – I got a forgettable "vegetable cutlet" and she got the okay Tandoor Chicken. The salad, well, it's a little shredded iceberg lettuce and a couple of tomato pieces, the
raita
little more than some liquidy yogurt with a chili in it, and the bread, well, it was bread. So, I know I've had far better Indian food in New York, and even right there in that strip – perhaps it's because the owners are from our driver's hometown of Karahi?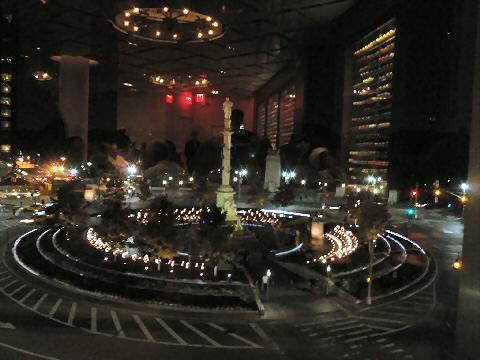 I'm going to be a little blunt here, since I'm not doing full writeups – several people had recommended the new branch of
A Voce
in the Time Warner Center. A pox upon them. The recommenders, that is. Because, bluntly, about the only thing interesting about this restaurant is this nice view of Columbus Circle at night. The room is poorly conceived, the atmosphere not much better, the food would be forgettable if it was reasonably priced, but since it isn't, it's memorable for just how mediocre it is. You could lead a cattle drive with the amount of salt that the kitchen puts onto most of the dishes, and, for the most part, they seemed to focus on over or undercooking ingredients, rather than simply cooking them. The only saving grace, at least our waiter was fun. The sommelier, on the other hand, needs to be… un-starched. 
[Closed]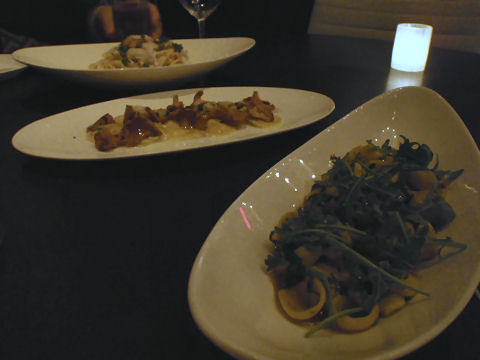 Ok – the quick run down of dishes: Round 1, our antipasti –
Sarde
, decent cured fresh sardines over a finely diced and flavorless caponata with a field of crunchy coarse salt strewn over it;
Funghi al forno
, one of the few dishes we liked, with roasted trumpet mushrooms, though, too much truffle oil in the fonduta;
Pancetta
, cured pork belly, a huge strip of it, especially in comparison to the miniscule portions of the other dishes, tasty, though overcooked and dried out, oversalted, and the first of several dishes with a sort of dried tomato powder and orange peel crumble on it, a flavor combo that popped up a couple of times; and
Fegatti
, three little teeny lobes of chicken liver cooked with caramelized onions and coated in salt.
Round 2, pastas – the much touted Spaghetti alla Chittara, with crab and sea urchin butter, neither of which was particularly noticeable in the dish, though the salt was; Ravioli filled with taleggio cheese and surrounded by chanterelle mushrooms and brown butter wasn't bad, certainly the best of the pastas; and Orecchiete with guanciale (cured pork cheek) and sofrito was so salty it burned going down.
Round 3, main course – we decided on one main course and a couple of side dishes – the again much touted Pollo alla mattone, or chicken cooked under a brick – nice and juicy, with a good spice mixture coating it, though again too much salt, and served over slices of potato and big white beans that were both so undercooked they crunched. The side dishes we ordered, the young fennel were so over-pickled and salty they could have been any vegetable, the buckwheat polenta with mascarpone was actually quite good – perhaps the best thing we had all night; the kitchen sent out two extra side dishes, some brussels sprouts that may as well have been served direct from the bag they came in for the little bit of cooking they received, and some roasted beets that were decent.
Need I say more? I've said too much, more than I planned. Just, umm, don't bother. Go upstairs, have a nice steak at Porter House and get the same, or slightly better view. Oh, and taking out the cost of the two wines we ordered, those four appetizers, three pastas, one main course, and two side dishes, came in at under $200, which truly wouldn't have been bad had the food been good.