Although no new suggestions have come in so far, I'm moving swiftly along in The Great Sandwich Hunt in following up on the online recommendations from various local websites. And, there are some interesting suggestions out there!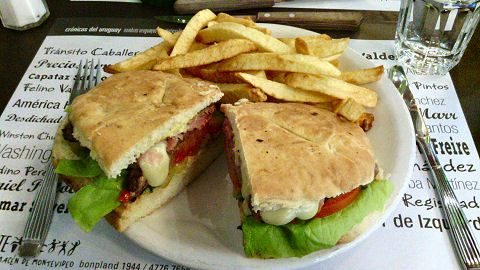 It's the Canada – Uruguay connection that I don't get. I'm a big fan, as you know, of the chivito uruguayo, the steak sandwich of Uruguay that's, when properly made, loaded up with all sorts of good toppings, ranging from simple lettuce and tomato to eggs, other meats, olives, mushrooms, and more. At many, if not most, chiviterías, there's an option for what's called a chivito canadiense de uruguay, and I have no idea what about that option is particularly Canadian. In general I'd say that the canadiense version is topped with lettuce, tomato, bacon or ham, olives and cheese, sometimes mushrooms, and oft-times a fried or hard-boiled egg. Where's Canada in that mix? Regardless, I couldn't not go check out La Celeste, Bonpland 1944 in Palermo – I've been here before a few times, and reviewed it many, many moons ago, not long after I first moved here. I'd never tried the sandwich though – and what a shame, because it's well worth it. A great version with plenty of steak, gooey melted cheese, lettuce, tomato, olives, bacon, and a couple of other things I think I'm forgetting (the plated version, without bread, is topped with a runny fried egg, I would have liked that on my sandwich). The bread reminds me of the sort used for a cubano sandwich, but at least on this visit was a trifle dry and I ended up eating mostly just the filling. So, it doesn't top my current fave chivito at La Perlita, but it's a not far distant second.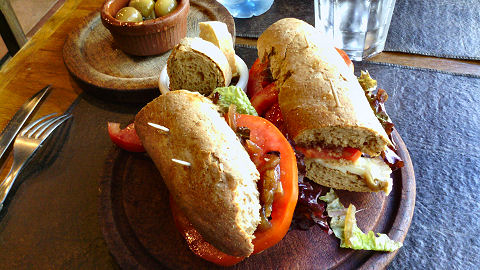 Sometimes a cheese sandwich is more than a cheese sandwich, and such is the case with several of the category at a`Manger, Charcas 4005 in Palermo. With almost three dozen sandwiches to choose from you could spend a month just sampling through the various possibilities. Luckily, I'd had a recommendation for the #21, a gooey, warm sandwich of melted brie and goat cheese (unspecified), a sweet apple and onion chutney, "old-style" mustard, lettuce and tomato on a choice of white or brown sandwich baguettes or pita. I chose the brown and settled in to nibble on a bowlful of mixed stuffed olives (almonds, peppers, prosciutto, cheese, both green and black olives) while waiting for the sandwich to be assembled. And, it was worth the wait – the filling delicious. Maybe the chutney sweeter than I'd prefer, but not by much – a little more mustard or some vinegar would counteract that; and it would be improved if the bread were toasted and warm as well as the filling. Overall, a great sandwich, reasonably priced at 44 pesos, and I think deserves moving into the second place slot for vegetarian offerings.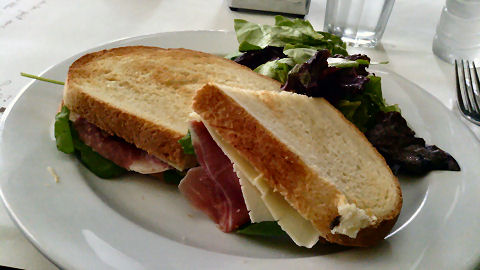 Voulez-Bar, Cerviño 3802 at the corner of Árabe Siria in Palermo Chico is a reasonably classic French bistro and cafe. It might be the only one of its sort in the city that offers up no wi-fi and is quite upfront that that helps prevent people from staying too long (according to my waiter, "we'd really prefer that you just eat and leave"… hey guy, that didn't win you any points in the customer service world). That aside, it's a cute place, with a nice sidewalk seating area. Overall slightly stuffy service, but in a strange way, almost as if they're trying hard to imitate what they think is Parisian bistro service style – a stereotype, if you will. I was there to try the Bistro sandwich, highly touted in a couple of different travel forums. Lovely toasted white bread, jamón crudo (prosciutto, more or less), sun-dried tomatoes, argula, melted cheese, and some black olive tapenade. A decent sandwich with nice flavors, though I found it a bit dry – it could have used a whole lot more of the tapenade than the bare teaspoonful dripped across the cheese. The sandwich was immeasurably improved by stuffing it with the side salad that accompanied, which was nicely dressed with a classic vinaigrette – it gave the sandwich some zip, zing, and moisture, which, at 48 pesos, it needed.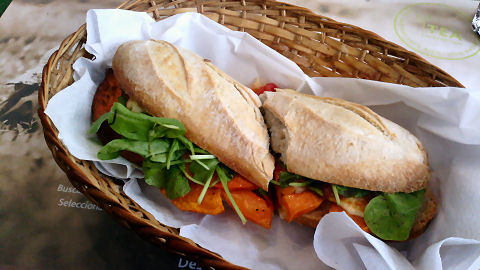 You know, just a few years ago there was only one Tea Connection, right down the block from us at the corner of Uriburu and Pacheco de Melo. The idea was a hit though, with great teas, sandwiches, wraps, salads, and pastries, all fresh and tasty, and now there are eight, scattered around the city. Why it hadn't occurred to me until now to add them in to the hunt for a great sandwich I'm not sure. So we popped in to check out a couple of their offerings – the steak sandwich and the vegetarian sandwich. The former is good, but given the other options here in the 'hood that I did a compare and contrast on recently, it wasn't quite there. The vegie sandwich, on the other hand, is pretty darned good – with slices of lightly caramelized squash topped with fresh tomato slices, arugula, and melted cheese, all on one of their excellent sandwich baguettes. Is it enough to jump it into the top two, knocking aside the double cheese extravaganza above at a`Manger? Not quite – mostly because while really tasty, it's a little skimpy on the filling in contrast to the bread and its 44 peso price. It is enough to slide it easily into third place though – not in the top two winners, but certainly the best vegetarian sandwich I've tried here in Recoleta – and, with those other seven locales spread between Recoleta, Barrio Norte, Palermo and Belgrano – hmm, I could have sworn they had one in Puerto Madero Este – you've got access in various spots.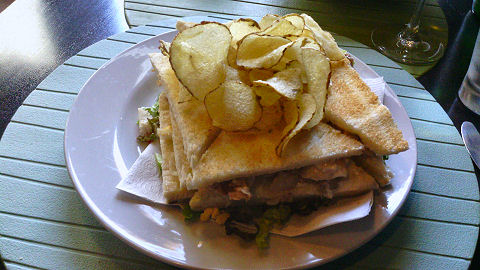 I was out in San Telmo yesterday, the first time I've hit the fair in several years. My goodness has it expanded, now stretching from Plaza Dorrego to Plaza de Mayo, and just teeming with not only visitors, but the number of vendors has easily multiplied by about tenfold. I was thinking of brunch at Aldo's, but then spotted Moreneta de Montserrat just down the block at Moreno 477, a place I've been hearing rumblings about for a couple of months now. While not serving brunch, they offer up a sandwich, salad and pasta menu (apparently at dinner a completely different range of more elaborate dishes), and spotting a club sandwich on the listing, I decided to give it a shot. The place is cute, comfortable, lined with cookbooks and food magazines, and, a large television monitor broadcasting the local food channel, El Gourmet, thankfully with the volume off. Nothing wrong with the channel, but I just find televisions in restaurants to be annoying – a pet peeve. After some great bread and a nibble of some papas bravas, which were more like a small bowl of steak fries accompanied by a delicious spicy bbq sauce and what was called aioli but tasted like plain mayo, the club arrived. That's a double sandwich – and a triple decker at that. And, while not the best club sandwich I've had in my life by a long stretch, it's the best one I've encountered here in BA. Toasted white bread, the three layers are, from the top, chicken salad (just chicken and mayo actually, but fresh and tasty), chopped hard boiled egg and bacon, and then lettuce and tomato. A little more seasoning would have been in order, but overall, great sandwich. Includes housemade fresh potato chips and comes in at a very reasonable 42 pesos. It doesn't knock out either of the chicken sandwich leaders, but if I were to have a category for just club sandwiches… it'd be the only one worthy of being on the list.