"A wine shop was open and I went in for some coffee. It smelled of early morning, of swept dust, spoons in coffee-glasses and the wet circles left by wine glasses."

– Ernest Hemingway, A Farewell to Arms
I promised a week or so ago that I'd bring in a more solid review of the newly opened Aldo's Vinoteca & Restorán, Moreno 372 in Moneserrat, the spot that took over the space vacated by a stab at bringing the molecular gastronomy world to Buenos Aires. While I will miss Moreno's morcilla and sweetbread risotto, that's one I can make myself, so I'll live. Back to Aldo's….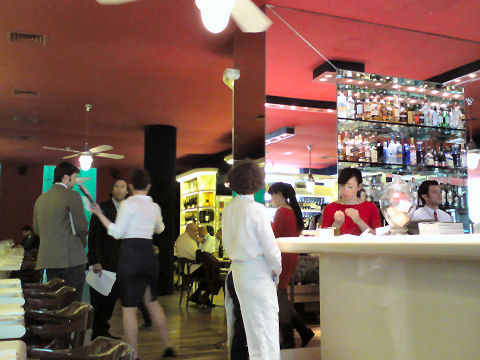 The place is a combination breakfast room for the hotel early on, though open to the public as well, lunch and dinner spot for the 'hood, and, wine shop. The last is a trifle difficult. I can see, perhaps ordering a bottle of wine that you enjoyed during your meal to be packed up to go, but the layout is such that all the wines are displayed on shelves behind the restaurant's banquettes, which, particularly if there are customers dining, might make label browsing a chore, not to mention annoying the diners. The space is bright and airy, a far cry from Moreno's dark gentlemen's club feel. The colors, steroid-intense Miami Vice. Overall, quite comfortable. Service is attentive and friendly though there are, perhaps, a few too many folk working. At lunch on both visits I counted eleven people working the room in one capacity or another, plus Aldo himself and on neither day was there more than twenty customers in the room – even at capacity it probably holds no more than fifty.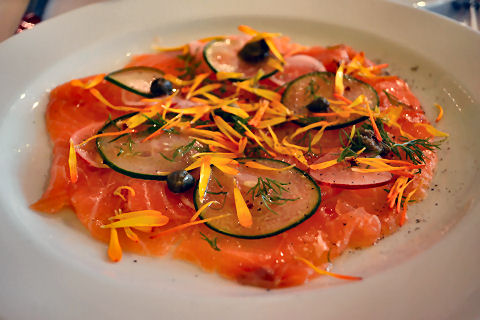 On the second visit we decided to split an appetizer plate of the house-cured salmon. Excellent, silky smooth, perfectly seasoned fish. I loved the contrast of the sharpness from the pickle slices and capers, and the decorative whimsy of the flower petals and herbs just added to it. The menu, by the way, is not a long affair – maybe a half dozen appetizers, several pastas, a few main courses, and a short list of sandwiches and salads. Same menu at lunch and dinner I gather.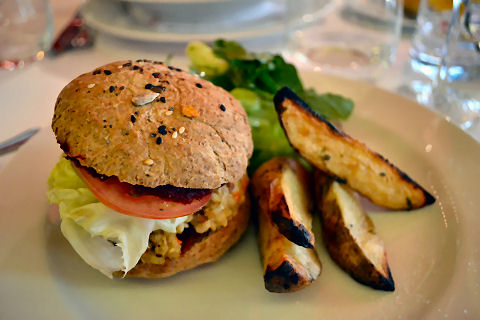 This time around I decided to try their veggie burger – always on the lookout to add an interesting one to the growing list. This one is a rice-based patty with bits of chopped vegetables and seasonings – it's actually quite well seasoned, though, as I lamented about at some point during the v-burg project, the whole grain-based burger as the only option thing mystifies me. I'd love to find someone doing a real "veggie burger" that wasn't all about the cereal. But, this one is pretty darned good, and it's stacked up with lettuce, tomato, mayo, and something I'm forgetting. The steak fries on the side are beautifully done, I could have gone for more than four of them, definitely.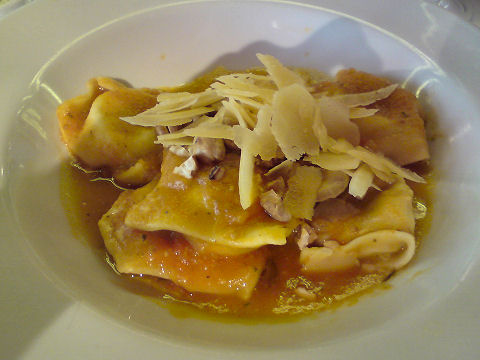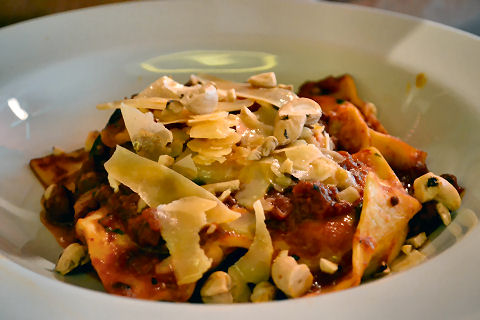 Compare and contrast. My dining companion on the second visit has been to Aldo's several times and each of them ordered the mascarpone ravioli. When it arrived looking as it did in the second photo this time he was surprised, as was I – it appears quite different from the first – in particular that it's ladled with tomato sauce. Our waitress was quite insistent that it has always been with tomato sauce, never served without, though my friend was as clear that he'd had it three times previously without tomato, and you can see from the first photo that it was sans "gravy" on my previous visit as well – and that's the way he had had it each of the prior times. The menu does say tomato sauce, so it may have been intended to have, or the menus may have been reprinted to reflect a change – I think we both liked it better without. The first time it had some sort of yellow puree as the sauce, which I took at the time to be a pumpkin/squash one of some sort. Either way, it's good.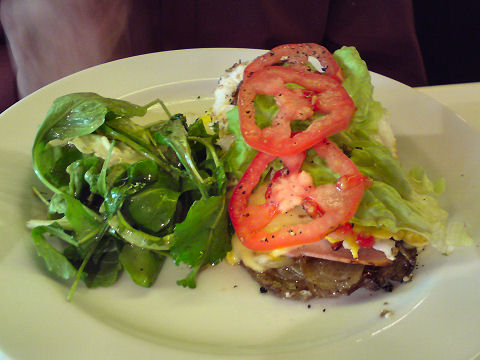 And, just bringing back the pic from the first visit of the chivito uruguayo version that Aldo's makes – though without the bread that it normally comes on as my companion that day is on a no-bread kick. Really great version of it piled high with cheese, ham, fried egg, lettuce, tomato, and more – I'd go back and order the sandwich as it comes.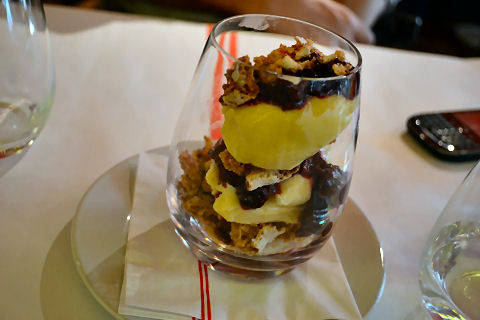 We decided this time to split a dessert. The white chocolate cremoso was the one letdown of the meal. The crunch granola bar-esque bits and the fresh raspberries were just fine. The cremoso itself was… odd. It had the texture and flavor of coconut oil whipped with white chocolate, and maybe even some extra cocoa butter. It kind of felt like we were eating scoops of Crisco. And while that may do it for Paula Deen (well, she'd use lard) it's not my thing.
Coffee is good. A misstep the first visit when our waitress looked away as she was setting mine down and missed the table, dumping the hot steaming brew into my lap – thankfully it was a small espresso and I was wearing jeans. Had to ask for a bottle of sparkling water to try to blot out the stain, that should have been an automatic offer. And, as a restaurateur, I'd have comped some part of the check instead of just replacing the coffee a few minutes later, but then, I've rarely seen anything comped on a check here in BA no matter how bad the situation has been (I think twice in my 6½ years here, strangely, both in the same physical location, though successive restaurants), so I didn't really expect it.
Overall, like the room, like the service, and other than the one dessert I've tried, the food. Definitely recommended – it brings some much needed good quality food to a 'hood that doesn't have a huge amount of it, and the pricing is quite reasonable – the pastas run around 50 pesos, the sandwiches in the high 20s/low 30s.