"If there's just one piece of advice i can give you, it's this – when there's something you really want, fight for it, don't give up no matter how hopeless it seems. And when you've lost hope, ask yourself if 10 years from now, you're gonna wish you gave it just one more shot. because the best things in life, they don't come free."

– from Grey's Anatomy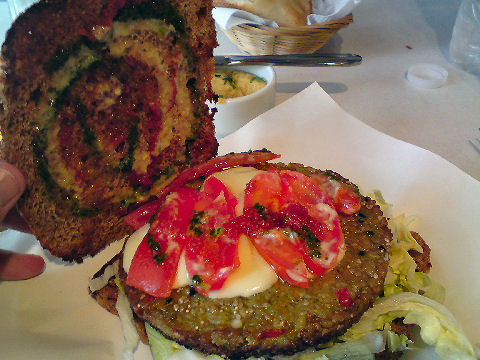 Following up on a couple of comments from my last veggie burger posting, I headed out to the Ministerio Carranza subte stop on the D line, where awaiting just outside the station is Marfa Bistro, Av. Santa Fé 5259, and just down the block, a corner takeout window of Marfa Delivery sits at #5199. It's a cute little cafe, and while the menu's not vegetarian in general, they have quite a few options, including a half dozen different veggie burgers. Now, these burgers are still basically just pressed grain patties, in this case Yamani rice, but they're well seasoned, and have chopped up bits of vegetables and herbs in them. These also have to be the best "condimented" burgers I've tried, with a trio of different sauces, cheese, tomatoes, lettuce, onions – and great buns. In fact, all their bread was fantastic, and I wasn't able to get them to divulge the name of the bakery where it's made – the most I could get was, "this guy brings the bread to us, we can't say anything more." Overall, really quite good.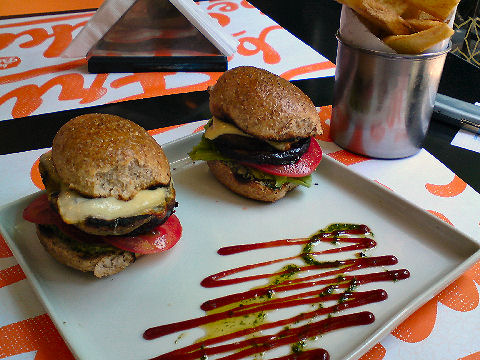 Now, the first time I tried the veggie burger at BeFrika, I was unimpressed. And apparently numerous people were, as they've completely redone it, and now actually offer two different "burgers". The first replaces that insipid soy milanesa patty the size of a postage stamp with what seemed on one visit to be a nice piece of well seasoned tempeh, and on another, of seitan – they wouldn't say. It's still got a nice compliment of grilled vegetables atop and below, and is overall really nicely flavored. The second is not really a burger, but falls into the same category at least – a beautiful grilled portobello cap (or two, depending on size), with a similar array of vegetables, but different seasoning and different sauces to the veggie burger. Both great options, and BeFrika has stopped requiring that all burgers be ordered in pairs, you can order from 1 to infinity, of the burgers you choose, and they're all fairly priced. They've also stopped serving the burgers in those environmentally wasteful boxes and packaging, and serve them on a plate, and the fries are now perfectly cooked, though still a little heavily salted unless you ask them not to upfront. And still, it's one of the few places around for good brewed iced tea.
I'm still game for trying more spots if anyone has any suggestions!