"In 1909 the Automobile Club de Monaco (Sport Automobile Velocipedique Monegasque) started planning a car rally at the behest of Albert I, Prince of Monaco. The Monte Carlo Rally was to start at points all over Europe and converge on Monte Carlo. In January 1911 23 cars set out from 11 different locations and Rougier was among the nine who left Paris to cover a 1,020 kilometres (634 mi) route. The event was won by Henri Rougier in a Turcat-Méry 25 Hp. The rally comprised both driving and then somewhat arbitrary judging based on the elegance of the car, passenger comfort and the condition in which it arrived in the principality. The outcry of scandal when the results were published changed nothing, so Rougier was proclaimed the first winner."

– Wikipedia
Although not the hundredth rally this year, as it's not held annually, this last weekend was the centennial of that first Monte Carlo Rally. But who amongst us knows what the cuisine of Monte Carlo, i.e., Monaco, is like. Who among us even knew that the cuisine is called Monégasque? It is not surprising given its location that the cuisine is heavily influenced by both southern French and northern Italian, but it might be to find that the combination of sweet and sour is a defining element of many dishes, and that cod is practically a daily staple.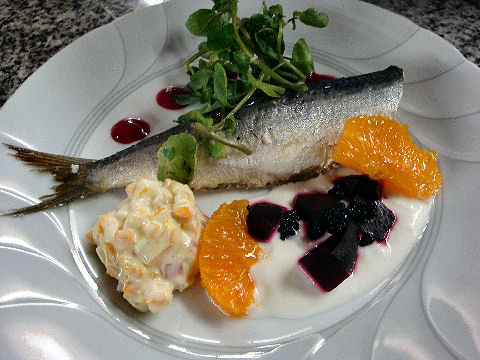 Smoked fish does not seem to be a big part of the diet, but I did spot a few dishes that relied on smoked mackerel. No fresh mackerel were to be found, but fresh sardines were in abundance at the fish market this last week. I decided on smoking them over green tea using the method I've outlined before. From there, the dish probably bears little resemblance to anything monégasque, in fact, in looking at it, it seems almost like a deconstructed NY deli platter of some sort. Well, there you go, various influences and all that…. Accompanying the smoked sardine on each plate, at the top, a bit of roasted beet puree (roasted beets, olive oil, vegetable stock, salt and pepper) and some fresh watercress. Below, from left to right, brunoise (small dice) of carrot, celery and red onion, each lightly blanched and shocked, and then mixed with olive oil mayo, tangerine zest, salt and white pepper; then, a schmear of blended together thick yogurt and whipped cream cheese, horseradish, rice vinegar, salt and white pepper, topped with a small dice of roasted beets, some tangerine segments, and caviar.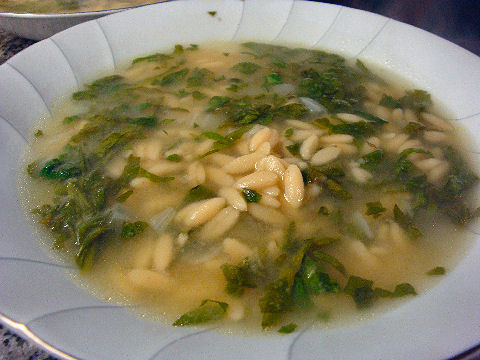 Soup didn't seem to pop up much in my research of the local cuisine – a couple of fish soups and vegetable soups. Nothing that really caught my eye until I spotted a spinach and orzo soup – no recipe, just a mention. I made a light chicken stock, then added finely diced white onion, orzo pasta and cooked until the pasta was done, then a chiffonade of spinach, adjusted the seasoning with some lemon juice, salt, pepper and nutmeg. We thought it was pretty darned tasty!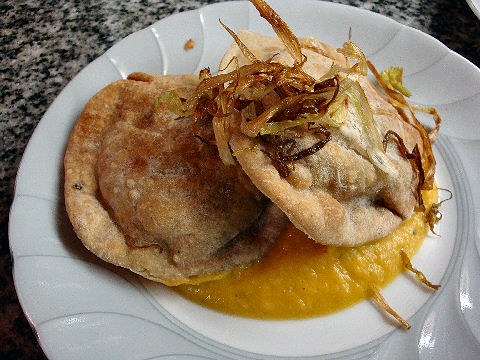 I have to say I was disappointed with this dish, which doesn't happen often with pasta dishes and my palate. Then again, two people have already written me asking for the recipe, so, it may just be more of disappointment that it didn't come out as I envisioned it. The inspiring dish is called barbagiuan, which are like mini-fried empanadas, filled with various stuffings – some say swiss chard or spinach, others mushroom and rice, and others mushroom and squash – and then again, some say they should be round, others square, and a few say they should really be baked and not fried. Basically, one of those cases where there's a different recipe for every citizen of the republic, or at least their grandmothers. I went with a semolina pasta, made into large round raviolones, filled them with a mixture of portobello duxelle seasoned with salt, nutmeg, and shichimi (Japanese seven-spice chili powder). I fried them – and that was the disappointing part for me – I'm not sure, they just didn't come out crispy and delicate like I wanted, they puffed up and got a bit cracker-y. I think a different form is in order so there's not so much dough around the edges. The sauce, I went with that delicious pumpkin sauce that I'd made to go with the cod in a recent market menu. Frizzled leeks atop. It just wasn't quite… it.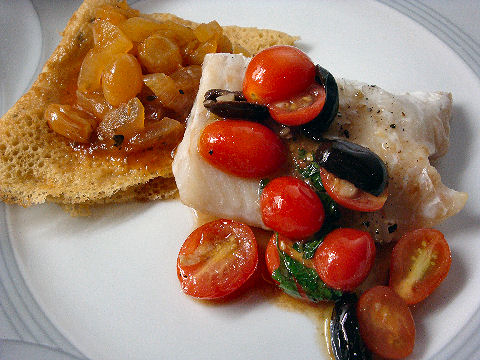 This was our favorite dish of the evening, and other than one person who I heard from (who didn't like anything we served, the ambiance, the other guests, us, or the process of getting to us), seems to have been a hit. I brought in several disparate dishes and combined them into one, plus a bit of my own touches. Oven-roasted cod, dusted with salt and pepper and rubbed with olive oil. Served with a folded socca, basically a chickpea flour crepe that I flavored heavily with black pepper. The latter topped with classic monégasque sweet and sour onions – other than I didn't have the little pickling onions, so I used sliced white onions, cooked down slowly in confectioner's sugar, olive oil, tomato paste, vinegar, yellow raisins, parsley, bay, thyme, salt and pepper, with just enough water to cover. The salsa for the cod a sauteed mix of cherry tomato halves, garlic, spice cured black olives, anchovies, lemon zest and juice, salt and pepper.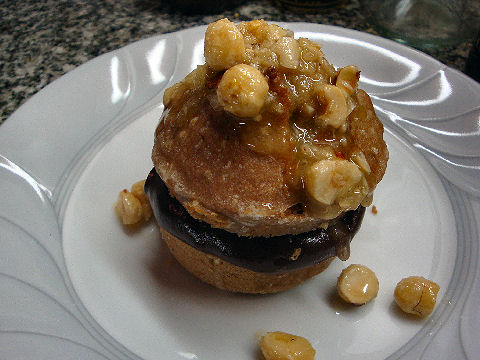 And, we finished up with some twists on various desserts – there's a classic orange flower water and anise cookie from the region, instead I made small cakes with the same flavors, soaked them in fresh orange juice and icing sugar glaze, caramelized some hazelnuts in more of the glaze, and filled the cakes with a dollop of chocolate olive oil mousse.
My guess is, that other than some of the ideas from the dinner, we won't return to a monégasque themed dinner until (assuming we're still up and operating) the 100th rally… quite a few years off. That cod dish will be coming back, and soon.