When last we left off on our Great Sandwich Hunt we had new winners in the chicken and pork categories. Now, since that post I haven't received a single suggestion for another "you must try" sandwich – hard to believe that we've exhausted all the good ones out there, so come on with those ideas! The current crop, and a short list of more that I still have to check out, come from googling "el mejor sandwich en buenos aires" and checking out what some other bloggers and online publications have made claims for.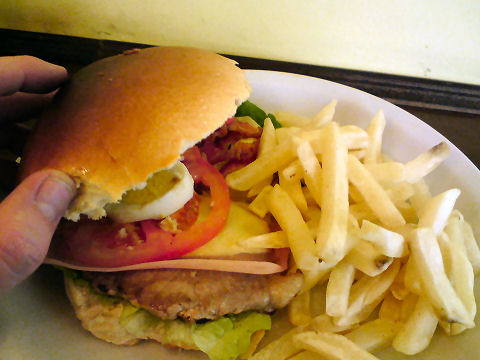 The recent and sudden closure of my favorite little casual Mexican spot, El Gato Viudo, has left a hole in the culinary scene here – there's just no one else who is making burritos and quesadillas as good as his. Such is life, we can only hope that the widower cat resurfaces in another location. Soon. The space, at Viamonte 985 in Centro, was immediately taken over by a chivitería, Los Yoruguas, and offers up basically a few different simple sandwiches like pebetes, some very ordinary and frozen-patty looking burgers, and a trio of chivitos uruguayos, the typically multi-layered Dagwood style steak sandwich of Uruguay – here offered in steak, chicken breast or "porky" versions. Unfortunately, they're pretty boring – unseasoned meat with some lettuce, tomato, sandwich slice cheese and cooked ham (despite the menu saying "panceta"), and a slice of overcooked hard-boiled egg. The usual suspects of condiments are offered in packets on the side. The fries have got to be the blondest I've ever seen, anywhere – in fact, while I was there, two different tables sent theirs back to be cooked more. I should have done the same. Although I don't know of anyone else offering chivitos in that neighborhood, you'd be better off just getting a different sandwich elsewhere, or traveling to another part of town for a good one. Not a great value at 38 pesos (they do offer a combo with a beverage for 42, but those chivitos come with even less, just lettuce and tomato).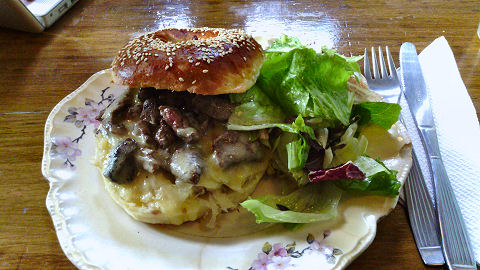 I've reviewed Cusic, at El Salvador 6016 in Palermo, in the past, and it's basically an okay, casual spot for lunch or brunch. Nothing to get excited about, but a pleasant place to sit and relax, use the wi-fi, and nibble. I knew going into this that while their breads are tasty, the bagel in particular is a disappointment, being nothing more than a bread roll with a hole poked through the middle – in this case, more of a dimple in the top portion. Having tried a couple of their sandwiches in the past, I was at least willing to give another shot, since I was there meeting up with a friend who is temporarily using the place as his office while waiting for internet in a new apartment. I went with the Sehr Guht sandwich, and I'd say it was the best I've tried at Cusic, with nicely cooked thin slices of roast beef, a decent, tangy sauerkraut, melted gouda cheese and some good, spicy mustard. Not a winning sandwich, but a good one, and certainly the best of the offerings that I've tried at this place – not bad at all for 38 pesos.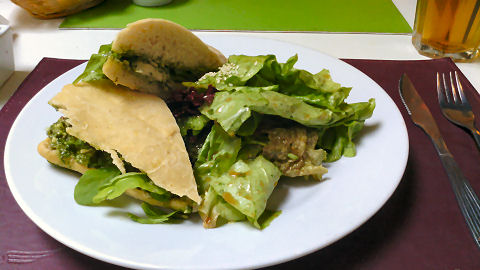 When I think of a club sandwich I think of chicken or turkey topped with bacon, lettuce, tomato, mayo, generally with three layers of bread, usually white, whole wheat or rye sandwich loaf style. Natural Deli, at Laprida I'm not sure that "club sandwich" applies to a simple chicken breast bathed in garlic and arugula pesto and served on what is described as a ciabatta – it's not really one, though similar I suppose, and regardless is delicious. Overall a fantastic chicken sandwich, whether or not a club, and definitely for the garlic lovers out there, because there's a whole lot of it. The accompanying salad is fresh, I wasn't overly fond of the very sweet honey dressing on it, but that's, I'm sure, easily remedied with a request for oil and vinegar instead. It doesn't edge out the current favorites, Mama Racha's chicken sandwich, or Hendrick's curry chicken baguette, but it comes in a very, very close third. And, for the 'hood, the 48 peso price isn't bad given the quality. [Natural Deli went out of business in early 2014.]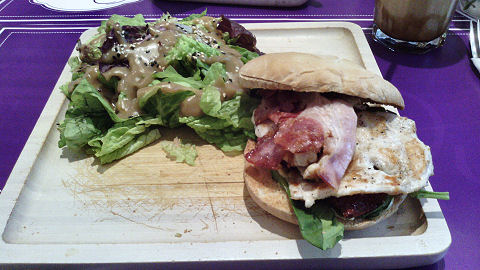 More and more Villa Crespo is becoming the in-spot for casual dining. We're not talking about places that will shatter your preconceptions about eating out, but just good, solid restaurants that are serving up reasonably creative food in nice surroundings. Wandering along the stretch of outlet stores on Aguirre, I came upon Oum's Cafe at #686, which seems to be the little neighborhood coffee hot spot – and not a surprise, since they use Central de Café coffee, which I've liked before at nearby Malvón. Since this was a "stumble-upon" checkout, I simply picked the sandwich that sounded the most interesting (I could have asked the waitress, but she seemed supremely uninterested in interacting with tables, and the two other staff members in place outside of the kitchen were intently busy on enjoying something or other on their computer screen and studiously pretending that the rest of the cafe didn't exist as people tried to flag someone, anyone, over to their table). In the end, not a bad sandwich at all – fresh chicken breast, perhaps a slight touch overcooked, but not badly, with a good amount of sun-dried tomatoes, spinach, brie, and almost crispy bacon, all on a sort of flattened sandwich bun. The accompanying salad, like the one mentioned above, was doused in sweet dressing that I'd avoid on a future visit. Not a winning sandwich, but perfectly acceptable, and a quite good frappucino to wash it down. At 47 pesos… a touch pricey I'd think for Villa Crespo, but then, it's the new hotspot neighborhood, and prices are on the rise.
Having been to Café Crespin, Vera 699 in Villa Crespo, once quite awhile back, and having come away with a "not bad" overall impression, I haven't rushed back there. But, one of my regular readers highly recommended what was essentially a tuna melt on a croissant, and another (and a couple of online fora) touted the pastrami – so, I met up with friend Thuy, the former owner/chef of A Little Saigon, who is leaving us here in BA in a few weeks. First off, the tuna croissant no longer exists, apparently it just wasn't popular enough and they took it off the menu months ago, so that went right out the window. The pastrami is on the menu. It's, like the other sandwiches previously tried, not a bad sandwich. I like that the pastrón is thick cut, but, it's dry – there's just no seeming concept of what real pastrami is here, but so be it – it's also served cold rather than hot, with a few slices of pickle and some mustard, on un-toasted white bread. Pretty boring, and certainly doesn't top nearby La Crespo's version, and at 46 pesos is more expensive.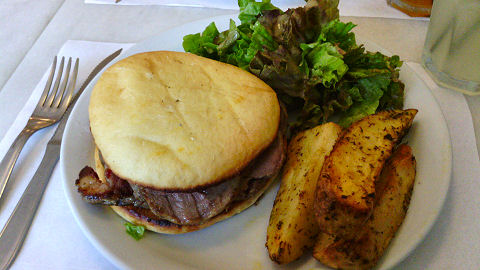 With the tuna not available, the only other sandwich to appear interesting on the menu was the BBQ Pork. Hoping for something to put in contention with the smoky pulled pork barbecue sandwiches of Bar BQ and Pani, I admit to a certain level of salivating. That disappeared with first bite – thick slices of vaguely warm roast pork, not particularly tender, topped with some semi-cooked (not caramelized, thank you) red onions and a sweet, uninteresting barbecue sauce, on a toasted sandwich bun (finally, one of the breads gets toasted here). Let's just say that neither of us finished our sandwiches – we each ate a half, downed the fries (which were better cooked this time around), and ate the salad (thankfully not overdressed, and not sweet). Not worth the 43 pesos price-tag, sorry. And they still haven't gotten that thing about over-sweetening the iced tea and lemonade – I guess most folk like them that way, because they've not lowered the sugar content of either.
So, nothing in this round to topple any of the previous winners, though that chicken sandwich at Natural Deli comes darned close and given that it's a couple of block walk from home will likely become a regular indulgence.