One of those mini-reviews of a place that someone asked me about and I went to point them to my review only to discover I'd never reviewed it. Upfront, my favorite place for burritos in Buenos Aires when I need a fix…. [Unfortunately closed down in July 2012.]
The name El Gato Viudo (The Widower Cat) comes from a popular song of Chava Flores, a Mexican singer and songwriter (b. 1920- d. 1987). Although the subtitled translation in this video isn't quite accurate and misses out on several alternative meanings to words and doesn't capture some of the double entendres (oh, Google Translate, you try) in the song, it will at least give you a sense of what he's singing about if you don't speak Spanish.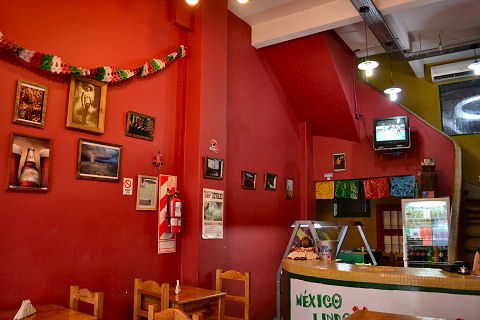 Now, as to why the restaurant El Gato Viudo Burritos, Viamonte 985 in Centro, is named after the song, who knows? There are no pictures of wailing cats on the wall which would have been a natural, if mildly annoying, design motif. At least it's a memorable name, and so is the food. The menu is limited to pretty much just burritos, with some quesadillas and salads available as well.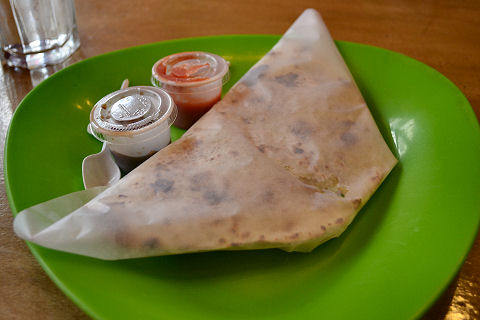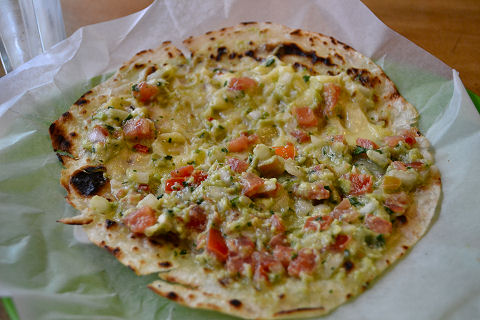 First off, great handmade tortillas, beautifully charred. If I have any criticism of the place it's the wrapping of everything in wax paper and the serving of the sauces in the little plastic cups – fine for takeout/delivery, but when eating there, just put the food on the plate and have some ramekins for the sauces (choice of half a dozen different spice levels, and the hot ones are hot). This is the quesadilla con guacamole, delicious – not overly packed with cheese as some of them are and a really good guacamole.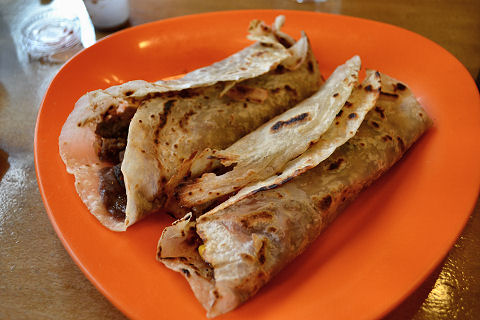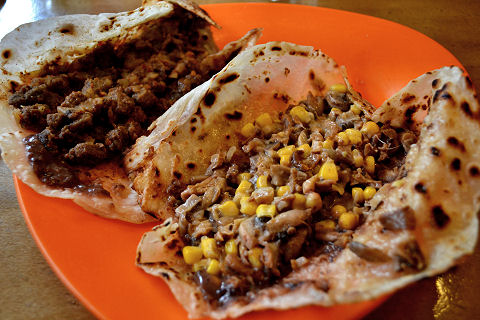 And a couple of burritos – I've already removed the wax paper wrap here. There are around fifteen choices including some vegetarian options such as the corn and mushroom one here in the picture. My favorite is the al pastor, the other one in the photo with its spice and citrus marinated meat. These burritos are the real deal! The owner is from northern Mexico and some of his specialties are specific to that area, plus he arranges with friends from there to bring in ingredients that he can't get here. One note – only open for lunch Monday through Friday, and for dinner only on Fridays, until midnight.