March has marched away and there's little to say about it in hindsight. Spent a Sunday wandering the Botanical Gardens and snapping photos, trying out different manual settings on the camera, the only interesting shots of which were a couple of a stand of bamboo. Oh my, such excitement!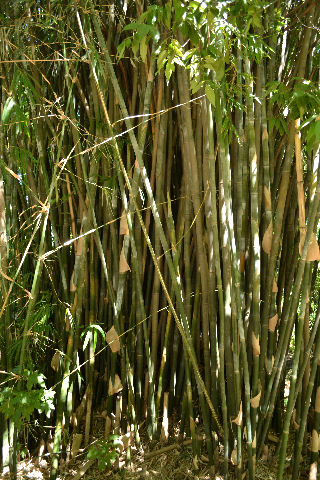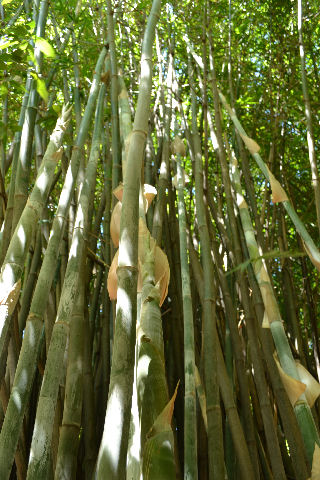 Business continues to boom, we're still open four days a week and most of the time full or close to it. We had 18 dinners, 3 of them private events. 171 guests in all, from (despite the claims of one of our recent TripAdvisor reviewers, probably a phony given his lack of knowledge of where we are, who's there, and even where we've been reviewed, who says that the only people who attend our dinners are suburban Americans – then again, the same guy gave a "terrible" review to a restaurant he never went to because it was closed on the day he wanted to go – still, TA leaves them up, what can you do?). 22 different countries, including a swath of Eastern European folk, and about 10% Argentines, which is about our usual rate. And, we'd missed it back in February, but just found out we had a nice little write-up in some pretty fine company on the Billionaire website. One guest, a British expat living here, after reading last month's round-up, had his parents bring me a lovely tin (well, plastic) of Patum Peperium, The Gentleman's Relish, an anchovy spread that rivals marmite for popularity on morning toast. At least mine.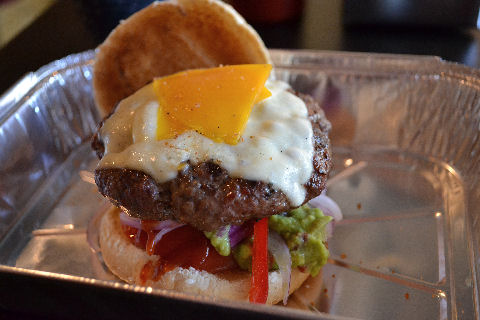 In another "Liza says" moment, I followed up on her suggestion after my pan of Dean & Denny's (to which I've been back once to meet up with a friend, and we had the same experience, so I'm leaving it in the dust), and went to Burger Joint, JL Borges 1766 in Palermo. It was definitely more my style of burger, nice and thick, good sized patty, fresh condiments, and well seasoned. Criticisms, two of them. First, despite having asked me how I wanted it cooked (for which they get major brownie points, no one here ever asks that about burgers), and I told them I wanted it very rare, it arrived a solid medium well. Second, they had no fries available. Now, that can happen in one restaurant or another, but, mind you, Burger Joint has one menu item. A burger with fries. There are options for toppings (standard cheese, lettuce and tomato; a Mexican version as pictured here; and apparently a new Jamaican version), but there are no other menu items. And while you can order a burger without fries or vice versa, the burger alone costs basically the same as the version with fries, and despite the fact that I wanted the latter, I paid full price for the burger. I've heard the same from four people now, including Liza, who've been and the place simply hadn't gotten around to making the fries – which is what, actually, the counter-guy told me. Seriously, two menu items, how hard is it to have both prepped for lunch service? Still, a decent burger that I'd be happy to eat again, though the "Mexican" is barely worth it – a little guacamole that adds some nice freshness to it, but that was nothing more than mashed, unseasoned avocado, and the "jalapeño" topping which consisted of one, count it, one, slice of canned, pickled jalapeño. All for an up-charge, of course. I'd go back and give it another go though.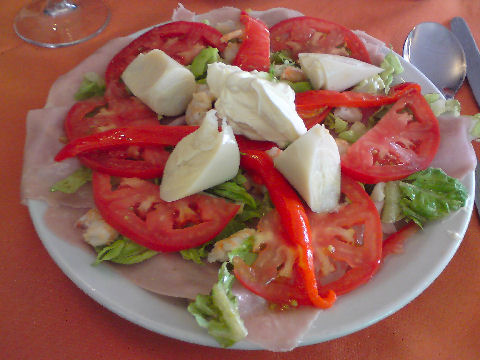 I don't know that I'm going to do another installment of my great sandwich hunt, at least for awhile, so I thought I'd throw this in. I got all excited when I saw a seafood sandwich – other than plain fish fillets I'd never seen one here in BA before. So a Flor de Mar from Torre de Paris near Tribunales had to get itself ordered. It turns out to be not much of a sandwich – there are two slices of crustless white bread underneath what is essentially a lunch salad of chopped lettuce, tomatoes, hearts of palm, a few long ago cooked shrimp, and a few sliced rounds of kani-kama – surimi, or fake crab stick. And it's pretty clear it's intended as a salad since it arrives with cruets of oil and vinegar. It was reasonably tasty as salads go.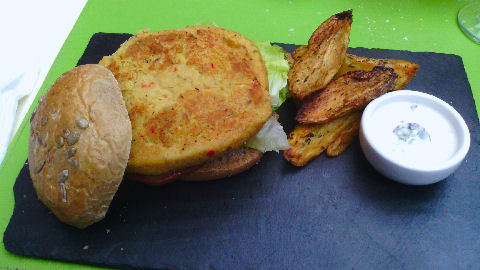 Likewise, I have no real plans to do another round of veggie burger tastings, and had no plans to try this one. I actually went back to Natural Deli (not an uncommon occurrence) with plans to indulge in one of their great chicken pesto sandwiches. Unfortunately, it's been taken off the menu and replaced by a new chicken sandwich that didn't sound at all appetizing. So I thought I'd try the veggie burger, a blend of quinua and cashews along with herbs and spices. Quite good actually, though some condiments would have been appreciated – I ended up using the yogurt dipping sauce for the overcooked and tasteless fries as a topping for the burger and not bothering with the fries. I would have asked the waiter, oh wait, I did, but he never brought them, even after a second request. Same thing happened when I was ready to leave, I asked for the bill three times, two different waiters, and a busboy brought me the wrong bill, I finally went and got it myself from the counter. Service there has always sucked, but it seems to be getting worse.
On to April!