"Anytime a person goes into a delicatessen and orders a pastrami on white bread, somewhere a Jew dies."

– Milton Berle, comedian
I've been hearing rumors recently of a quasi-New York Deli out in Villa Crespo. No one was claiming a reincarnation of Katz's, but there was much hinting that it might just be "the real thing". Then again, everyone who told me about the place knew of it only second or third hand. So, a couple of us headed off to check out lunch at Cafe Crespín, Vera 699, 4855-3771.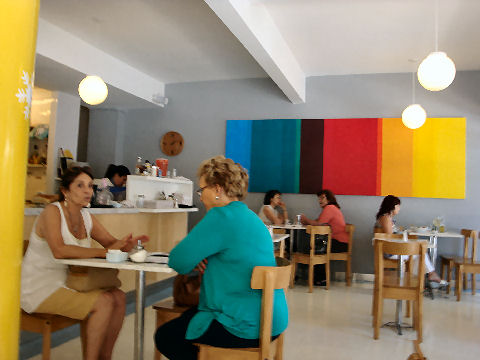 Let's eliminate any suspense. It's not a New York style deli, quasi or otherwise. In fact, there are only two menu items that one might likely find on a typical NYC deli menu, and neither of those is "the real thing". I should be clear – nothing at the restaurant, signage or menus, claims to be either – those were just the rumors that I'd been hearing. That aside, it's a cute little cafe, comfortable, cheery, and with friendly, attentive staff.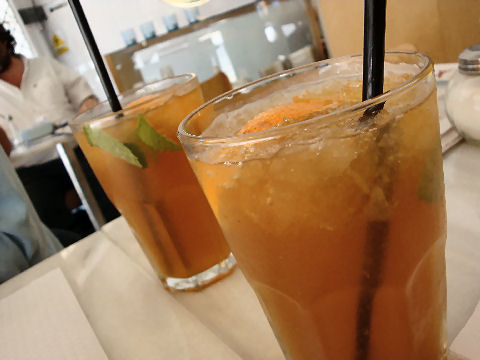 With iced tea and lemonade leading off the beverage list, we got our hopes up. The tea kind of dashes them – it's got some nice flavors of the tea and mint, but it's so over-sweetened it'll set your teeth on edge. The lemonade is a far better choice – not overly sweet, nice tart lemons, and a touch of both ginger and mint. Quite refreshing!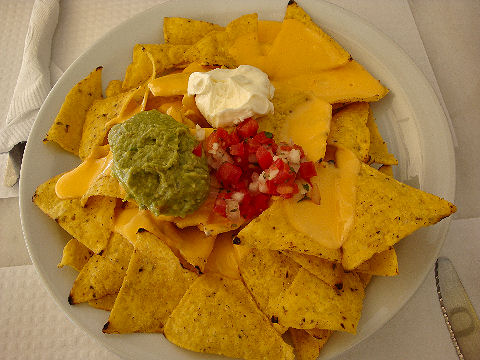 You know it's not a NYC deli when nachos are one of the house specialties. And not bad as local nachos go. The chips, completely commercial, but then whose aren't? At least they weren't overly salty. The guacamole nice and fresh, the pico de gallo as well, and a nice dollop of sour cream – hard to find here. The "cheddar" is more of a cheese-whiz kinda thing – liquid at room temp and all that – in fact, the nachos were served at room temp, not hot. Chipotle-Tabasco was provided on request for hot sauce. They're the kind of nachos that your college roommate might whip up during an all-nighter.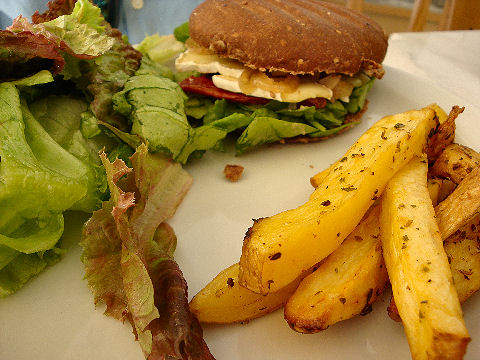 Neither of us was in the mood for the pastrami sandwich, one of the two NYC style options – pastrami here is just not pastrami – it's a cured meat with a texture fairly similar to prosciutto, or maybe speck. We just couldn't. But, the grilled vegetable sandwich wasn't bad – served on a soft brown bread bun, a nice mix of grilled veggies and brie, and the mustard supplied on the side was dijon. The french fries are a bit soft, but nicely flavored with garlic and herbs – they could use a bit of crisping up; and the side salad is fresh and lightly dressed.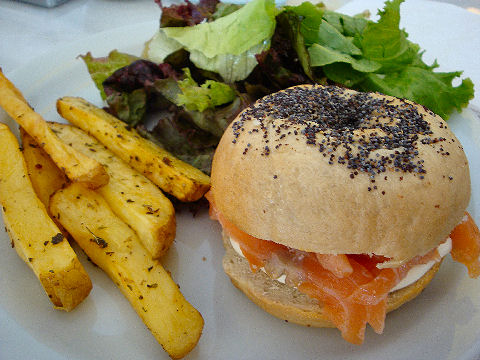 We did go for the other deli option, the bagel with smoked salmon and cream cheese. Flavor-wise, pretty darned good. The bagel actually had a nice "chew" to it, and was clearly freshly made (we forgot to ask if they make the breads themselves or buy them in), it could have used toasting, but that's an easy request for another time. The salmon, only lightly smoked, actually more of a cured salmon like nova, which was a pleasant surprise. A good dollop of cream cheese. The same comments on fries and salad. Size on both sandwiches perhaps a trifle skimpy, especially given the 30 peso pricetag – note that the bagel's diameter is about the size of those Lender's frozen bagel-minis… maybe 2½" across.
So, overall, we enjoyed lunch, who cares that it's no New York deli (well, we do, but only because we want one), but it's a pleasant place to spend mid-day having a bite, and no question we'll be back.