The city of Buenos Aires is peppered with small little unofficial barrios. They're not really full barrios with any sort of recognition, they tend to be small, sort of self contained neighborhoods, often it seems having grown up around a central plaza of one sort or another. Some of them eventually become officially recognized – the small oval of Parque Chas is a good example. Some haven't, despite clearly having their own character, culture, and well defined geography. One of those that I've heard of numerous times is Barrio River.
Now, first, I'd never been, despite its proximity to Barrio Chino (another unofficial part of Belgrano), just a few block walk away. And second, it never connected in my mind that it was called that because of the River Plate (or just River) stadium – I was thinking more the River Plate itself, or Rio de la Plata. And, who would expect such a pretty neighborhood along the side of a soccer stadium? (The others that I've been by certainly aren't surrounded by upscale housing….) Last week, making my usual trip to Chinatown, I decided to make a detour, check the barrio out, and meet up with a friend for lunch at wherever presented itself as interesting. Turned out, that although he's lived in Belgrano for years, he'd never been into Barrio River either.
The barrio is small, "37 blocks", which translates to roughly 6 x 6 blocks., and it's a sort of diamond shape organized around a round central plaza. The "main" entrance is from the corner of Av. Libertador and Av. Monroe, along a diagonal – Quinteros – the other end of which is at the stadium. The rest, until the meal, is in pictures.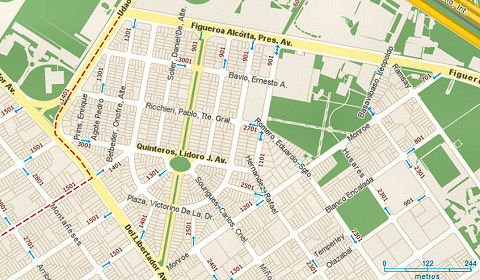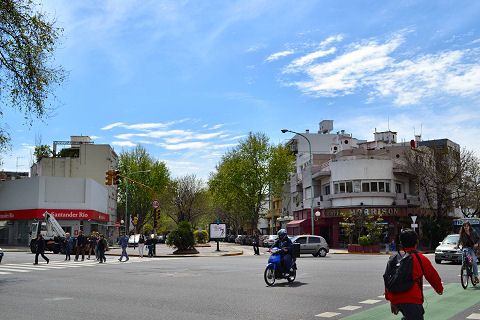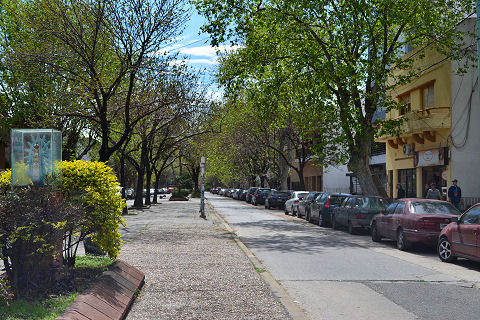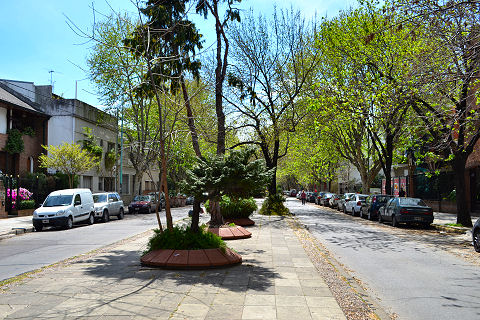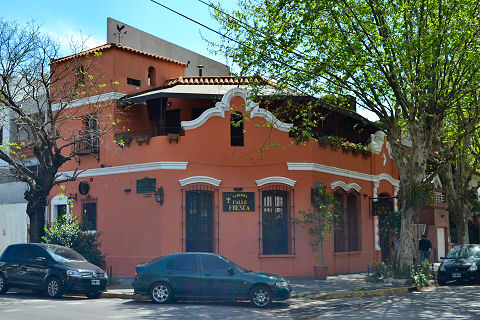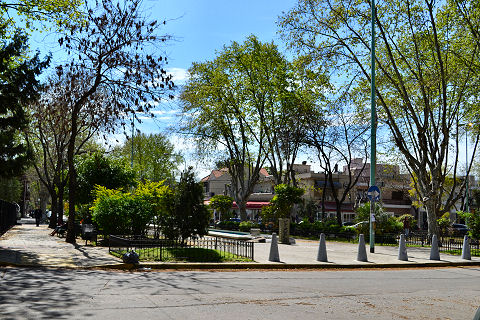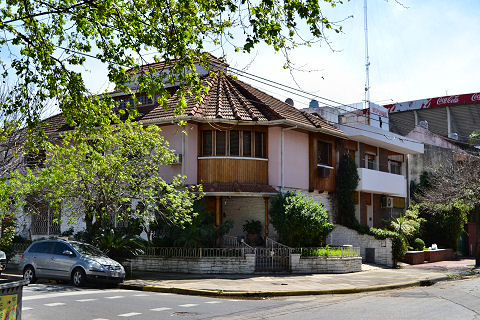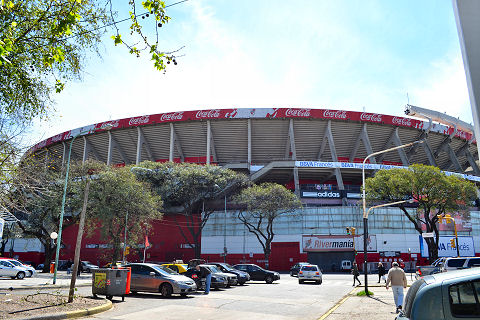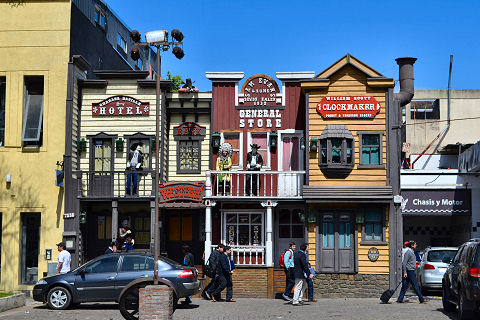 (Don't ask me, I really have no idea. It was all closed up, but I think maybe some sort of souvenir shops.)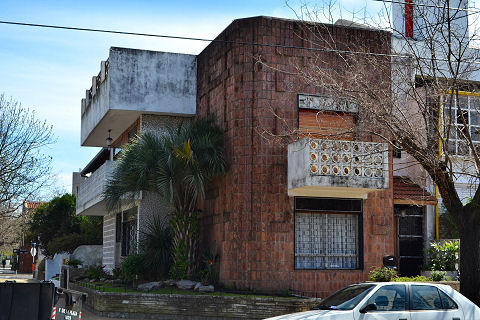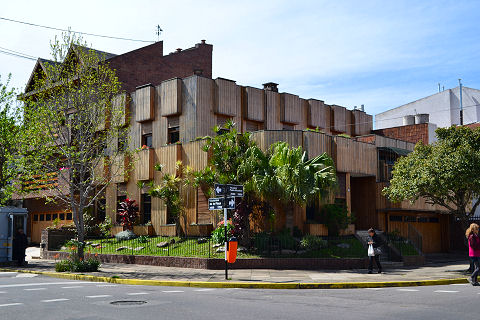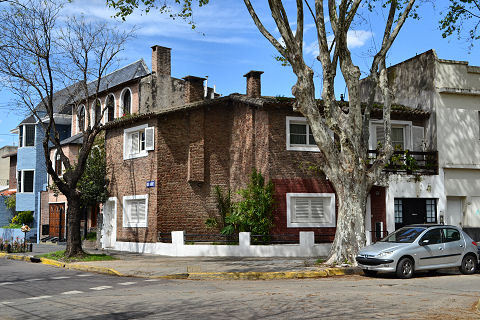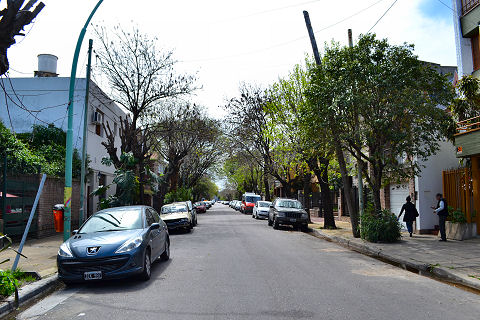 Outside of the surrounding avenues, which are primarily commercial, the barrio itself is virtually totally residential. The only place I saw any non-residential buildings were the one tavern along the boulevard up there in the first couple of photos, and then on the central plaza. There's only one restaurant there, New Jonathan, Quinteros 1200, and so I fired off a text to my friend to meet me there.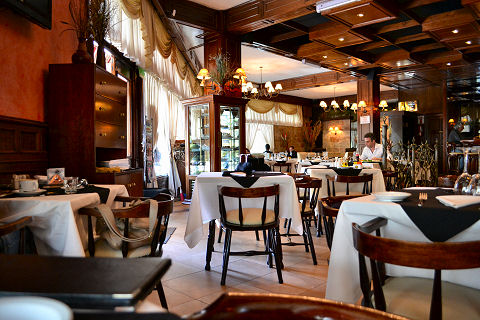 It's a classic local restaurant, though the menu, while clearly based in traditional dishes, has some interesting twists and influences on it. Some of the fare is completely traditional, others have Japanese touches like soy and ginger. We tried a little of each. Service was friendly and though slow, not excessively so. The place never got much busier than this – maybe another 8-10 people total – though, the half dozen outside tables were full throughout the couple of hours we were there.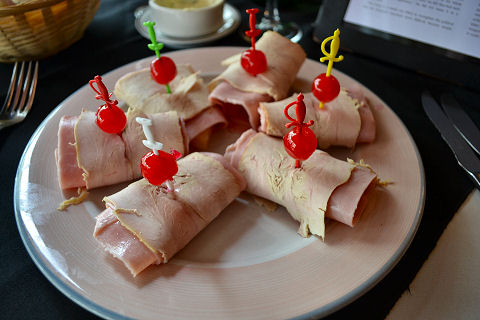 I've seen, now and again, a dish with the adjectival "York" on it, which I've always been told meant it was garnished with cooked, or boiled, ham. I never tried one of those dishes, and we thought, well, maybe we'll try one – they had a turkey appetizer to share – pavita york. What it turned out to be is turkey slices wrapped around ham slices wrapped around a wedge of canned pineapple in syrup, all stabbed through by a plastic toothpick adorned by a maraschino cherry. If you aren't aware of my feelings on the latter ingredient, you should be (second article on the page). This was everything that could be wrong with an appetizer from the 60s that I could think of, all wrapped in one.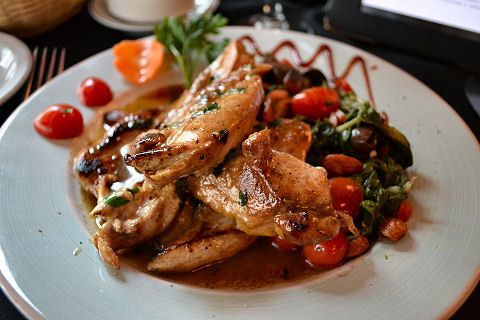 The pollo maitre de hotel came highly recommended by our waiter, who actually steered me away from the house special steak that actually sounded quite good, with a sly little "it really isn't all that good, try anything else". Here, an entire chicken breast – an entire one – not one side, but both, cut in fillets, sauteed in a maitre d'hotel butter (butter, parsley, lemon), and then served up with a saute of spinach, almonds (whole and unpeeled and raw – I would have preferred them toasted or cooked a bit), cherry tomatoes and black olives. Overall it was surprisingly good, particularly after the appetizer. My companion's lunch, for which I didn't get a decent photo, was a daily fish special of merluza – hake, cut into small batons, each wrapped in a zucchini ribbon and then sauteed, and served up with a quite good herb flecked rice and a saute of mixed vegetables.
Given the size of the portions the pricing was more than fair, the chicken at 72 pesos and the fish at 55, the abominable appetizer at another 55 – seriously, just avoid that one unless you're feeling morbidly nostalgic. One beverage plus coffee included with each main course. If I was in the area I'd go back and try another dish or two – Recommended.