I've mentioned before that Villa Crespo is quickly becoming one of the hotspots of au courant dining with a wide variety of really interesting new restaurants. One of those, in particular, has been garnering accolades left and right, and I finally got a chance to go, so far just for brunch, but I'll be checking out dinner there one night soon. The place, iLatina, is sort of a cross between a regular restaurant and a puertas cerradas. You have to have a reservation to go, and at least to officially get the address, though at the same time, it's visible from the street that it's a restaurant (I wonder if you rang the bell and they had a table available they'd seat you). It's located in a house, but not a home, i.e., the house has been converted to the restaurant, it's not a living space as well (interestingly, it's a space we looked at about a year ago thinking about doing something similar). Although reservation times are limited, they do vary, not everyone comes at once. Seating is at separate tables and dining is, more or less, at your own pace. So, hmm, more of a restaurant that happens to be in a building shaped like a house. Enough about all that…
Two Colombian brothers, Santiago and Camilo, fresh in from Bariloche where they've operated a successful restaurant for several years, are offering up a pan-Latin American cuisine out of this space. The former leads the kitchen team, the latter the dining room. And they're turning out some pretty darned interesting food. Henry and I showed up for brunch at the appointed time and Camilo met us at the front gate and led us inside. He pointed out our table and we took it – the place was already hopping from the earlier seating, though there were other folk clearly just being seated as well. It's a pretty space, nice and airy, and the tables are decked out with white linen and fine cutlery. We sat, and waited. Thankfully this was the only slip-up in service, albeit the all important first impression, more than ten minutes ticked by before anyone approached our table (Camilo and one waiter were working the room and attending to other tables), and then another five before we got water and breads on the table. After that, however, things went smoothly, as the kitchen timed things to bring out food for ourselves and a couple of the other second seating tables all at the same time.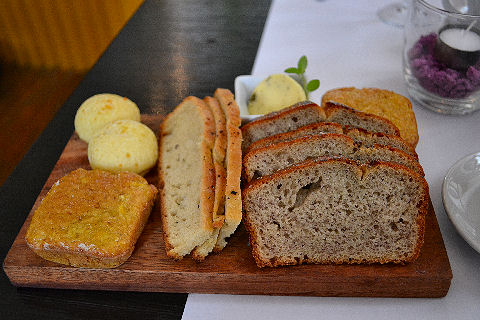 It was clear that I was going to have to suspend any expectations of a puertas cerradas type experience right away and just think of the meal in terms of a more straightforward restaurant. There's no socializing between the guests, for one. That's not to say we didn't walk over and say hello to some friends who happened to be with a group at another table. And the service is just more restaurant style. With water on the table we turned our attention to the breads. A nice selection – chipas (tapioca flour and cheese puffs) were really good, focaccia was decent, but in very thin slices that missed out that whole olive oil, herb and salt crust, a sweet corn bread that was excellent, and a walnut bread that was quite good. A little herbed butter completes the package. Coffee was offered, it comes pre-infused with cardamom and cinnamon – Henry liked it, I'm not a flavored coffee person.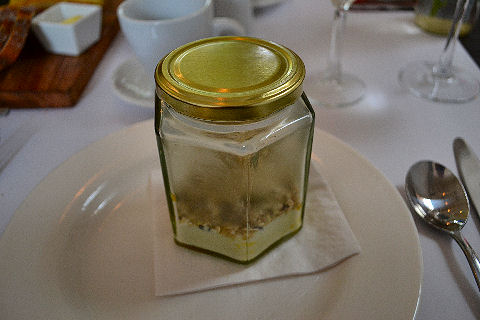 I have to admit, I don't get the whole serving things in jars routine. I've seen it here and there, usually with one of those fold-over top pressure sealed jars which was used to cook something in. In this case though, it's just a jar with some homemade yogurt, honey and a quinua granola, and difficult to get it all out and onto the spoon. Great flavors, hate the presentation, sorry guys.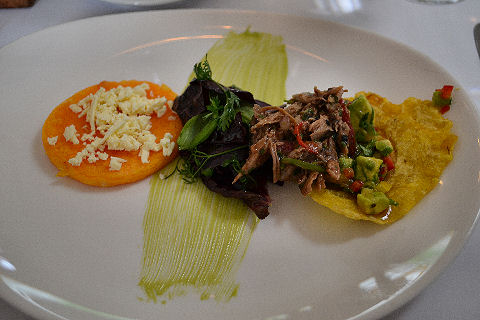 In a sense, two dishes on one plate. There's a connection, in that they're both sort of snack "breads" of different cultures. On the left, a yellow corn
arepa
with cheese, on the right a
patacón
(thin fried plantain) with a duck and avocado salad. Both tasty, both pretty to look at, but as divided in flavor and style as the paint swath of avocado down the center of the plate. Wouldn't stop me for a second from eating another portion though, and Henry loved it.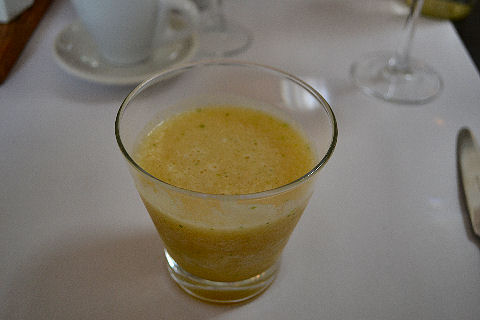 A smoothie of melon, papaya and, if I recall correctly, some ginger. Nice and refreshing. Unfortunately Henry was starting to not feel well – nothing to do with the place or food, turned out he was just coming down with something that ended him in bed with a fever for two days, but at this point the pace of the meal started to feel really slow. Not at all their fault (actually, the table next to us there were two guys eating, one of whom was literally eating tweezer sized nibbles and taking forever to get through each plate), so we asked if they could speed things up for us, and they very graciously did so even though I'm sure we threw their timing off a bit.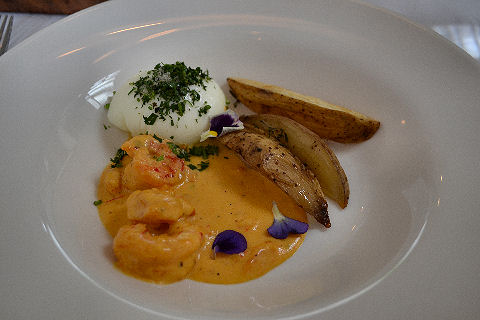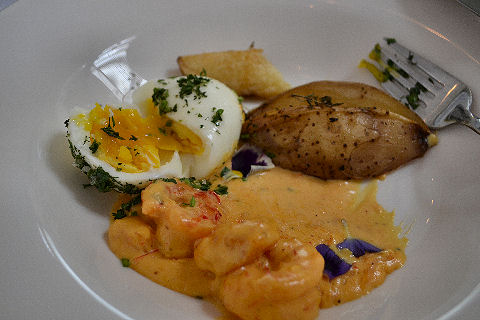 My favorite course of the day – poached egg with shrimps in a yellow Peruvian pepper sauce with some oven-roasted potatoes on the side. Slightly over-poached on the egg as you can see, but absolutely delicious. In fact, I ended up eating most of Henry's as he tasted it and then pushed it away – he'd decided if he kept eating it wasn't going to be pretty.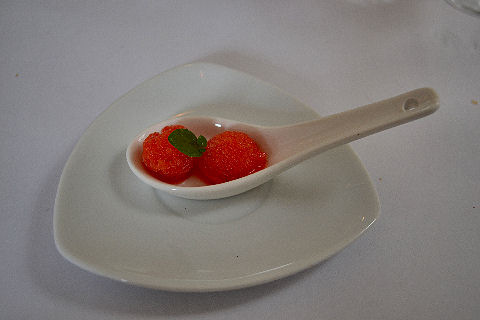 A little palate cleanser of granita of, I have to admit, I don't recall right now.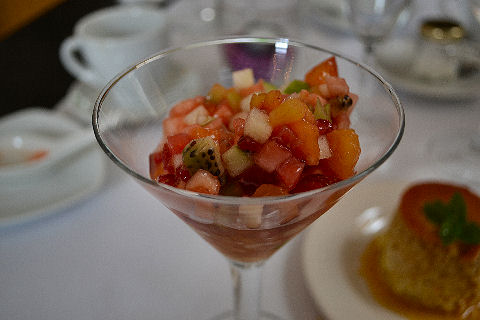 A nice fresh diced fruit salad.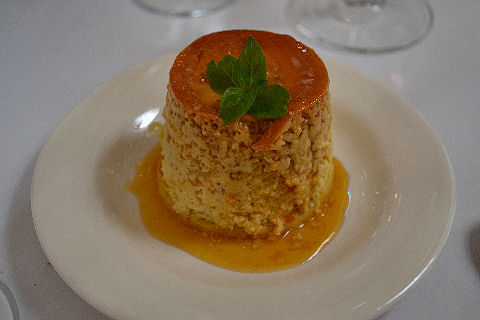 And finally a coconut flan. For me, a little grainier than I would have liked, but delicious. We signaled for the check ($150/person for brunch) and headed out with apologies and got Henry home and into bed where he languished for a couple of days watching television and sleeping. All well now.
So hmmm, love the space. Ambiance, once I realized it wasn't going to be a homey style experience, delightful. I don't really get the place as a puertas cerradas, any more than, say, a sushi bar like Yuki that requires reservations, it strikes me more as a restaurant co-opting the genre for marketing – still, more power to them if it works. Service, a bit off, Camilo admitted that the previous evening had gone very late and they were all pretty tired and not quite on their game. That's the primary reason we stopped doing brunch (and here) almost immediately after trying it out here at Casa S – you just don't have enough time to recharge and refresh.
Food – good, with moments of absolute deliciousness – for me that egg and shrimp dish, for Henry the duck, avocado and patacón, and for both of us, great breads. Some of it is a bit simplistic – out of seven plates that hit the table, you've got yogurt with cereal, a spoonful of granita, a fruit smoothie and a diced fruit salad that cover four of them, and the flan as well – so there were only really two plates where we could see Santiago's creativity and skill, and both of those were the winners for us. For me, interesting to compare to my recent brunch visit to Aipim, where there was a similar progression of dishes.
Definitely intriguing and tasty enough for us to want to return and check out dinner one night when we can and see what he's doing when he's full-on plate after plate. Recommended.