"To hand crafted beers made in local breweries, to yoga, to yogurt, to rice and beans and cheese. To leather, to dildoes, to curry vindaloo. To huevos rancheros and Maya Angelou."

– Mimi, in Rent
Our first brunch came off more or less without a hitch. We hadn't realized it was Mothers' Day here when we planned it, which played into the plans of some who reserved and some who thought we ought to have done it on a different day. Eleven intrepid folk reserved, nine showed up, though oddly, the two who didn't had been prepaid for by one of their mothers. Guess they decided it wasn't their money… or something. Free flowing mimosas and citrus muffins all around, the folk sat down to feast….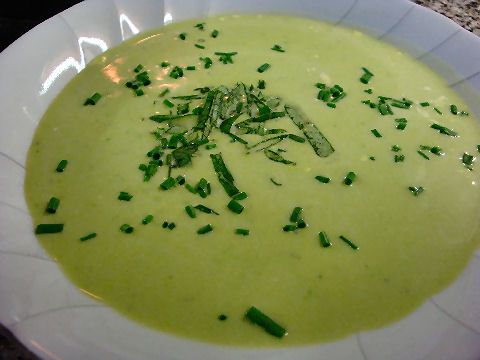 Fresh spring pea soup – the peas blanched and shocked, right out of the pod. Some leeks, celery and garlic cooked until soft in a little olive oil, the peas, some parsley and thyme added. Cooked a short time, then pureed, finished with a touch of cream and some ascorbic acid to keep the color nice and vivid. Chilled. Salt and white pepper. Some chopped basil and chives atop. Delicious!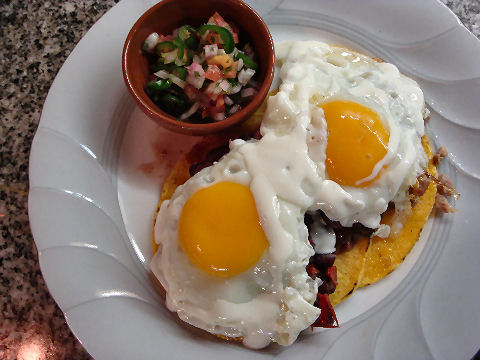 The star of the show though, the huevos rancheros. Fresh corn tortillas, lightly browned, topped with red beans that I'd cooked with red frying peppers, garlic, onion and oregano. Topped with crumbled chorizo sausage, then drizzled with homemade sour cream, topped with fried eggs, drizzled with more sour cream, and served up with an accompanying pico de gallo – jalapeños, tomatoes, onions, lime juice, salt.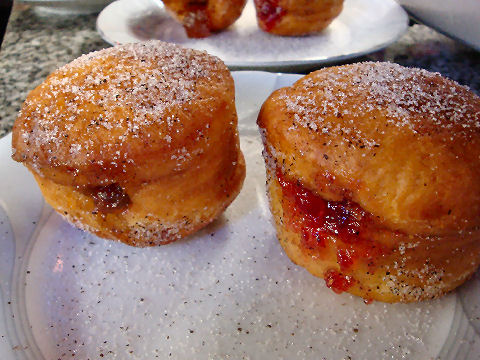 And brunch wouldn't be complete without something sweet – fresh doughnuts right out of the fryer, half filled with raspberry jam, the other half with apricot jam. Dusted with cinnamon and sugar.
Not a bad way to spend brunch!