"Thieves respect property. They merely wish the property to become their property that they may more perfectly respect it."

– G.K. Chesterton, novelist and poet
At some point during this guidebook project I knew I was going to have to face up to a couple of pricey spots. I did try to arrange for some invited visits, like I was able to at Oviedo, Sucre, and Hernán Gipponi, all written up recently. But there were two that in one case never responded and in the other said no. Today you're going to get a review and a half – in one case not, I think, directly affected by that, in the other, well, we shall just have to see, won't we?
The first is a place that's been on my list for a long time. When I first arrived in BA it was virtually always listed as the best restaurant in town, or at least in the top three. It was also, generally, listed as in the top three cost-wise. I wish I'd gone then, when it was a price that likely would have seemed relatively reasonable – perhaps not by local standards but certainly by mine coming from a city like New York. So, last week I trundled off, solo, no one else seemed interested in melting a credit card, and climbed the steps to the second floor dining room that is Nectarine, Vicente López 1661 in the old Pasaje del Correo, here in Recoleta, 4813-6993. [Closed in early 2013.]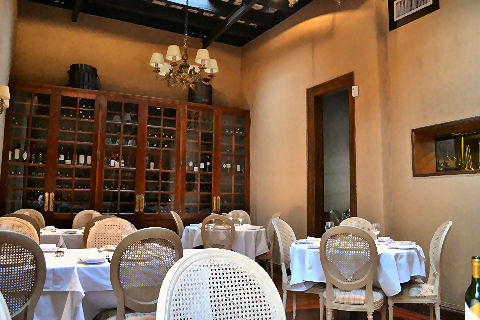 It's a pretty room – elegant, cozy, really quite beautiful in fact. And it's comfortable. And it was empty at lunch. In fact, when I arrived, the place seemed kind of dark and I thought perhaps I'd made a mistake in the hours it was open – I hadn't made a reservation, instead deciding to wing it. But the chef came to the door in response to my touch of the bell, greeted me, welcomed me in, and asked me to wait a moment. An older gentleman came out, someone who I took to be the owner or manager – in fact, as best as I could tell, only the two of them were present. The whole operation seems to be quite small, the dining room has a mere 22 seats spread between 8 tables, and the kitchen looks to be no more than about twice the size of my apartment kitchen. I asked as to why it was so quiet, and the, well, let's call him my waiter for now since that's the service he performed, told me that lunch is something they only do because the two of them have to be there anyway to get deliveries, so the chef doesn't mind cooking if someone wants to come in. I still can't quite decide if that's a positive or a negative.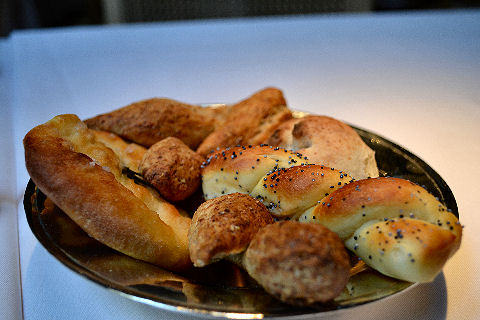 As such, I would say that the service, while friendly and relatively efficient – then again, I was the only person in the room – wasn't exactly world class professional. I gather there's a waitstaff of two in the evening – a waiter and a sommelier – the latter being the now famous here in Argentina Paz Levinson who won this last year's "Best Sommelier" in the country competition and is headed off to the international trials. A basket of delicious bread was brought to the table, and a sheet of paper. The latter is the menu, a simple printed out sheet of paper, a bit unexpected for the setting, on which were listed eight dishes – no appetizers or mains, just eight dishes, followed by a couple of desserts. At the bottom is a note that you can select from 1, 2, 3, 4, or 5 courses (if you order 3-5, one of them, at least, must be dessert), at the eye-opening prices of 140, 220, 290, 340 and 390 pesos, respectively. Same menu and prices at lunch and dinner (though I was told that at dinner there's usually an additional special or two of the day). One dish, a seared foie gras, had a 40 peso supplement. Essentially, it's a design your own prix-fixe or tasting menu.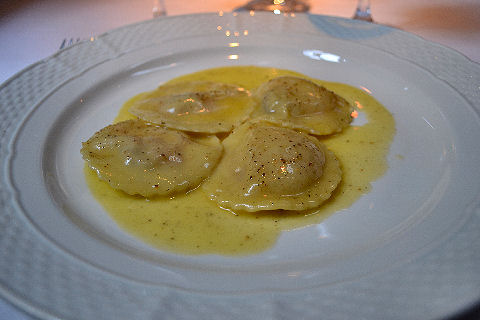 The food is what I'd call modern French, with some of the dishes having a bit of an Argentine twist to them. For my first course I decided on the ravioli of quince and foie gras (no supplement for this foie gras). Given the opening price tag of 140 pesos, a quartet of ravioli seems a bit, well, less than generous. Oh yes, I know it's foie gras, which is hard to obtain here – by Argentine law, effective in August 2003, it's illegal to produce here due to a cruelty to animals act, though, interestingly, completely legal to import and sell. One of my meat purveyors offers it up now and again at around 1000 pesos a kilo. So back to those four ravioli, cooked beautifully to a perfect al dente, smothered in a very rich butter sauce, and each filled with a brunoise (very small dice) of quince and one nugget each of foie gras. Now let's see, that nugget probably, prior to cooking, weighted in at, okay, let's be generous, 5 grams – so a food cost of about 20 pesos, plus the other ingredients, let's say, 25, even 30 to be overly generous, pesos to produce. It was delicious, I admit, but not wow delicious.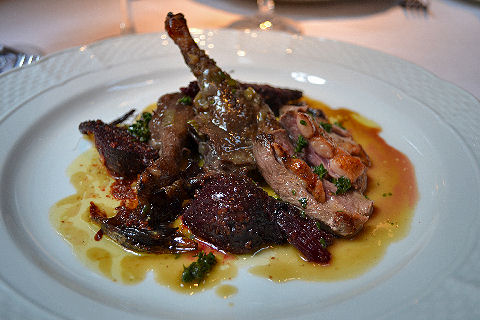 For my second course I elected the duck dish. It was just kind of odd. Clearly more generous than the ravioli – in fact, quite different in size, which makes that whole design your own menu feel a bit strange – you could end up eating very little or very much, depending on which items you order – there's a missing balance to the sizes of the dishes, at least based on these two. Back to this one, a seared duck breast, cooked to a nice medium, I'd have gone a little less, but it was still juicy. And two duck legs, braised in red wine, falling apart tender (wait, one breast, two legs – that's gotta end up a bit off in the design of plates after a little while – unless they're buying pre-cut portions of duck rather than whole ones). The salt crusted beets were good, though odd with their skins and roots left on, a touch of grit still clinging to them (interestingly, post-visit, I read through some reviews in various online fora and found that outside of price, that seems to be the one complaint that has popped up more than once, that vegetables, particularly greens, don't always seem to be cleaned well of grit – one almost has to assume it's intentional on the part of a chef of this caliber, for some strange reason). But truly odd, and throwing the dish out of balance, underneath it all, a big scoop of humita, a local favorite that is essentially the Argentine version of creamed corn – a sort of puree of corn, cheese, green onions and sugar. It really didn't go with the other components at all and was exceedingly sweet, even in contrast to the roasted beets, which were already a sweet note on the plate.
So let's see. Great room, in fact, one I'd love to hang out in and dine in. Not a whole lot going on during the day, and I have no idea in the evening if it gets full or not. Two couples came in at different points during the lunch, the first, a couple of tourists, stopped and looked at the menu while standing at the door, handed it back to the owner and walked away laughing. The second, a well-heeled porteño couple came in, sat, looked at the menu, called him over and asked if he really expected people to pay those kind of prices for lunch, he shrugged, said yes. They got up and stomped out. The menu – interesting, but at least based on two dishes, not all that exciting – just well cooked, generally tasty French haute cuisine. The wine list – well selected from Argentina and a good number of European offerings as well. Pricing running around 2½-3 times retail, so pretty up there. Was it good? Yes. Would I go back? Not unless someone is treating me to a night out. Should you? This one comes down to purely financial – it's very expensive by BA standards, and even fairly pricey by international ones.
———
Okay, here comes the half review. Or maybe less than half. Because I'm simply not going to be able to review the food. I knew the place was expensive, we went prepared, with credit cards and even a good amount of cash in pocket. We headed to La Boca, to the touristy, rundown Caminito, where amongst the wretched offerings of overcooked pasta and barely edible milanesas, there's a corner spot, unmarked, that garners worldwide attention. Why? Because it's owned by, arguably, Argentina's most famous chef, Francis Mallman – cookbook author and owner of four restaurants in Argentina and Uruguay – committed to local produce and cooking styles – picture him as the love child of Larry Forgione and Alice Waters. We were at Patagonia Sur, Rocha 801, 4303-5917. For a few minutes.
[January 2014: Closed in late 2013 to become a catering hall.] [January 2016: Re-opened as a restaurant in late 2015, I have yet to visit, but guests who recently did, said that although it was quite good, they didn't feel that the 4500 pesos ($340) they spent for dinner for two was justified.]
We entered through the unmarked door after the sole waitress came and opened it for us. One would think it was a warehouse from the outside. Inside, it's another small spot – a mere 20 seats in a long, narrow room that looks a bit like a dusty workshop. The tables, rustic, the seats, strangely tilted back and bucket shaped which were uncomfortable to even sit down in, I can't imagine staying in one through a couple of hours for a meal. In the room, one table filled, close to the entrance, with none other than Mallman himself and a young woman, engaged in intense conversation over a couple of appetizer plates. He looked up and nodded at us as we walked by.
Bottled water was brought to the table, already opened, a bottle of each type, and offered. Menus were set down at our places. Now remember, I said we knew that it was expensive. GuiaOleo lists the lunch price at 248 pesos for a typical three course lunch and 331 for a three course dinner. We'd already figured on just ordering a couple of plates, sharing them, and calling it a day. But that's not an option it turns out. The only thing on offer is a three course prix fixe, no a la carte, and the same menu and price, lunch or dinner. Ready for it? 510 pesos. Honestly, we snapped the menus shut, excused ourselves and walked. I did a little after-research, and less than a year ago people were giving the place a thumbs down for being priced at 410 pesos for the prix fixe, and a year before that, at 310 – though no one was mentioning that prix fixe was the only option. Now, I've eaten at his Mendoza restaurant, 1884, and while I thought the food was good, it wasn't anything all that special – I mean, one of the options in this US$125 lunch is an appetizer plate of 2, yes, 2, empanadas, or perhaps you'd prefer a green salad with a charred tomato? And remember, that's just for the food, before beverages come into the picture.
Sorry, but I simply won't be dining at Patagonia Sur unless one of you kind (yet in this case, crazy) souls out there feels like melting a credit card and taking me as a guest. Lunch for two would have cost me a quarter of my entire budget for 20 restaurants. I'm not surprised the place was empty.
I suppose, at least, it makes Nectarine look reasonable!