"A local aquaintance: Really, you got it wrong on Chan-Chan. It's easily the best Peruvian food I've eaten in Buenos Aires.
Me: Well, it's been four years since it opened and Henry and I went, perhaps it's time for a revisit.
Him: It really is. I go there all the time and I'd put their food up against any other homestyle Peruvian spot and even some of the fancy fusion places.You've definitely got to try the cabrito stew.
Me: That's quite a recommendation. Okay, I'll put it on the list to check it out again."
So, Henry and I found ourselves off to lunch a few days ago to revisit Chan-Chan, Hipolito Yrigoyen 1390 in Congreso. Our first visit, four years ago, hadn't been anything special, I haven't been back, Henry's been back once or twice with friends and felt it was okay, but it had been a year or so since for him as well. And we'd gone literally within a week or two of it opening, under the direction of the chef who'd previously been at Status – which I also re-reviewed recently, without much good to say – though that was with him having left.
I'm going to spare you the long winded details. We didn't find it any better than we had the first time around – it was pretty much the same. We tried four different dishes than we had that first time: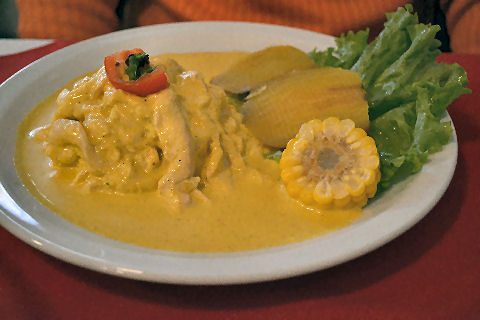 The tiradito, like that first time ceviche, was served at room temperature rather than cold, so didn't come across as fresh, and on top of that, the marinade was really, really sweet – almost like someone had used sugar instead of salt in making it.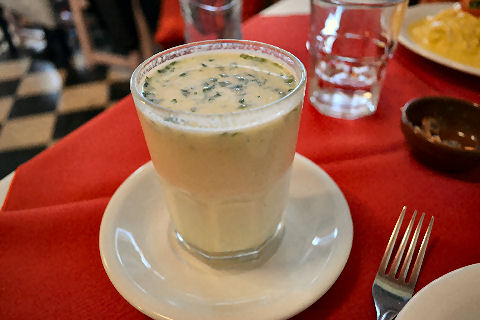 A leche de tigre was of the completely liquid, hangover cure style – and both overly salted and really garlicky.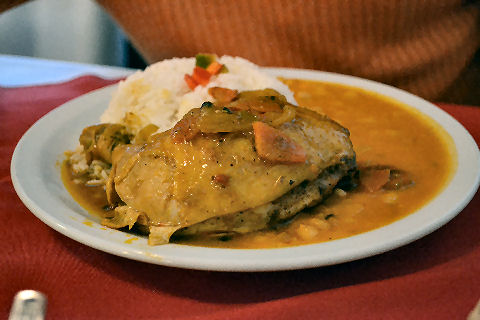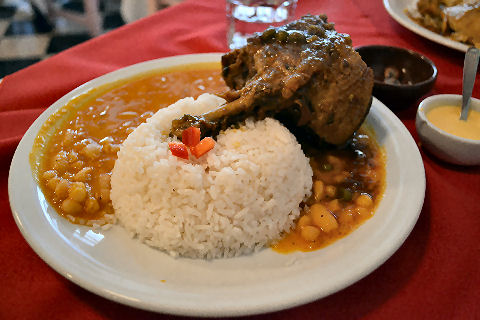 The chicken and duck combinados, were pretty much the same as the beef version we'd had that first time – overcooked, dried out meat, at least this time with white beans, though pretty oily and flavorless, and rice.
Really, it's just not that good. And while we did try to order some of the specialty dishes, they were out of all goat, rabbit, and lamb, so the only options were beef, chicken and one duck dish, plus the fish options – and there was no goat stew on the menu. I wouldn't put it as any better nor worse than that first visit. It's basically just the same. And, of course, like everywhere else, prices have gone up – what cost us 20 pesos apiece four years ago ran to nearly 60 this time for two plates of food each. We'd both much rather go the 9 blocks further north to Sabor Norteño or even better, the 16 or so over to the Abasto and Mamani – both of which have far better food.
Me: So, we went to Chan-Chan like you recommended.
Him: What did you think? It's the best, right?
Me: To be honest, we didn't like it that much, it was pretty average.
Him: That can't be. Did you try the cabrito special?
Me: They didn't have any goat, and the only special was a pasta dish.
Him: Oh, that's too bad. Really, that dish is the reason I go there, it was so good I've never bothered with anything else.
Me: So you've only tried one dish at Chan-Chan?
Him: Yeah, I went there about a year ago and can't stop thinking about that goat stew.
Me: So you've only been once? I thought you go there all the time…?
Him: Nah, that stew was so good the time I went I just recommend the place to everyone.
Me: Just out of curiosity, how many other Peruvian places have you checked out in Buenos Aires?
Him: None, it's not really my thing.
Need I say more?