"The city of Chan Chan, capital of the Kingdom of Chimor, also known as the Chimu Empire, represents America's largest prehispanic mud-brick settlement. Its complexity has come to light only after years of intensive excavations. This large city covers 7.7 square miles and is centered on a 2.3 square mile urban core dominated by a series of huge enclosures – the palaces of the Chimu kings."

– Inka Natura Travel website
Buenos Aires – A new Peruvian restaurant has just opened in Buenos Aires, situated behind the Palacio Barolo. The place is called Chan Chan, Hipolito Yrigoyen 1390, after the ancient city located outside Trujillo. The chef is apparently the former chef of Status, a relatively good Peruvian restaurant located nearby. I'll get back to the restaurant in a moment, but first a couple of more photos from our visit to the Chan Chan archaeological site a couple of weeks ago.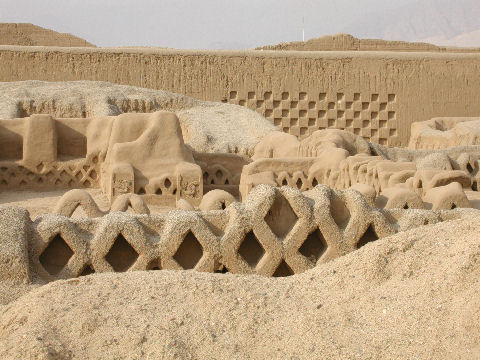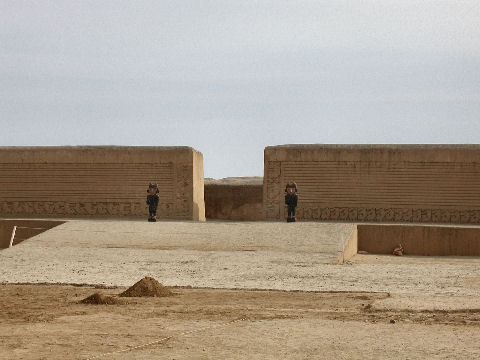 The restaurant is oddly decorated, with pastoral scenes of salmon and bunnies and hens on the walls, not having a whole lot to do with Peru or Trujillo or Chan Chan for that matter. There are a couple of postcards of Chan Chan tacked to the cashier's counter… and the tables are draped in red and white tablecloths for that Peruvian flag effect. There are also lots of Catholic religious statues around. It sort of looks like it was a santeria or something that someone converted to a small restaurant. Michael Jackson's Thriller album was playing in the background… or foreground… it was on the loud side. At some point Henry went over and joked with the manager about the traditional nature of the music and it was quickly changed to some modern Peruvian pop singer.
The food is very reminiscent of the food at Status – the menu is virtually identical, one of our dining companions swears it's actually just a copy with the same typeface, layout, and prices, and he may be right. Like many Peruvian places I've encountered here in Buenos Aires they seem to be out of the things that require "special" ingredients – like duck, goat, huacatay – I often think they just put them on the menu to make themselves seem more authentic. We settled into a pitcher of chicha morada – quite good, and a couple of pisco sours – way too sweet – and decided to sample a range of appetizers and some main courses. The papas a la huancaina are quite good, nice and spicy. The anticuchos were nicely spiced with a really good picante dipping sauce, though the potatoes and batatas served with them were very watery. They were perhaps slightly undercooked, but not by so much as to want to send them back. The tamal criollo, available in both pork and chicken versions, was okay, but the masa really isn't quite right – almost more like polenta, and it was pretty bland, as was the dipping sauce it was served with. The ceviche mixto was, simply, inedible – very, very salty (there were deer in Patagonia headed this way), and served warm, which had the fish and shellfish seeming to be not fresh. That got sent back, I noted that the manager and chef were tasting it… and without conversation, they removed it from the bill. On the main course side, a fish escabeche was good, likewise a seco de carne and a combinado de carne – the latter very similar to the seco, but served with stewed red beans instead of the usual white beans, and spiced slightly differently.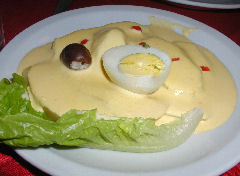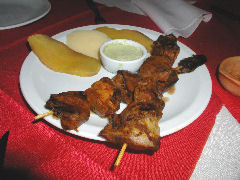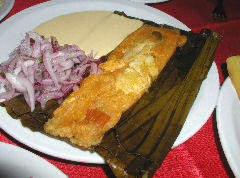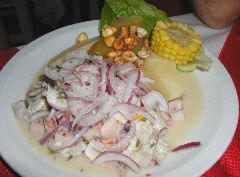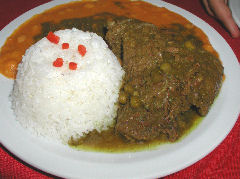 All in all, decent, and about equivalent to Status a few blocks away, so I wouldn't recommend one over the other – though I guess now that Status has a new chef it's worth a re-visit. There are definitely better Peruvian restaurants in town, and some of them much less expensive, though this wasn't bad, running us about 20 pesos apiece for four of us sharing four appetizers and three main courses, plus drinks.