I've recently become enamored of a particular Peruvian dish, the ajiaco con conejo. Actually, any ajiaco, because it's one of the most delicious Peruvian potato preparations I've tried – when done right. Now, ajiaco basically means something in a chili sauce. The Peruvian version is quite different from the better known Colombian one, which is a soup, this is a potato stew, most typically it seems, with a blend of ají panca and ají mirasol, the common dried red and yellow Peruvian chilies, along with garlic, evaporated milk, huacatay and hierbabuena.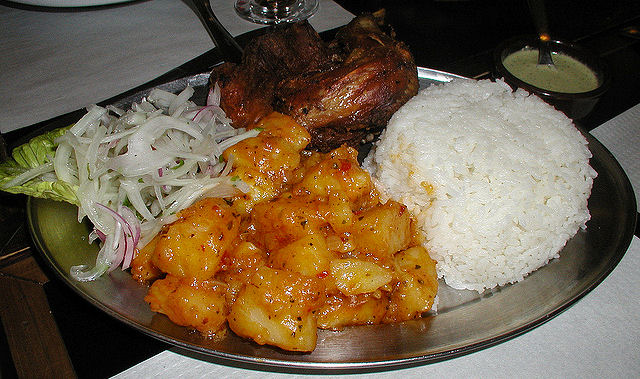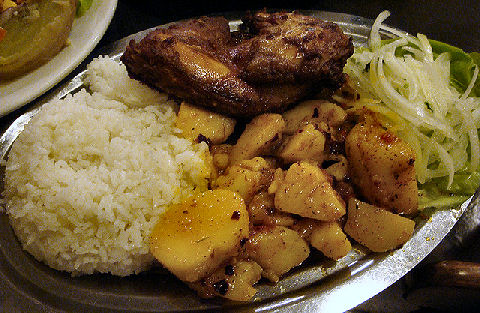 The first place I ever tried this dish was also the first Peruvian restaurant I'd ever set foot in in Buenos Aires (though I didn't try the dish on that first visit), Status, Virrey Ceballos 178 just off the Plaza del Congreso. I've tried it twice there – I only include both photos for… well you'll see down below in a moment or two. Heavy on the garlic, a bit light on the chili. The rabbit, a hindquarter, cooked well, perhaps just slightly dry, but not so much as to be annoying – a common problem with rabbit dishes. Good rice, simple white onion salad (the first time it was mixed white and red onion), rocoto sauce on the side to give it more heat. My recollection is that the first time around it was a better dish – and I know between the two times they changed chefs, as I mentioned in my writeup. ★★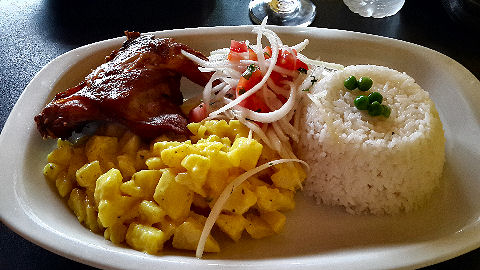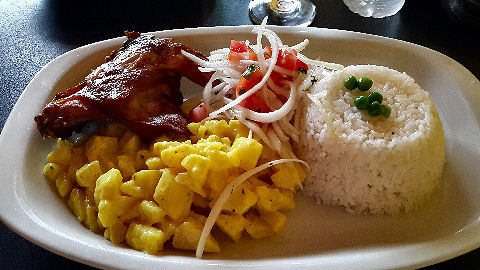 The next place I tried the dish was long afterwards – it's not a common dish on menus here, but I tried it first in a delivery and later in the restaurant at Nazca, Av. Córdoba 3579 on the border of Palermo and Villa Crespo. One time a forequarter, one time a hindquarter, nice and juicy, perfectly cooked rabbit, properly heavy on the ajiaco itself, the potato part of the dish, along with rice, and onion and tomato salad. A good hit of spice and a decent amount of garlic. ★★★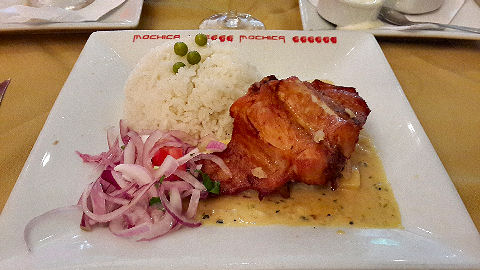 Next up, a version at Mochica, Agüero 520 aside the Abasto. Here, rather than being on the menu as ajiaco con conejo, or chili potato stew with rabbit, it's called conejo con ajiaco, or rabbit with chili potato stew. It seems a small thing, but the classic Peruvian main course tends to be heavy on the starch and vegetable elements, with just a small piece of meat "for flavor". In reversing it they've gone more the way us norteamericanos tend to think of things – here, we have a juicy, perfectly cooked whole saddle of rabbit with a small amount of creamy potato stew underneath, almost more like a sauce than it is a part of the dish, along with a good amount of rice and peas and a prettier and at least more common in the north of Peru where Henry's from, red onion salad. The sauce was creamier than it was spicy – it had a bit of heat, but not much – and I also found it a bit salty, plus it took them more than an hour to prepare and serve it. ★★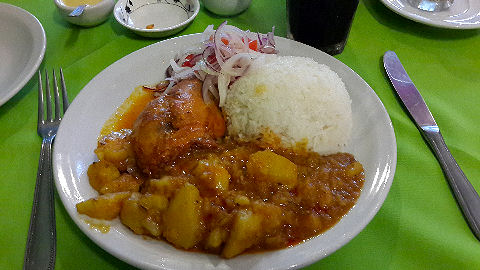 I've passed by this spot numerous times, it always looked a bit, from the outside, like a dump. Prices on the outside blackboard are always so cheap in comparison to even the chifas near the Abasto that I couldn't imagine it being all that good. But, the ajiaco de conejo at Rawa, Talcahuano 447 near to the Congreso, was recommended, and at 56 pesos, not much over half of what it costs at the other places I tried the dish, what did I have to lose? Turns out, it's not so small of a spot, there's an entire upstairs dining room, the place is clean and bright, the staff are friendly and helpful. The most stew-like version of the potato ajiaco that I've encountered, it was a couple of ladles-ful on a plate, plus, already well chili-fied (and two different chili sauces accompanying for added kick), a mound of rice, a well seasoned haunch of rabbit, and an intensely vinegary red onion and tomato salad. The salad by itself could have used some salt for balance, but truthfully, when paired with the luscious potato stew and delectable rabbit, it all worked. ★★★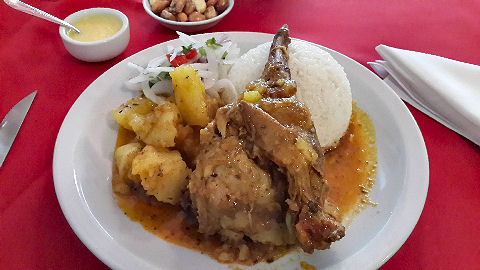 Regularly, Chan-Chan, Hipolito Yrigoyen 1390 in Congreso seems to land at the top of a lot of bloggers' and travel writers' lists for homestyle Peruvian food. I've never understood that. It's not that the food or atmosphere are bad, but it's all pretty average – we've never had a dish there that we were impressed by, and can almost always think of somewhere we can get the same dish that we like more and often for a similar price. A small piece of rabbit, a bit overcooked and dry, and a pretty bland, unseasoned potato stew – no hints whatsoever of chili – given that that's sort of the defining characteristic of an ajiaco, that's a big missing. Same with the rice – very "white" – more of the Asian style basic white rice sans the usual salt and garlic that's typical in Peruvian cuisine. ★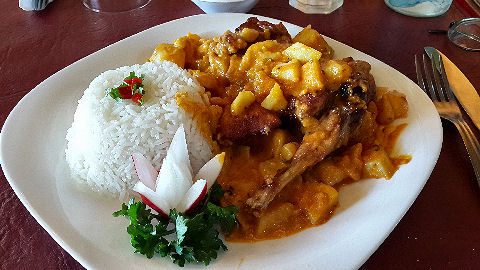 It has been eight years since we visited Primavera Trujillana, Franklin Roosevelt 1627 in Belgrano on the recommendation of a local paper. We weren't impressed. My search for ajiaco con conejo led me to their "brother" restaurant, Inka Wasi, just down the block at #1695, where it was claimed, Marta Rios' brother was turning out the best version in the city. Only they're not, because they don't have rabbit on the menu, and he sent me tromping down the block to his sister's place because she's the one who offers up the dish. Now, in the past octet of years, P.T. has undergone a complete transformation – no longer a living room in a house with a pass-through to the kitchen, the whole building has been redone as a full-on restaurant, with a far expanded menu (and, thankfully, no longer a hairy one). Here the dish is called picante de conejo, but it's the same dish (which led me to further searching for that term, but not finding any other places offering it up under that name). And it's quite good – not overly spicy, and strangely, I think this is the first Peruvian restaurant I've ever been in where you have to ask for "ají" rather than it just being on the table – but it was brought and perked the dish right up. Generous portion, well cooked. Avoid the place at weekday lunches when it's flooded for a brief period by students from the high school across the street looking for a cheap "menu" – it's like being in a high school cafeteria with the noise, throwing of food, attempts to skip out without paying, etc. Once they left, it was great, and the place is back on my list to check out more dishes down the line. ★★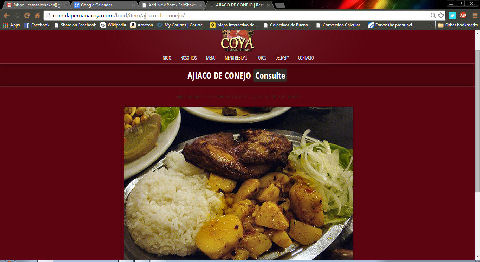 Now, here's why I mentioned up top that I was including two photos from Status. Compare, contrast… when I first started searching for this dish, the website for Coya, Tucumán 874 in Centro, popped right up and I thought, hey, that photo looks familiar. So not only did the folk at Coya lift the photo from my blog, but it's a photo of the dish at a different restaurant. I sent them email and a facebook message asking them to a) remove it, and/or b) acknowledge where they got it from, but no response. [They have, since, shutdown their webpage completely and gone to just a facebook page.] And, although I didn't spot any other of my photos on their online menu, a lot of them look like they're lifted from blogs (basing it on them being grainy blowups of smaller photos – if you were taking photos for your own website, you'd size them correctly to begin with). Then again, it turns out they don't actually have the dish available. Oh, it's on their menu, but they simply never have it – I've tried multiple times to pop in and eat it (and down the line, to call ahead and ask – after all, it does say "Consulte", "consult for availability") and it's always "oh, they didn't prepare it today". Finally the guy on the phone told me he couldn't remember it ever having actually been available, maybe once in awhile back a couple of years ago, but the owners just leave it on the menu (maybe that's why they don't have a photo of the dish from their own kitchen, it never existed). The place also seems to just open at random times – despite a noon opening time (every day except Tuesdays when they're closed), they sometimes just don't open the doors until 12.30, 1.00, 1.30… how do you run a restaurant in the middle of the business district and not be open for lunch hour? All in all, just seems like a shoddy operation. So the upshot is, I haven't tried it.
And, that's the sum total of the places I've found that offer (or not) the dish (Rawa wins, with Nazca a very close second). I'm sure there are more out there, so if someone runs across it, let me know, I'll hop right out and check it out.