With exploring chili rabbits and cooking and everything else, I'm constantly amazed that I actually still have time to get out and have a bite or four at various new spots every few weeks, but somehow I manage. Of course, the chili rabbit project was spread out over weeks and I really only had to go to five places, a sixth I'd been to, and the seventh, never had the dish. So, I managed my requisite four bites to bring you another round of mini-reviews.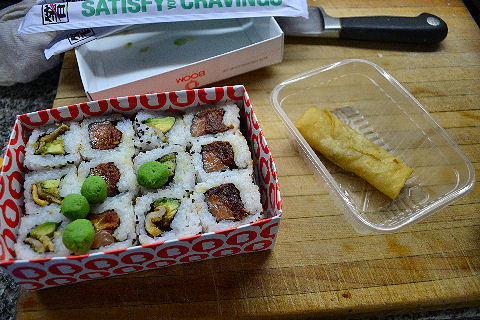 Fall down and go Sushi Boom… another delivery service. Took forever to get here, two and a half hours after ordering, despite a promise of 45 minutes. Had I not been busy doing things (including calling them four times as they put me on hold to call the delivery guy and came back on to say he was just moments away, each time – turned out when he arrived, according to him anyway, they were really backed up because he was the only delivery guy who showed up to work, and they'd known it would be delayed from moment one, and they'd never called him, not once, to check on where he was. They win awards for their packing ability – jamming in those rolls (two deep, by the way) so tightly that I had to actually cut away the box to get them out of there, and they were so crushed together it was like one big sushi roll mosaic that I couldn't separate them. It might have been nice to know that the springroll order was one, count it, one, springroll, no longer crispy, and completely ambient temp by arrival time, as was the sushi – I'd guess it had all been sitting in the box on the back of the delivery cycle for over an hour. A fail all around. Cross that one off the list.
There's a little hole in the wall two blocks from home, on the side of the Recoleta mall. We pass by it all the time and keep saying, one of these days. A week or so ago I did a quick search for Spanish food in the 'hood, and El Rincón, Uriburu 1759, popped up, with lots of glowing testimonials, so I thought, why not? Now, there's not much Spanish on the menu – a few appetizers and a paella main course, it's mostly minutas, local one-plate meals, and I decided to give a shot at one of my long time faves, a revuelto gramajo. Big portion, mostly fries and ham, very little egg holding it together, so not much of a scramble. Unseasoned, but to their credit, salt and a mixed peppercorn grinder placed on each table handled that. Inexpensive, filling, I'll probably go back and try a couple of other dishes at some point.
Another place that I've passed by for years – Museo de Jamón, Cerrito 8, at the corner of Rivadavia (Cerrito being the northern service drive along Av. 9 de Julio) – I just like the name, I mean, a Ham Museum – gotta check that out, right? But somehow I never did – mostly after determining that there didn't seem to be an actual ham museum on the property. But, I finally got there for lunch one day. The menu is pretty pricey, and even the menú especial, the lunch three-course prix fixe, runs 250 pesos (though that includes a water, a glass of wine, and a coffee, so not as bad as it looks at first glance). Old school service, cool ambiance, with, if not a museum of hams, certainly a massive display of various types, all over the restaurant. And, delicious food. Prawns cooked in cider flavored with a little jamón iberico, Chilindron chicken (very different from the version I learned to make, almost a pure tomato sauce with just hints of bell pepper and onion – the way I learned it focused more on the bell pepper, and also included olives and herbs), and I left the dessert up to the waiter, who brought me a local classic, a copa Don Pedro – their version more whiskey than vanilla ice cream and walnuts, but who's complaining? I'll definitely be back to check out more dishes here.
I've been hearing great things about this new place in Palermo Botanico called Farang (the Thai word for a white foreigner), Cerviño 3812. [Closed up in a few months, replaced by Paru Deli.] Mostly I've been hearing about great sushi, and the apparent local fame of the chef-owner, Marcelo "Camote" Langer, who I gather was the driving force behind Soul Cafe and Dominga. And he was present, pacing the dining room – a cute spot, not quite as loungy as I think he's trying for – and hovering over the waitresses while they take orders, making suggestions over their shoulders. The menu isn't clear on one thing – it seems that all the food is small plate, lounge style. It's eclectic, to be generous – it's really all over the map, with dishes from European, Asian, North and South American fare all jumbled together. One side of the menu focuses on sushi and ceviches, the other on "other". We ordered like we might normally do – "we'll start with these dishes, then these, then these" – no one said that they'd come out at random – and the photos above are in the order we received dishes – so our hot food came first – gambas en ajillo (95 pesos for five shrimp), good prawns, though I thought the cooking broth lacked garlic, and, the fishcakes (80 pesos) were tasteless, mushy, cotton-ball-y things, not helped by either the lime nor the dipping sauce which as best I could tell was unflavored mayo. Far better, and fitting with the recommendations, the sushi – a trio of calamari nigiri (60 pesos) were fresh and tasty, as was the excellent salmon skin roll (65 pesos). Between those two dishes our cocktails arrived (75 and 80 pesos) – we'd have liked those on the table before any food showed up. At this point our table was full with dishes and glassware, but the maki (and then the next dish) showed up – our waitress agreed to take them back and hold them at the kitchen, but the kitchen sent them back out immediately with a different waitress who refused to take them back and just stood there while we finished the first couple of plates and then made us pick those up to hold for her while she set down the new ones. The ceviche (100 pesos), the chef, over the shoulder, recommended we try his Bloody Mary ceviche of prawns and sole – very acidic, virtually no salt in it, no heat whatsoever, just a semi-sweet tomato, celery and bell pepper broth in which the fish (and little in the way of prawn, and what there was was chopped up) sat – just no balance to it. An overly sweet lime pie for dessert with a massively thick chocolate crust that was hard to even break with the hands let alone with a fork.
So, friendly but poorly organized service – they need to get a handle on how quickly to bring things out – and listen to customers when they ask for things by course – though you'd think it would be pretty automatic that a kitchen would send the cold dishes before the hot dishes, rather than the other way around. Great sushi but mediocre everything else we tried. Pricey – five small plates, two cocktails, two waters, and a whopping 50 peso cubierto charge, came in at 645 pesos (and, I just realized looking at the bill that they left the nigiri sushi off the bill, so it actually should have been 705 pesos, plus tip of course). My turn to be a naysayer. For this price I just don't get it. I could see, perhaps, going in for a little sushi and a cocktail (which were actually excellent, and generous sizes), and then going elsewhere for dinner, but I probably won't actually do so.