Not to be confused with Chicken of Aragon Pie, which seems to be a chicken pot pie from Britain, flavored with lots of t'arragon, the pollo al chilindrón, one of Aragon, Spain's best chicken dishes, is a slow cooked chicken stew with a strong red bell pepper base to the sauce. There are also versions of al chilindrón using other meats, since the style of cooking really just refers to the sauce. And, of course, with any classic dish, there are as many ways to make it as there are Spanish grandmothers living, or not, in Aragon. Not being a grandmother, nor from the area, I'll just lay claim to having played around with several versions and coming up with my own.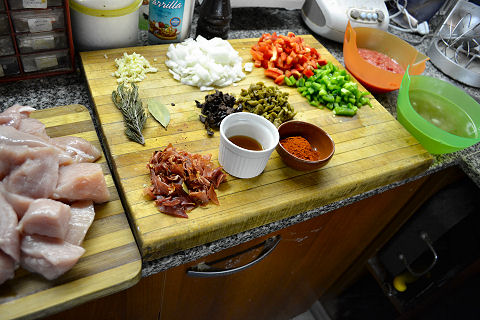 First, our ingredients – a kilo of chicken breast, cut in large cubes off to the left, a couple of large tomatoes briefly pulsed in the blender to a chunky sauce consistency, and 1 cup of chicken stock mixed with 1 cup of white wine, both on the right. On the cutting board, 3-4 cloves of chopped garlic, a chopped large onion, a chopped red and green bell pepper, a handful each of green and black olives, pitted and chopped, a stalk of rosemary and a large bay leaf, a couple of slices of jamón serrano, also chopped, a couple of tablespoons of brandy, and a couple of hot paprika. Not shown, about ¼ cup of chopped parsley used more for garnish than anything, and a loaf of rustic olive oil bread.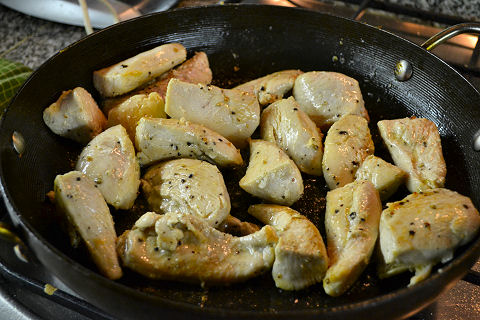 Season the chicken with salt and pepper and brown in a couple of tablespoons of olive oil.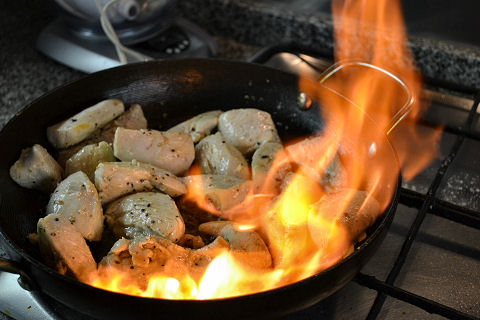 Pour in the brandy and flame it, let it go until the flames die out, stirring regularly. Remove chicken to a bowl using a slotted spoon and let it sit aside for the moment.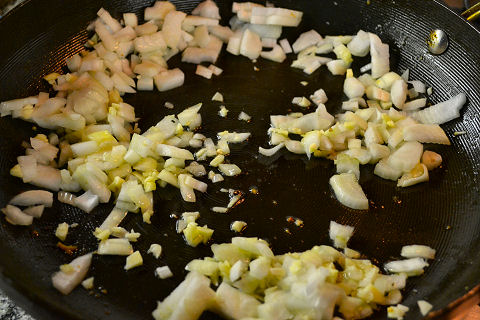 Add onions and garlic to the pan and cook until soft and translucent. Although normally at this point I'd add some salt and pepper, I don't in this dish because of the serrano ham and olives, which are going to add a fair amount of salt to the finished stew. Better here to wait until the end and add a little if need be.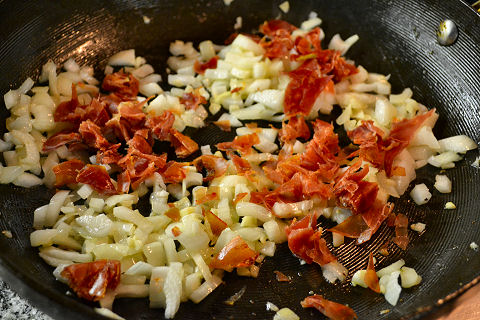 Add the chopped jamón serrano and cook for two minutes to start rendering its fat and lightly crisp it.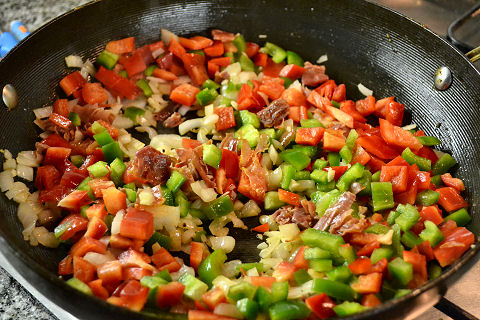 Add the peppers and cook for about five minutes until they start to soften.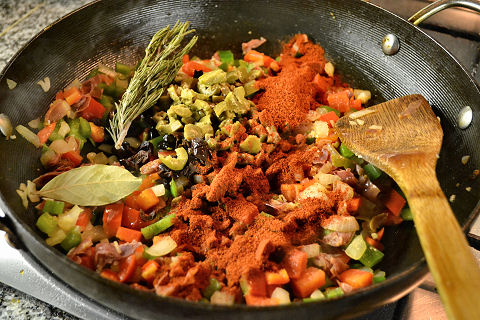 Add olives, herbs, and paprika, and stir well to combine, let cook for about a minute.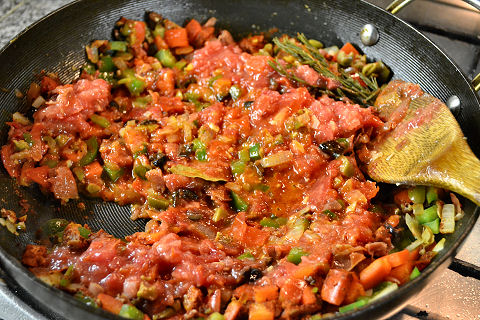 Add tomato, stir well and cook another minute.
Add stock and wine mixture and put the chicken back in the pot. Mix it up well, bring it to a simmer and turn the heat down low. It will cook over low heat for about an hour.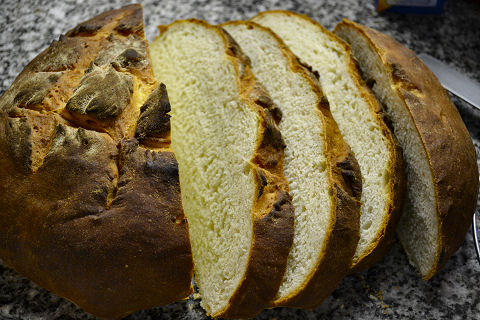 Meanwhile, of course, you've whipped up a nice, rustic, loaf of olive oil bread. Okay, fine, go out and buy one. Slice off nice thick slices and lightly toast them.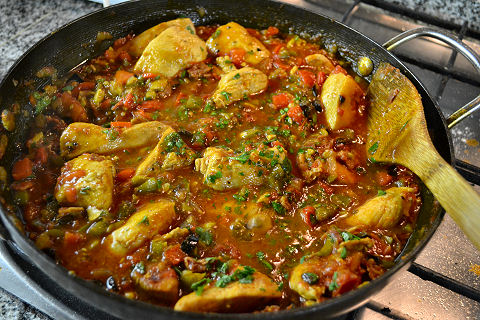 After an hour the stew will have thickened up nicely and all the flavors will come together. Toss in a handful of chopped parsley. Adjust the seasoning with salt and pepper if needed.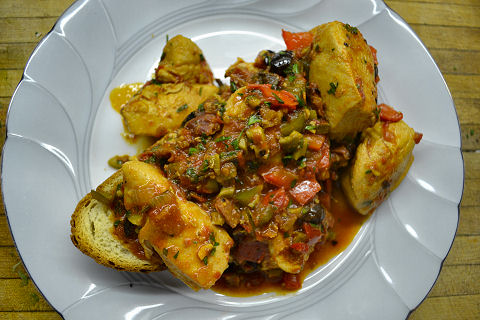 Serve each person a thick slice of the toasted bread with a couple of ladles of the stew over it. Tuck in and enjoy it!