Let's just dive right in to two week's worth of menus here at the homestead….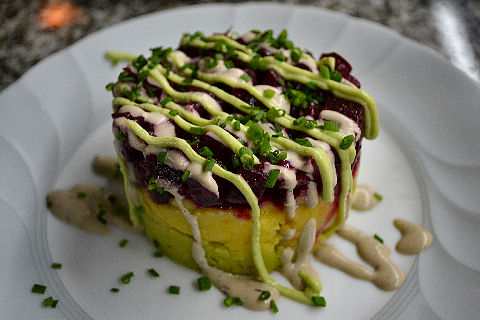 New version of our roasted beet causa – going with the two-flavor potato base, green onion and yellow chili; the roasted beet salad, and two sauces, a black olive mayo and a spicy avocado puree.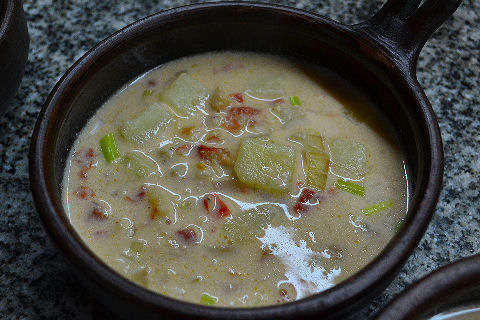 I'd love to come up with a way for our caldillo de congrio, more or less a Chilean conger and prawn chowder, to look prettier, but it's always a hit in the flavor world.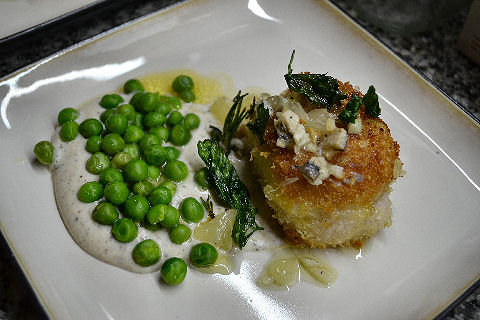 Remember sesos a la romana, the roman brain? I've been wanting to get those into a menu. But, brains were suspiciously unavailable in the market last week, and Henry was objecting to the idea, so I decided to go the same route, but use sweetbreads. And, it worked out just fine, with the exception of a couple of people over last week's four dinners, everyone ate every bite. A couple of locals said they were the best mollejas they'd ever had. The only thing I did differently was chopped up the boquerones in the lemon garlic sauce rather than leaving them whole. On the other hand, some folk for the following week sent me an email telling me after just seeing the dish listed on the website that if I was going to serve food like that, it was far too exotic for them and they weren't coming (not to worry, they'd already told me they wouldn't eat organ meats and I wasn't going to force them to).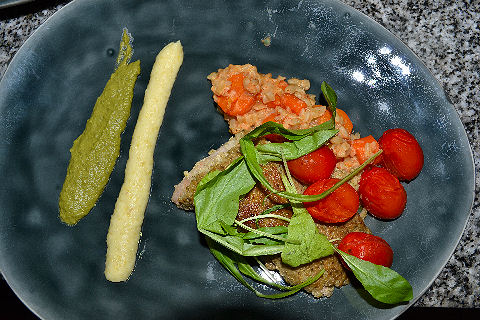 Brought back the milk-braised matambrito with a different set of guarniciones – a blast from the past, wheatberries with paprika yogurt and coffee-roasted carrots, plus a mixed herb salsa verde and savory lemon curd, and a scattering of roasted cherry tomatoes and radichetta.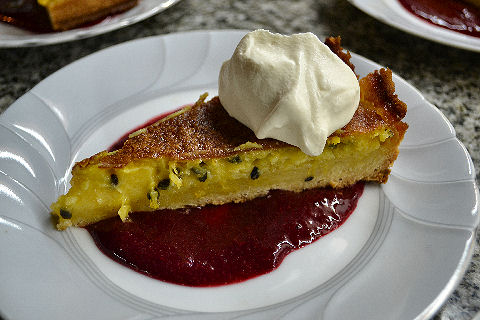 And, finished off that week with a passionfruit curd tart over a blackberry and port sauce, topped with a whipped white chocolate cream.
———
This last week we had a bunch of dietary restrictions, along with the aforementioned aversion to organ meats (and anything with tentacles), so a quite different menu.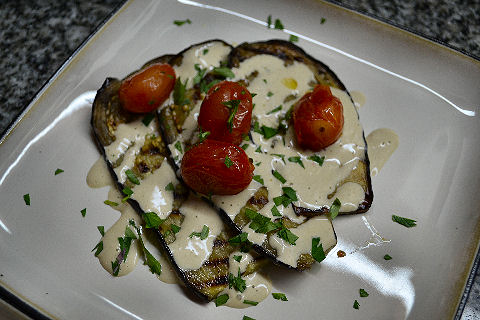 Our eggplant tonnato – two different people told us they'd always hated eggplant, but ate every bite of this.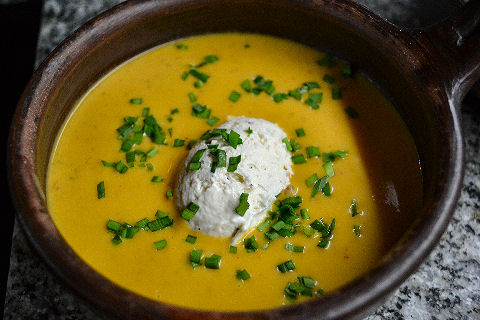 As I said in a recent post, it's time to start moving into our chilled soups for the warmer weather (though this week was a bit variable) – brought back our chilled tomato, basil and gin soup with black pepper gelato. Minor twist – I've always used Bombay Sapphire, but as it's become outrageously expensive I started looking around for a really herbal alternative.
There's a new gin on the market here, locally made, called Principe de los Postoles, and it's infused with yerba mate, eucalyptus, peperina (a native herb with a slightly minty character), and pink grapefruit – delicious! I'm going to be using that in our next seasonal cocktail. If I haven't mentioned it, instead of a new, simple cocktail each week, I've been working on more "signature" cocktails – for the last couple of months we've been serving a blend of pisco, passionfruit liqueur, fresh orange juice, sugar syrup, ginger and Peruvian yellow chilies.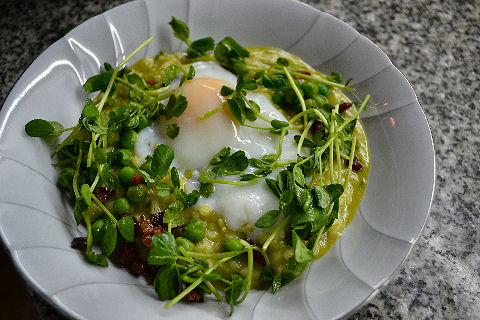 Favorite dish of the week, both us, and, I think, a majority of the guests. Inspired by the one dish I really liked at Rafael in Lima back in July. Risotto – carnaroli rice with shallots, white wine and chicken stock (except one night when we had a couple of pescetarians so I used vegetable stock), and towards the end a puree of fresh peas and pea shoots, finished with butter and manchego cheese, topped with a sous vide egg, fresh peas, pea sprouts, and finely diced crispy pancetta. Henry doesn't normally like risotto, but he ate a bowl of this each of the four nights we were open last week!
I just could not get the plating on this to work in a way that I really liked. My initial thought was very rustic, then I went for a couple of nights of more "refined", and finally, some sort of combination. Personally I lean towards the rustic, the first pic, but maybe with the potato mash as more of puree like in the other versions. To be played with – but overall, the dish worked. It's palometa, a local fish that's got a flavor similar to tuna and is often here referred to as Mar del Plata tuna, quickly broiled, topped with a mix of pickled vegetables – cauliflower and rocoto chilies that I hot brined in apple cider vinegar, sugar, salt, coriander and white pepper, mixed with gherkins, capers and green olives – I think I like the coarser chop rather than the finely chopped version, but now looking at colors, I'm thinking I could use black olives and get some more contrast in the dish, plus, sticking with red or yellow rocotos rather than green ones, and, a scattering of toasted sunflower seeds. The puree is potato with garam masala, plus there's a parsley, basil, and oregano salsa verde (coarse or smooth, again, hmmm… I lean towards the coarse). Plating to be worked on. The dish, flavor-wise, went over great and I think almost everyone finished every bite.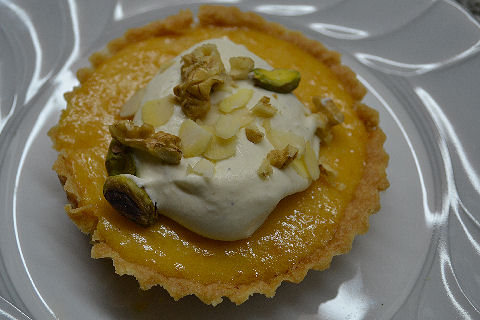 And, a new dessert that was a complete hit, an apricot curd tartlet topped with a whipped white chocolate and cardamom cream, and toasted almonds, walnuts and pistachios.
Overall, two quite successful menus!