"'Tis the last rose of summer
Left blooming alone;
All her lovely companions
Are faded and gone;
No flower of her kindred,
No rosebud is nigh,
To reflect back her blushes,
To give sigh for sigh.

I'll not leave thee, thou lone one!
To pine on the stem;
Since the lovely are sleeping,
Go, sleep thou with them.
Thus kindly I scatter,
Thy leaves o'er the bed,
Where thy mates of the garden
Lie scentless and dead.

So soon may I follow,
When friendships decay,
From Love's shining circle
The gems drop away.
When true hearts lie withered
And fond ones are flown,
Oh! who would inhabit,
This bleak world alone?"

– The Last Rose of Summer, by Thomas Moore, 1805
A last day in Rosario, focused on the food, since really all we did was sleep in, wander a little, go to lunch, hang by the frigid pool on the hotel rooftop, shop, and go to dinner.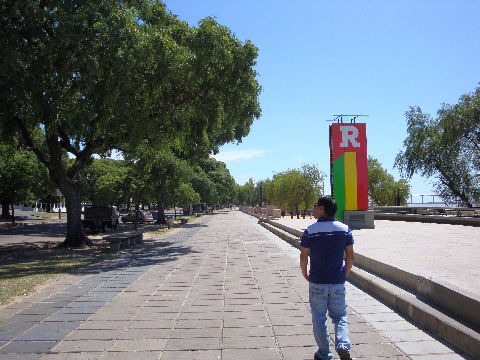 We took a taxi upriver to Rambla Catalunya, a neighborhood of primarily fancy homes perched on the hillside with lots of basically cheap and cheerful eateries and fish stores and strip malls below – a strange juxtaposition.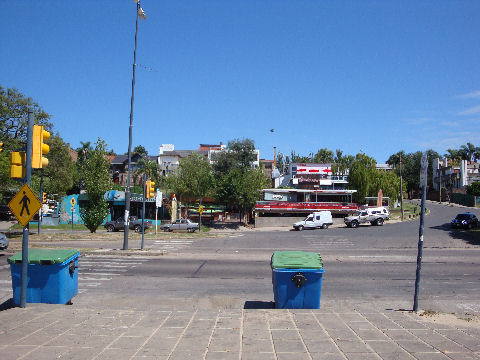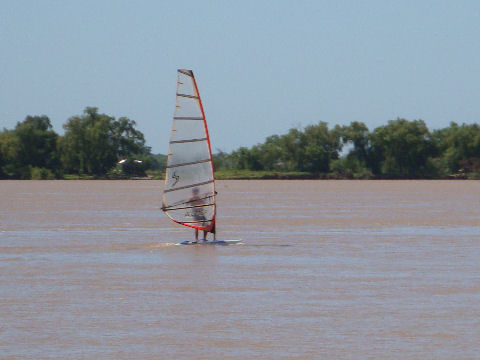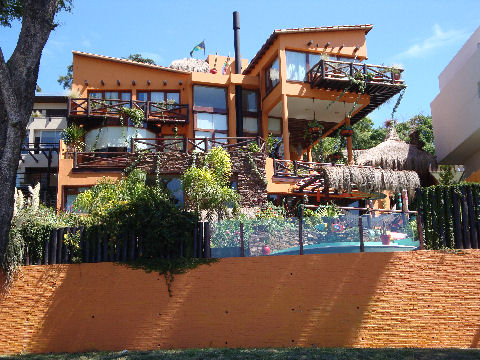 This was our favorite house….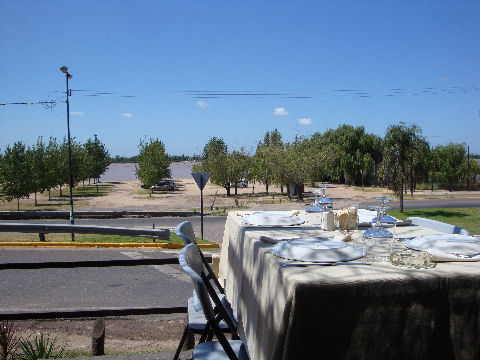 Our goal was the next community north, La Florida, where everyone seemed to be touting the "best" and "most expensive" seafood place in the city,
Escauriza
, at the corner of the same name and the riverfront. Gotta say, we loved the setting and the view from the large veranda.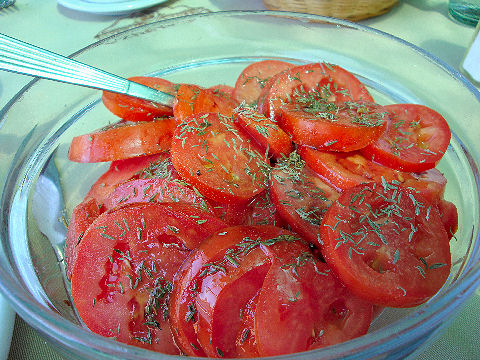 Mixed feelings about the fresh tomato salad – great tomatoes, no question, but for 24 pesos, throw some fresh thyme on it, not tablespoons full of dried out leaves from a jar. And bring something to the table to dress it with besides low grade olive oil and balsamic.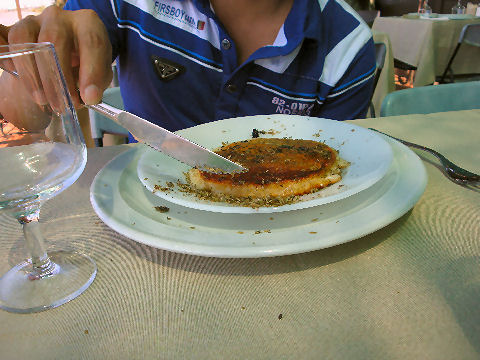 Henry hates oregano. I have no idea why he always orders provoletas and doesn't tell them to simply leave the oregano off. Most places can do that. This one was coated in it, but other than that, nicely done.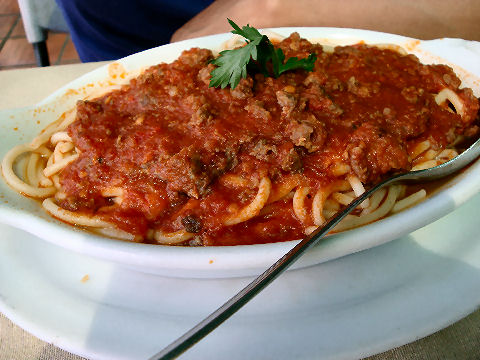 Less successful the spaghetti (we decided against ordering just plain grilled fish, which they offer up either just with lemon or with any of their pasta sauces ladled over it – not overly creative, but at least something different from the rest of the fish parrillas in town). Overcooked noodles, and a bolognese sauce (Henry's not as big of a fish fan as I am) that was little more than canned tomatoes with a little bit of ground beef in it. Swimming in the what was just the tomato juices and topped with the bit of pulp, it was just unpleasant. This is a half portion, thankfully, because we didn't even finish that much.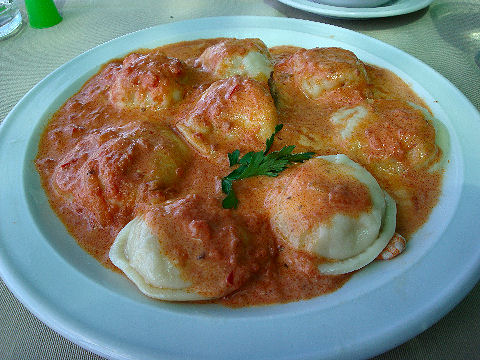 Slightly more successful the surubí sorrentinos with salsa rosa. At least the filling was nice and flavorful and the pasta was cooked right. The sauce could have been from the grocery store. Overall, we were pretty disappointed in this place, though we didn't find it to be overly pricey – these four dishes, plus a side order of boiled potatoes and a couple bottles of mineral water came in at 139 pesos – even with a bottle of wine it would have been about the same as the two dinner places we went to.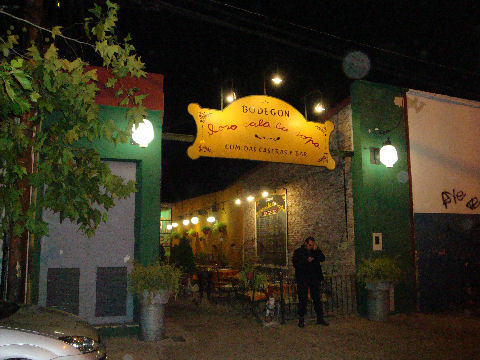 Nearly despairing of finding a really good meal, I decided to stop taking local recommendations and hit the 'net. Googling "best restaurant in Rosario Argentina" and more importantly "most creative food in Rosario Argentina" yielded up a short list of candidates, a couple of which we'd already hit, and most of the rest of which were either meat or fish parrillas. One spot stood out,
El Oso Sala la Sopa
(The Bear Salts the Soup), a bit of a distance (though no more than lunch had been) at Suipacha 57 in the barrio of Pichincha – noted as the home of "the two mafias" (Italian and Jewish), which we'd biked through and stopped for a coffee in, during our tour the previous day. We liked the look of the place from minute one.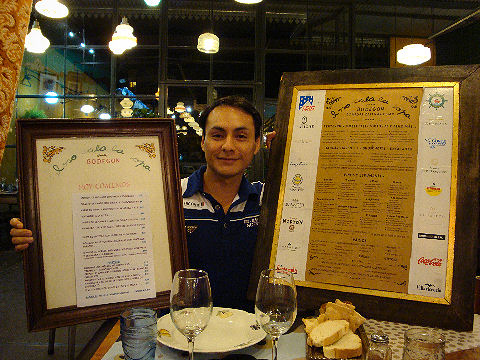 The menu is offered up on two boards, one with the day's main courses on a sheet of plain paper taped to it, the other basically tapas and appetizers which apparently don't change, and the wine list. Unwieldy, but it fit the ambiance…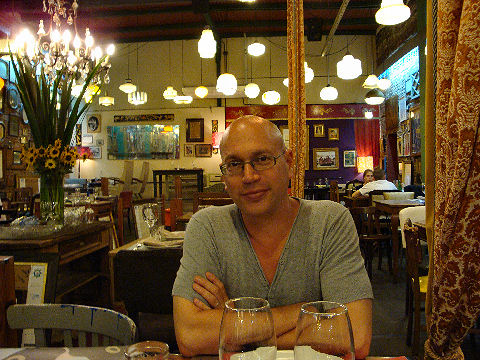 See, I really was here on this trip. I loved the space – completely roughed out and homey, and every single item in the place unmatched – each light fixture, plate, glass, chair, table, napkin, salt or pepper shaker – anything you could think of, different. Reminded me of Jezebel's in NYC which was the same way. Makes the place visually fascinating.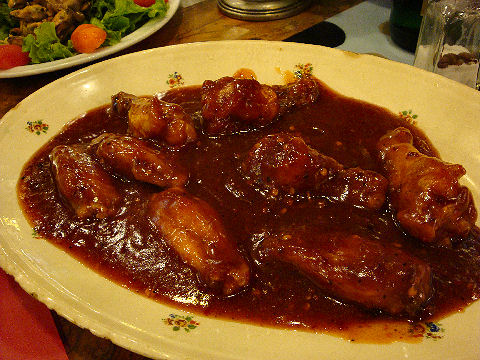 You know me, I can't pass up a chance to try
alitas picantes
, hot wings – although swimming in the sauce, and more of a barbecue sauce, it wasn't overly sweet and actually had a decent enough kick to it to break a sweat.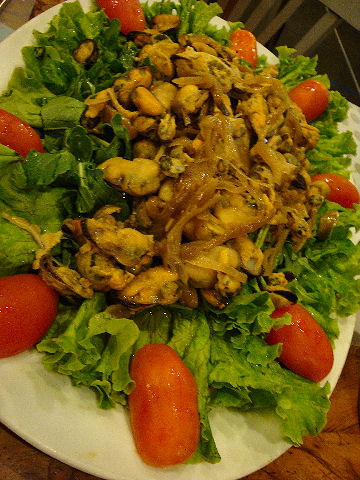 The main course of a warm mussel salad – massive, there was easily a half kilo of mussels,
sans
shells, on this platter (the angle doesn't really show it, but this is an oval platter the size you'd serve a roast on) – we could have stopped with just that and the wings. Delicious too – fresh, sauteed in garlic, onions and wine, served over mixed greens.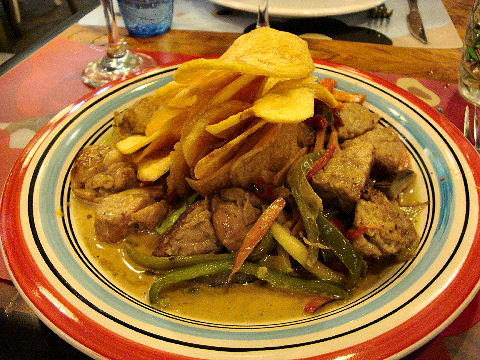 And an absolutely spot-on dish of sauteed sweetbreads with vegetables in a sherry sauce, accompanied by thick cut fresh potato chips. Something different indeed.
Friendly, great service. And these three dishes, plus three bottled waters and a nice bottle of wine came to just 175 pesos – and we could have easily dropped one of the main courses and still left satisfied. Totally impressed, and next time back in Rosario, this place is definitely on our list to return to. And, in conversation with our waitress at the end, we mentioned it was our best meal in town – she asked where else we'd been – we told her, and she was surprised as the first place I reviewed, La Chernia et al, which was easily our worst meal, is owned by the same family and supervised by the same chef!
And now, back to Buenos Aires where we're in the midst of our "classic american sandwiches" inspired dinners….