"So why not eat uncooked? And does that mean you can only eat uncooked foods? Not at all! That sort of fundamental approach can only lead to disappointment. Never tasting freshly baked bread again, abandoning spaghetti carbonara, or saying goodbye forever to chili con carne would be to adopt a food monoculture that might even be harmful in the long term. Furthermore, bringing alongyour own bag of raw food when you're invited to dinner might resulting in interesting table talk at first, but your friends – and you – would soon grow tired of it, and it's not exactly flattering to the hosts. Variety, the key to success, applies just as much to what you eat as to anything else. It is by varying your daily diet that you will keep in shape, benefiting your health as well as your social life.

– Lynday & Patrick Mikanowski, Uncooked
Raw food? Is he really going to talk about raw food? Again? (Come on, it's been forever!) Yes I am. But… we're not talking raw food vegan, which is what everybody jumps into the rock'em sock'em robot corners about. We're talking raw food full on carnivorous. That's right, BA's newest addition to the sans stove bandwagon is all about meat. And it's a perfect spot for it – we actually looked at it when it came open as a possible spot for opening up a "regular" restaurant, but the landlord said "no cooking".
So, chef/owner Paúl Perea, a native of Arequipa, Peru, has setup shop with eXperimental raw bar, at Juncal 1891, corner of Riobamba, here in Recoleta, 4811-7767, and figured out a way around the landlord's restriction. I've passed the place quite a few times since its January opening, and kept it high on the list of spots to try if I could get anyone to go with me, but finally gave up and soloed it last eve. And that may be the biggest hurdle this place will have to face here in the heart of wealthy porteña-ville – the idea of eating raw fish, poultry and red meat. I have yet to see more than four people at a time in this 22 seater, and that's going to make it a tough proposition financially. So let's see if I can help out, because I'll tell you right now, I was blown away. One of the most interesting and delicious meals I've had in BA in the last year. [What a shame, as of end of May, this place has already closed – it just didn't catch on – honestly, much as I liked having it here in the 'hood, it was probably better suited to a more trendy area like Palermo Soho. Even the few people who told me they'd checked it out after this post, and all loved it, felt it was something they'd only go back to now and again.]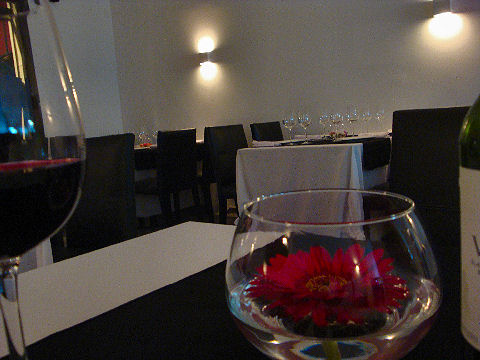 Pretty room, very simple, no decoration, but the lighting is decent and the contrasts between the stark white walls and the black and red on the tables works. Service is handled by the chef and his assistant, no waiters were present – I don't know if that does or will change on busier nights. The menu is a couple of pages off a copier stapled together in one corner – the dishes are divided into six sections, each with three choices – ceviches and tiraditos from Peru, tatakis from Japan, carpaccios from Italy, tartares from France, and keppes from the Middle East. When they first opened they advertised a five course tasting menu but that's no longer an option – a shame, because it would be great to be able to try a variety of dishes without going into a food and credit card coma as I did. That or I need more adventurous friends.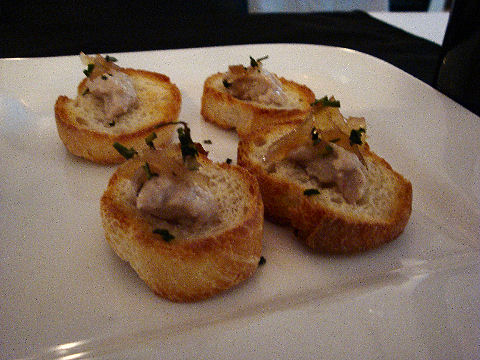 Complimentary bruschetta with lightly cured duck pate on toasted garlic bread… wait, toasted? Yup, by hand torch. Delicious!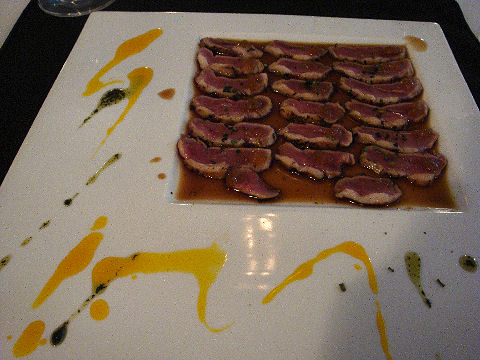 Simply brilliant. Duck tataki – a full, large breast, lightly seasoned and torched on the outside and then sliced and served in a pool of rocoto pepper tinged caramel – not sweet, just some sort of duck jus with caramel and rocoto that was perfect with the duck – maybe a touch more rocoto in order, but it was great as is – I assume the caramel jus is made off-site or perhaps they have a little hot plate hidden away in the open kitchen for pre-opening hours. Achiote and huacatay oils decorate the plate and add their own nuances of flavor when dipped into.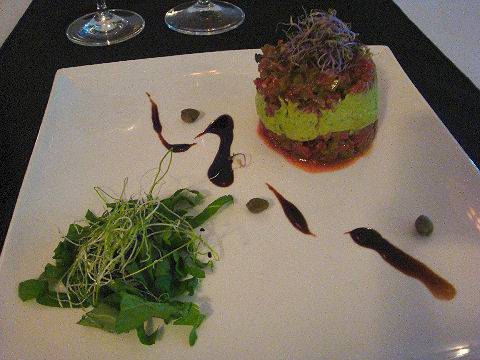 From the tartare menu, a semi-classic version, using pasture raised veal with all the usual spices and condiments already mixed in, and then layered with an avocado cream that brought a whole new dimension to the dish. Some spicy sprouts on top added a little kick as well.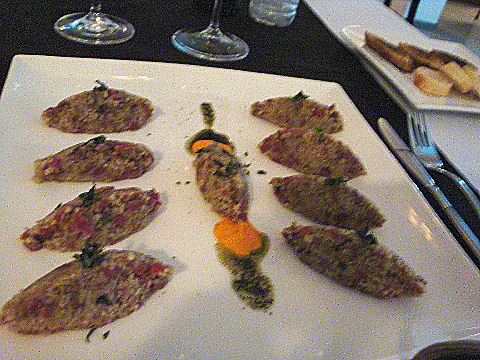 Sorry about the photo, it didn't look blurry on the camera screen, and the shadows on the plates were unavoidable unless I wanted to start moving around to take them – the light fixture was mounted on the wall right above my head. Now, here's where I went a bit crazy – not only in ordering a third plate (all plates are "medium sized" – there are no appetizers or main courses – and I think two is about as many as most people would want to do, though three was certainly feasible), but, ordering the most expensive plate on the menu (73 pesos) – venison keppe. Brought tears to my eyes. I could just eat 2-3 plates of that. Amazingly good.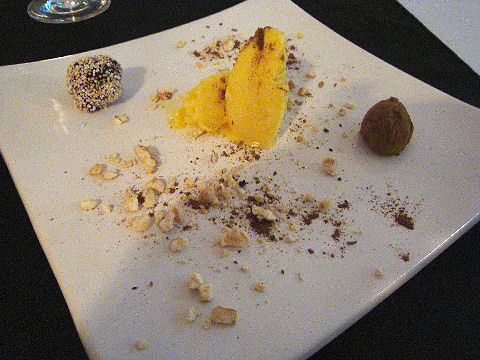 I seriously considered ordering a fourth plate from another category, because despite my recent dip into the world of the pastry chef, I'm not really much of a dessert person. Though, I do like my ice cream. Homemade peach-ginger ice cream – almost more sorbet-like, but still somewhat creamy, and served up with two different dark chocolate truffles, also made onsite. In fact, as Paúl told me as we chatted (I was the only person there for much of the time – a young norteamericano couple came in and split a couple of plates and then quickly left), he makes everything in house except the beverages.
Any criticisms? Very minor – at the prices that this place charges, and it is steep with the plates running from the high 40s to the low 70s, and none of them full sized main courses, though still quite generous in size – print up a nice menu that isn't off the corner copyshop's machine and stained; and, the wine list is seriously under-planned. There are only about a dozen selections, and only the whites and single rose are available by the glass, red by the bottle only (though he did have a couple of half bottles of one of them around – not on the menu, but there). Beyond that, if it wasn't out of my regular dining out price range, I'd be there regularly. And in truth, it's no more expensive than going out for sushi (which I also don't regularly here), only this is, let's call it, "sushi for real men" (kidding, I shouldn't have to tell you that, but, kidding). If you're not squeamish about the idea (and come on, there are plenty of other places in town that serve from one or two of the six categories, but not nearly as exciting), don't miss this place, in fact, help make sure it can stay open. Go eXperiment!