"I was doing stand-up at a restaurant and there was a chalkboard on the street out front. It said, 'Soup of the Day: Cream of Asparagus. Ellen DeGeneres.'"

– Ellen DeGeneres, comedienne
It's such a pleasure after a string of pricey and/or uninteresting restaurants to come out of a relatively new one thinking, "that's the kind of place I want to go back to again and again". So a big thank you to the customers who were at Casa S recently that tipped us off to Las Pizarras Bistró, Thames 2296 (at Charcas) in Palermo, 4775-0625. It's the kind of place that it amazes me no one has clued me into before, it's got that homey, almost kitschy feel to it, it's relatively inexpensive, it's got a completely creative and market driven menu – in short, it's right up my alley. Chef Rodrigo Castilla comes (or returns) to Argentina with years of training and work in Barcelona and London, and bluntly is turning out some of the most interesting food I've seen here in quite awhile.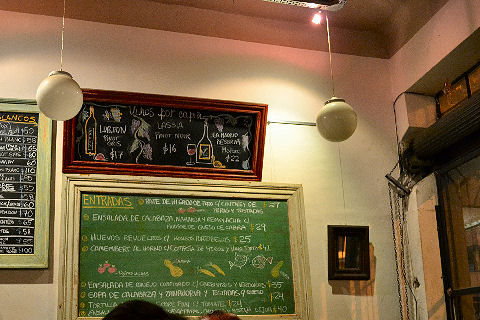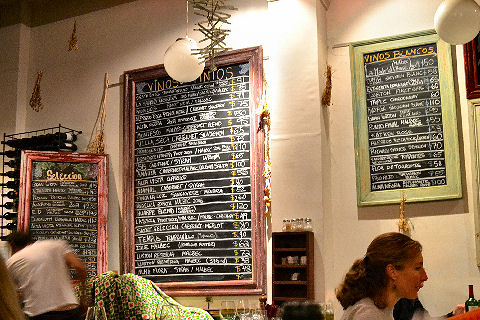 The name means "the chalkboards" and the restaurant certainly isn't shy on them – nearly every available surface having one – one listing appetizers, another main courses, another desserts, and still others the various parts of the wine list and other beverages. It fits the idea behind the restaurant – a completely market-driven concept where the chef shops daily for his ingredients and decides what it is he wants to make for the evening. My kind of cooking, my kind of restaurant (I'd do the same at Casa S if it wasn't that we don't offer options, only a tasting menu, which makes it hard for people to commit if they don't know what they're getting… or so the theory goes). As such, it also means that not every dish is amazingly successful, since sometimes it's just something that he's dreamed up on the spot. But even then, I'd bet it'll be interesting, and at the very least, good.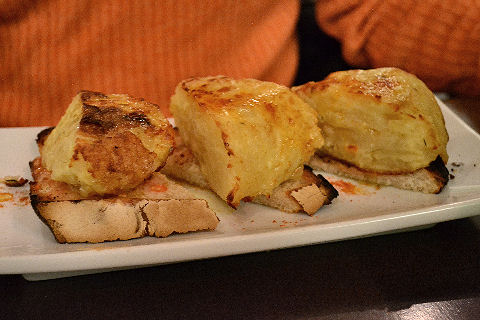 Henry likes his potatoes and when he saw a tortilla de papas he didn't even hesitate. Now, it was a big enough portion for two or three to share, though he gamely made his way through the excellent roasted "cake" of potatoes atop tomato rubbed grilled bread. And that's one thing to note – the portions at Las Pizarras are large – we could happily have split one appetizer and one main course, or perhaps two appetizers and one main, and been perfectly sated. It did get us to the one and only negative I have about the place – they don't have nor offer "to go" containers, which given the amount of food we had didn't thrill us. Our waiter jury-rigged something wrapping things up in plastic supermarket bags and parchment paper and sticking them in more bags. It's just silly not to have a way for people to take leftovers, especially if you're serving up large portions.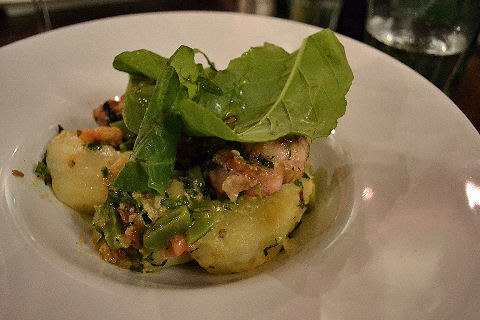 On my side of the table a vinegary and mustardy German style potato and green bean salad topped with sauteed sweetbreads. The flavors, fantastic. Texturally, I might have liked the sweetbreads a bit crispy rather than just lightly golden, but it wasn't a negative, just something that would have made a delicious dish even better.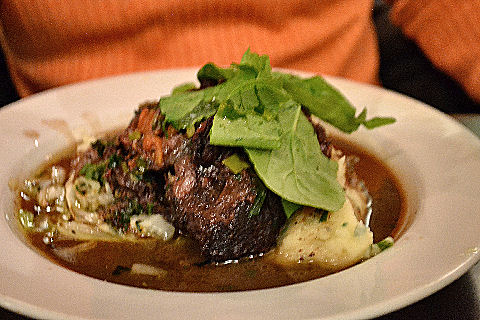 Back to Henry and a whopping bowl filled with what was likely an entire braised veal cheek, or at least a half of one, falling apart tender, richly flavored, and served over a completely satisfying mound of potato puree and braised cabbage, almost a sauerkraut, though not so vinegary.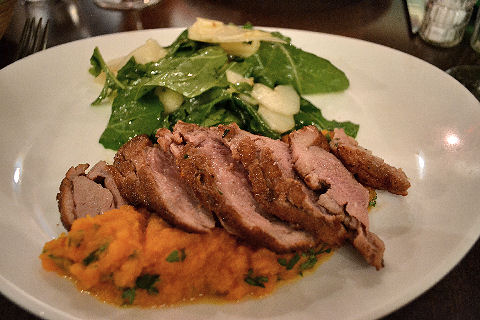 And, back to my side of the table and a beautiful seared duck breast, cooked medium, served with an herbed squash puree and a salad of pear and arugula (there was a lot of arugula on the menu, clearly one of the day's major purchases – along with several items with pears).
We were too stuffed for dessert, but chef Castillo came out of the kitchen to sit and have a chat with us for a few minutes – he'd recognized us when we came in, which is always a nice thing to have happen. Overall, great, homey ambiance, friendly if slightly frantic service (only one waiter was on for a 40+ sea restaurant that was nearly full, but that was apparently because someone didn't show up to work – given that, he did amazingly well), delicious, creative food at a fair price, particularly considering portion size – appetizers from mid-20s to 40 pesos, main courses from high 30s to mid-50s, really interesting wine list with prices that are less than 50% over retail. A place we'll go back to regularly. Highly recommended.