"Tis' better to live your own life imperfectly than to imitate someone else's perfectly."

– Elizabeth Gilbert, Eat, Pray, Love: One Woman's Search for Everything Across Italy, India and Indonesia
Do we have a place for Elizabeth Gilbert here in Buenos Aires…. No need to spend a year on "sabbatical" traveling around Italy and India, just head down to Retiro to Bengal, Arenales 837, 4314-2926. Likely one of the very few Indian-Italian restaurants in the world – not fusion mind you, two separate, but equal menus. And that's a stride forward, because on the only previous visit I've made to the place, equality was not the order of the day. The Indian food was relegated to a slip of paper stuffed in a pocket in the back of the menu while the Italian food sprawled lazily across multiple bound pages. They now share a simple, two page menu, intertwined, if not wedded to each other.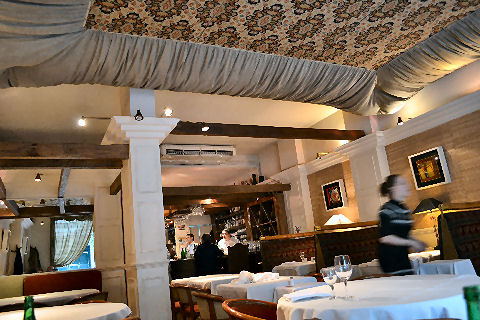 The room has changed little in the ensuing five years, it's still pretty – though if my memory is not failing me, there's not as much draped fabric about as before, just a large patterned rug over the bulk of the dining room, edged with ruffled beige cloth. I was there for lunch rather than dinner, and towards the end of service, so the place was a bit empty, with just a couple of tables lingering over coffee. Thankfully, the waiter I'd had on that previous visit was not the one in attendance, if he's even still there, instead a charming young man who while full of suggestions once again, was not pushy about it, simply offering up a couple of thoughts and smartly answering any questions I had – and he didn't aim for the most expensive items on the menu.
In fact, the surprise of things was, the menu's not that expensive. Oh, it's no bargain, but given that five years ago Bengal was one of the pricier places in town, it's now comfortably situated at about the same price range that most other fine dining spots are – with a couple of exceptions, though, for example, most of the pastas on the menu run from about 50-70 pesos, the same or less than La Parolaccia which I reviewed recently. Since I was soloing lunch, I only sampled two dishes, deciding on one from each cuisine.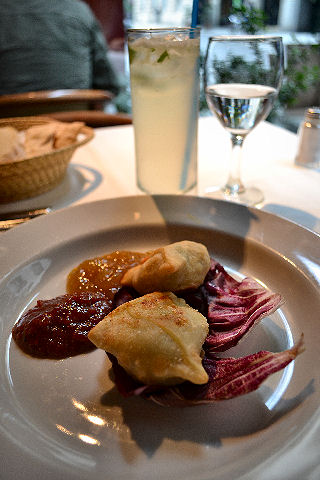 Now, vegetable samosas at 50 pesos a plate are a bit pricey, I admit, and I have to say I was expecting more than two on a plate. So it may be that it's just the pastas that are more fairly priced. On the other hand, these were easily the best samosas I've had in Buenos Aires, with a really interesting smokiness to them – wood-smoked potatoes perhaps? I could have gone for a hot sauce to accompany them rather than two different mild chutneys, one tomato-lemon and the other mango, but they were both quite good. As was the ginger and mint infused limonada that I was sipping on.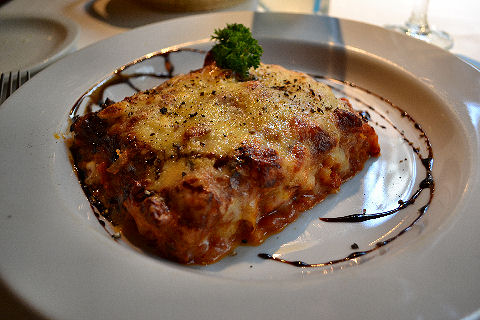 The star, however (can there really be a star with only two plates sampled?), was the prawn lasagna. First off, a whopping huge portion – that's a large, probably 12-13″ dinner plate that the lasagna takes up a good percentage of. And it was good. It was really good. The pasta perfectly cooked, the tomato sauce rich, well spiced, flavorful, and the quantity of prawns layered inside, generous. Easily the best lasagna I've eaten in this city. And, at 65 pesos, I think, the most expensive item on the menu – which is primarily pastas and curries, the latter of which I now want to return to try out as well.
Overall, great marks for service and ambiance, particularly in contrast to the usually rushed and casual spots that fill most of this part of Retiro and the business district. The food, based on two dishes anyway, excellent, with reasonably fair pricing for a restaurant of this caliber (okay, throw a third samosa on the plate and I'll be happier), and at the very least, for the moment, deserving of an upgrade from "okay" to "recommended" – especially since a lot of what got it marked down the last time was the service, or at least our particular waiter. I do plan to go back, hopefully with a few other folk, and give the menu a more thorough test drive.